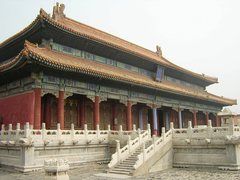 Traveller Types
Couples, Friends, Families
Rank
70 out of 471 attractions in Beijing
Forbidden City Music Hall
Places to stay near
Forbidden City Music Hall
Hutong Guest House丨6 beds room 2#
Beijing Siheju Courtyard Hotel
vintage Beijing, private bathroom
Amazing Private room with a big tv!
恭王府.什刹海.后海.南锣鼓巷.鼓楼老北京胡同文艺书屋四人间
Reviews •
3
1. The Forbidden CityThe Forbidden City is in Beijing and is actually an ancient palace city. It is called so because the ordinary folk were not allowed entry into this palace. It was the grand palace known to the Ming as well as Qing dynasties about 560 years. Over 24 Chinese emperors are said to have lived here. Presently it is one of the top 5 places in the world recognized. It is a great demonstration of the Chinese architecture with its grand golden rooks painted in the colors of yellow and red. The museum inside the palace has the ancient relics.
2. FORBIDDEN CITY: Built in 1406 to 1420, the complex consists of 980 buildings and covers 72 ha (180 acres). The palace complex exemplifies traditional Chinese palatial architecture,and has influenced cultural and architectural developments in East Asia and elsewhere.(Source: Wikipedia) According to a local friend of mine, the Forbidden City consisted of 999 and a half similar looking rooms as it is the closest place similar to heaven. (They believed that heaven had 1000 rooms). "Forbidden", referred to the fact that no one could enter or leave the palace without the emperor's permission. Nearby to the Forbidden Place is a hill which overlooks the whole city.
Attractions near
Forbidden City Music Hall