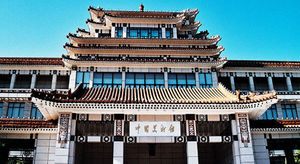 National Art Museum of China
Places to stay near
National Art Museum of China
Hutong Guest House丨6 beds room 2#
vintage Beijing, private bathroom
Amazing Private room with a big tv!
恭王府.什刹海.后海.南锣鼓巷.鼓楼老北京胡同文艺书屋四人间
D.Loft 3 - Modern Courtyard House
Reviews of
National Art Museum of China
•
1
Just 6 km further is the National Art Museum of China and is located on the Wu Si Street. It is focused on displaying, collecting and researching the works of the artists in China modern times. The museum is massive covering an area of 30,000 square meters. There are totally 13 exhibition halls in the museum. The collection is interesting with the old-meets-new concept reflected in the art form. The political and cultural dimensions are well balanced which came as a surprise. The display varieties include excellent works with different time features and different art styles like Chinese paintings, canvases, prints, sculptures, picture posters, pencil sketches, iconography, watercolor paintings and more. It also includes the traditional art works like puppets, shadow play works, kites, mud toys, embroideries and so on. It is not the most beautiful museums you will see but definitely worth a visit. Travel Tip- Make sure to carry your passport for entry.
Attractions near
National Art Museum of China