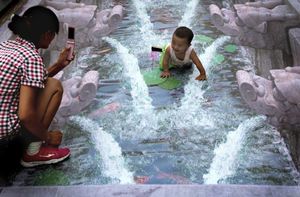 Places to stay near
Qianmen Street
Beijing Siheju Courtyard Hotel
Amazing Private room with a big tv!
D.Loft 3 - Modern Courtyard House
Nostalgia Hotel Temple of Heaven
Holiday Inn Central Plaza Beijing
Reviews of
Qianmen Street
•
2
Qianmen is another interesting place at the far end of Tiananmen Plaza. Before you go to the Qianmen Shopping Street, you might want to visit the China Railway Museum which is more of a Victorian style building. I never thought Qianmen could this beautiful. I thought it was just another street like the Wangfujing Street. But no, it was so different from Wangfujing Street. I liked the blend of modern stores and the grey bricks of Chinese houses. I also liked the fusion of Western & Eastern brand side by side on the same street. If you are looking for a good bargain. Get off the main street and go to the back street. You can get some silk scarf for as low as CNY10 per piece. I bought 3 and I am pretty satisfied. They are smooth and nice enough for me.
I started my journey from Qianmen Street which is south of Tianmen Square. It is a pedestrian street in the architectural style of old Beijing. The architecture therefore is impressive. Along the street is a water fountain that had been created by a 3D street artist. I started this trip by trying to capture myself believably in this 3D painting. 3D paintings are on a rise in streets where more tourists are expected and Qianmen Street is a good example of it. The area has some shops and restaurants. A quick meal and you will be set for the entire day.
Attractions near
Qianmen Street