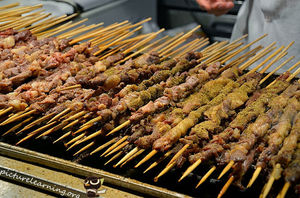 Traveller Types
Couples, Friends, Families, Solo
Rank
30 out of 471 attractions in Beijing
Places to stay near
Wangfujing Street
Hutong Guest House丨6 beds room 2#
vintage Beijing, private bathroom
Amazing Private room with a big tv!
恭王府.什刹海.后海.南锣鼓巷.鼓楼老北京胡同文艺书屋四人间
D.Loft 3 - Modern Courtyard House
Reviews of
Wangfujing Street
•
1
It is the most talked about street in Beijing among foreigners. Well, I guess that`s why I see a lot of foreigners here. Wangfujing is famous for its food street. Along this street you will find many stall selling all kinds of food. Even some weird weird food items you don't usually find. Tips: It gets cheaper as you walk further.
Attractions near
Wangfujing Street