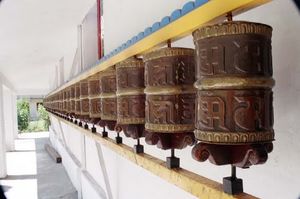 Best time to visit
Tour guides and agencies mention that the best months to visit are from September to June.
Things to do
Visit the Tibetan learning centre here.
Budget
It all depends on how long one plans to stay here and the type of accommodation needed.
McLeod Ganj
This place can be found in upper Dharamshala and yes it is a very famous tourist spot. Having been named after David McLeod, this place now happens to be the seat and abode of the Dalai Lama on a temporary basis. McLeodganj is also home to an important Tibetan learning centre. The town is also referred to as 'Little Lhasa' and this indicates the Buddhist influence upon the place. The town has a number of temples, edifices, monasteries and spots that make it an important tourist site. If one has a list of things to do in Dharamshala, visiting McLeodganj should be on the very top of it.
Places to stay near
McLeod Ganj
Reviews of
McLeod Ganj
•
150
Attractions near
McLeod Ganj