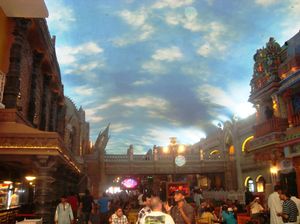 Best time to visit
2:00 PM - 5:00 PM
Open hours
Jhumroo Show- Tuesday, Thursday and Saturday- 7:00 PM and Wednesday & Friday- 2:30 PM, Sunday- 1:30 PM, Zangoora Show Timings- Tuesday, Thursday Saturday- 2:30 PM, Wednesday and Friday- 7:00 PM, Sunday- 6:00 PM, Monday Closed
Things to do
entertainment centres
Budget
Weekdays (diamond)- INR 2999, weekends (diamond)- INR 3999, Weekdays (platinum)- INR 2499, weekends (platinum)- INR 2999, weekdays (gold)- INR 1999, weekends (gold)- INR 2499, weeknds (silver)- 1499, Weekends (silver)- INR 1999, weekdays (value)- INR 1299 per person, weekends (value)- INR 1199 per person, weekdays (economy)- INR 1099, weekends (economy)- INR 1199, weekdays (bronze)- INR 1249, weekends (bronze)- INR 1499, weekdays (culture gully)- INR 600, weekends (Culture Gully)- INR 700
Traveller Types
Families, Friends
Rank
2 out of 52 attractions in Gurgaon
Kingdom of Dreams
This is India's first live entertainment and performance center situated in the Sector 29 of Gurgaon. It is very close to the Leisure Park of the city. The place was inaugrated on 29th January 2010 and was opened for the public on 10th October 2010. It is jointly managed by the Great Indian Nautanki Company and Wizcraft Productions. There is a Nautanki Theatre along with another performig arts theatre. There is also a food and art boulevard where you can eat as well as enjoy the year round art and craft exhibition held out over here. This part is known as the Culture Gully.
Places to stay near
Kingdom of Dreams
JMD Near Medanta Medicity Hospital
"Stay Near Galleria Market-Gurgaon"
Space available at Sushant Lok 1 C
Reviews •
3
1. Kingdom of Dreams is one of the first live entertainment and leisure destinations in Gurgaon. Nautanki Mahal is the main attraction of this place. Nautanki Mahal is basically an auditorium with seating capacity of 850 people. Live shows and performances are held in this auditorium everyday name Zangoora and Jhumroo.Tourists can also visit the Culture Gully, which comprises street performances, artisans and handicraft stores. It is a good place to visit for one time and spend a whole day. We saw Jhumroo, that is based on a story of a boy who wants to become a singer to impress his girlfriend. It was very nice show and the music was also nice and soothing. 2. Shri Mata Sheetla Devi Temple is one of the major Hindu pilgrimages, which is located in the Gurgaon village. This temple is crowded by Hindu devotees during the Hindu month of Chaitra (March and April). The residing deity of this temple is Shri Mata Sheetla Devi, which is made of gold polished metal. There are various legends associated with the construction of this temple, out of which one says that this temple was built by son of King Surajmal of Bharatpur. The prince was on his way to attack the Mughal ruler in Delhi, who wanted to marry the beautiful daughter of a poor carpenter of Farukh Nagar. On his way, he passed through Gurgaon and prayed to Shri Mata Sheetla Devi that if he wins the battle, he would construct a temple. After his victory over the Mughal ruler, he built the temple on this site. (reference: holidayiq.com)
4) Kingdom of Dreams, GurgaonKingdom of dreams is for those with a love to explore new things. This place has 'Nautanki Mahal' –a hi-tech auditorium, a cultural and cuisine area known as Culture Gully and a Showshaa Theatre. Opened in 2010, it is a huge entertainment and leisure destination that brings together the carnival that is India. It encompasses both Indian culture and performing arts. The highlight is Culture Gully, an elaborate arts, crafts, and culinary boulevard - complete with street performers. It's like an air conditioned version of Dilli Haat. Don't miss seeing a live Bollywood musical here!
Well! its a good place if you want to try out the various cuisines offered by different states under one single roof. Its a nice place to go once if you are visiting the city for the first time
Attractions near
Kingdom of Dreams