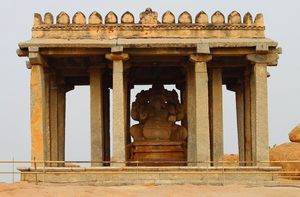 Things to do
sight- seeing, photography
Traveller Types
Families, Friends, Couples
Rank
22 out of 54 attractions in Hampi
Kadalekai Ganesha
No more used as a temple, this ruined site is on the north eastern slopes of the Hemakuta Hill. The 15 feet idol of Lord Ganesha here is the largest structure of a God in South India. The name is derived from the fact that the idol of Lord Ganesha in this temple has a big belly resemblimg a Bengal Gram which in Kannada is called Kadalekalu. The pillars are simple yet attractive with the inscription of mythological themes which is otherwise very common in this city.
Places to stay near
Kadalekai Ganesha
Clean Cosy Rooms in Beautiful Hampi
Murali Family Run Paradise in Hampi
Reviews •
3
The Kadalekalu Ganesha statue is 15 ft high. This is one of the largest sculptures in Hampi.
A statue similar to Sasivekalu Ganesha.
We biked up the hills to reach a huge monolithic stone carving of the Elephant god Ganesha- the God of eternal knowledge.This 4.6 meters (14 feet) tall sculpture id carved in situ on the slops of the Hemakuta Hill.
Attractions near
Kadalekai Ganesha