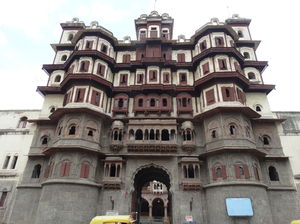 Best time to visit
Tourists who have been here suggesting that this place be visited from the month of January to March and then October to December.
Open hours
The place is closed on Mondays. For the rest of the week, it opens from 10:00 to 5:00 pm.
Things to do
Stroll through the gardens and courtyard of the palace.
Budget
One has to pay an entry fee of INR 10.00 here
Rank
4 out of 43 attractions in Indore
Rajwada Indore
Even though the place was burnt down thrice, Rajwada stands to testify about a city that was super rich during its times. This structure is so grand in its construction and is highlights the influence made by the Holkar Dynasty. The place is filled with gardens and flowing fountains and even an artificial waterfall that lures both local and as well as foreign tourists. This palace is around 200 years old and is a sight that one is sure to remember for a long time.
Places to stay near
Rajwada Indore
Cheap and Simple room for max 2
Reviews of
Rajwada Indore
•
1
The museum housed inside this structure was very interesting. It holds all the information you would want to know about the Holkars of the Maratha Empire.
Attractions near
Rajwada Indore