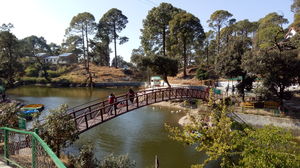 Rank
3 out of 10 attractions in Lansdowne
Bhulla Tal Lake
It is located about 1km from Lansdowne city, it has boating facilities, a cafe, a nursery and a souvenir shop close to it.
Places to stay near
Bhulla Tal Lake
cozy room in a bunglow in Lansdowne
Reviews of
Bhulla Tal Lake
•
3
Places To Visit In Lansdowne:Bhulla Lake: Its a Man Made lake. You can do boating, climb the tree house, have snacks at the cafe.Tip n Top:It is also known as Tiffin Top. A must visit viewpoint. One can have a heartthrobbing view from here.St. John's Church:A silent sacred place with lot flowers in its surroundings.Tarkeshwar Mahadev Temple:One of the ancient holy temple dedicated to Lord Shiva.Bhim Pakora:You can trek the road to reach this surprising place which have two stones one above the other.
And my day began with a visit to the beautiful BHULLA LAKE.Bhulla lake, popularly known as bhulla tal is a known tourist attraction of lansdown.It is a crisp clean, well conserved, small artificial lake known for floral coverage and is home to ducks and fish. Under the maintenance of cantonment board (rightfull creditors of its beauty) the army personnels take deep care of cleanliness of this place. I didn't find a wrapper or a plastic bag or as a matter of fact even a dried leaf lying here and there. Believe me every nick and niche of the lake is pampered like a baby. Overall, its a happy place, specially for the couples ( probably a nice romantic place to propose your girlfriend )
Attractions near
Bhulla Tal Lake