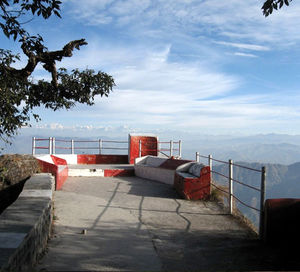 Things to do
Holiday resort
Tip N Top
This is a holiday resort in the beautiful hill station and you can stay in log cottages or normal cottages when you come here. The views of the foggy surroundings are even more perfect from here and the dense forests are perfect places for some camping, picnics and walking. The rooms here are just enough for you to put up and there can be a few spiders here and there but this is what you call real camping experience in the midst of the forest. The service and food is good otherwise.
Places to stay near
Tip N Top
cozy room in a bunglow in Lansdowne
Reviews of
Tip N Top
•
2
Just a small and crowded viewpoint
The place offers a breathtaking view of the hills. If you like long walks, then prefer walking to this place as it's only 3 km away from Gandhi Chowk.
Attractions near
Tip N Top