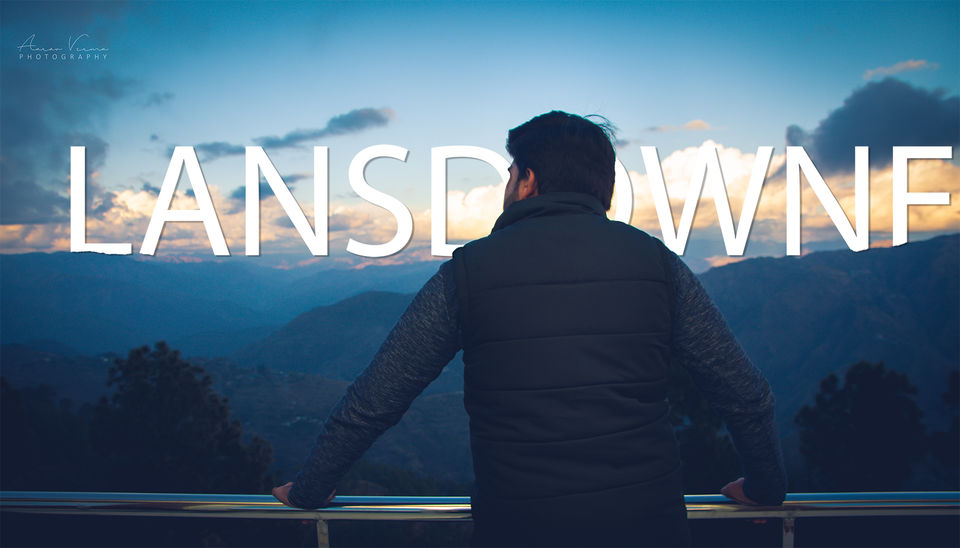 I have always wanted to start my own travel blog but couldn't, due to paucity of time. Being an advocate is not an easy task, you have to sacrifice a lot to be a great and successful lawyer. I have also made many sacrifices but traveling and photography for me are the things that couldn't be put on hold. Hence, whenever I get time, I travel and go for photography. In this blog, I would like to share something that happened during my last trip and has stuck with me. Here it goes...
So, it was a Thursday, the day on which we (me, my wife and my 18 months old son) were supposed to leave for Udaipur. But sometimes what you desire is not what you get. The same has happened with me as my destiny had its own plans.
So here goes the twist, I received an SMS from IRCTC that the train "MEWAR EXPRESS" (our train from Delhi to Udaipur) was canceled due to some unavoidable circumstances. Seeing such a message I was shattered as we were planning for this trip since December 2018 and were really excited. We were all set to explore & witness the scenic beauty of the city of lakes - Udaipur, from our own eyes, since we've heard a lot about this beautiful city.
But as a saying goes "Nobody gets nothing before time and more than his fate", my destiny too had different plans which resulted in probably a better, and certainly an unexpected and more adventurous trip to the hills, "LANSDOWNE".
Since Udaipur was totally off the card my wife came up with an idea and suggested to drive to somewhere like Lansdowne as that's the only nearest hill station to Delhi. Initially, I was kinda reluctant to drive to the hills because I don't hold any experience in driving to the hills (though I am a good city driver). Seeing such excitement on her face I contacted many travel agencies and drivers to inquire about renting a car to Lansdowne. But knowing our urgency (because of the last moment booking), everyone quoted a hiked amount.
At last, considering my wife's confidence in me and obviously because of the unrealistic quotation offered by the agents, I made my mind to drive to the 'LANSDOWNE'. Honestly speaking, that really wasn't an easy decision to make.
I would suggest from my own experience that one should not drive to the hills unless they are super confident. Though, in my case, the confidence was not mine but my wife's which indirectly boosted my confidence as well.
So, after unpacking and re-packing our luggage for Lansdowne, we left from Delhi at around 4.30 pm. Considering the traffic in Delhi, it is also not advised to start your journey in the middle of the day. However, I was left with no option since nothing was planned. So, once left, I drove for at least 145KM out of 265Km without any halt. Surprisingly, Aarav (my son) was more excited than me, he did not cry, yell or sleep in the journey of 145KM. In fact, he was enjoying every bit of his first ever road trip which resulted in boosting my zeal and enthusiasm.
At around 8 PM i.e. after three and a half hours of driving, we took our first break at a restaurant called "Monty Millions Restaurant" wherein, we stopped to stretch our legs and to grab some tea & some food. We had a quick bite there (let me tell you the food was amazing) and resumed our journey at 8.30 PM. After driving Some 20 km or so, it started raining. Though rain in winters are not usual, I think all this was happening to make our trip more adventurous. It was not at all easy to drive in rain on a highway especially in the night. This is the reason, I maintained a constant speed limit of 50-60 km/hr, just to reach the destination safely.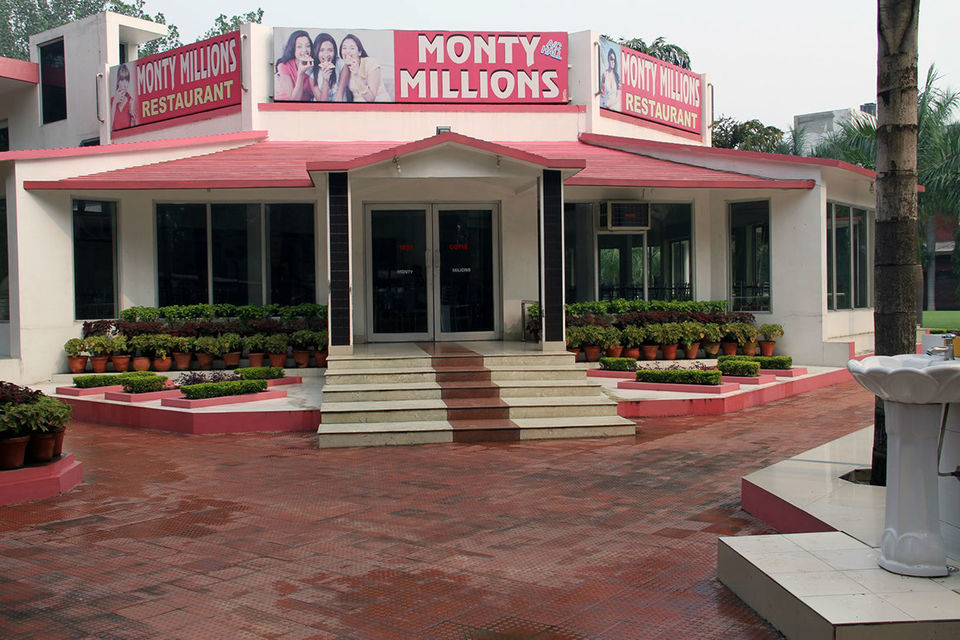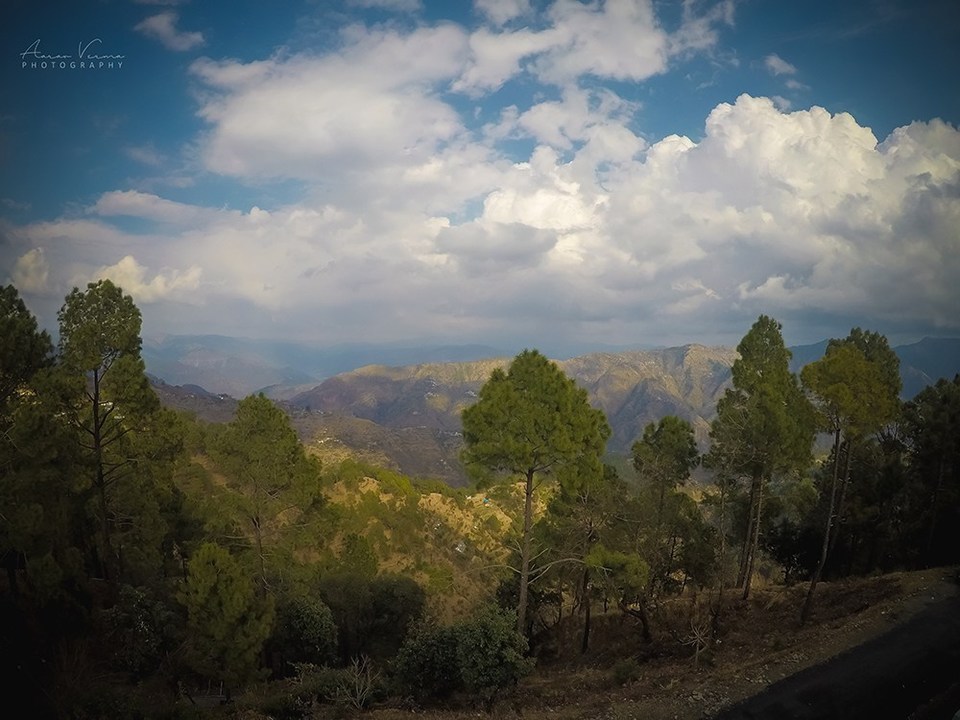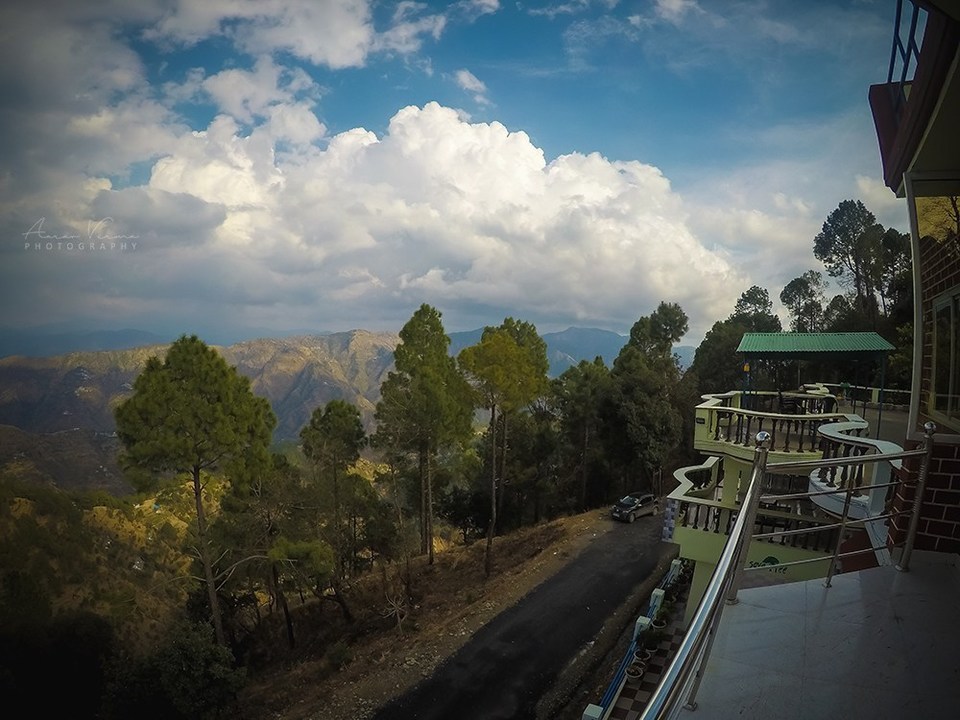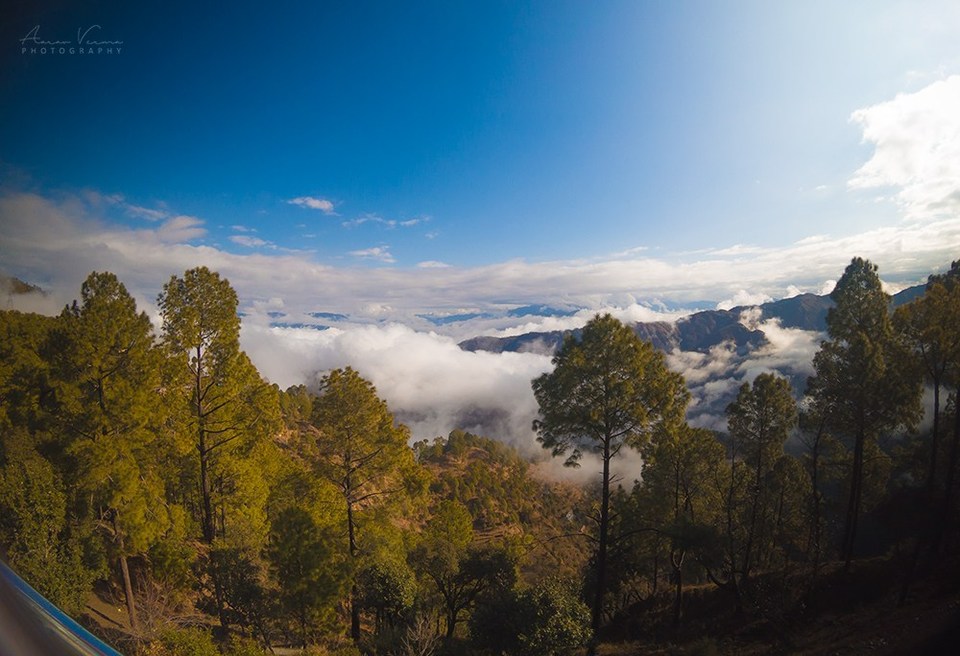 Despite heavy rains and the bad roads, we reached Kotdwar at around 10.20 PM and from here, we were just 40 km behind our destination. Knowing that only 40 km was left to reach, brought a huge smile on our faces but we were told by many that it is not advisable to travel to the hills in the night. Therefore, I asked my wife if she wanted to take pause for the night, we can resume early in the morning but she was of the mind that for just 40 km, delaying the journey doesn't make any sense.
Therefore, I continued driving from there, suddenly after 5 km or so, mountain ranges appeared which were evidently visible from the window of our car. It was so surreal for me to see mountains within a span of 5km from the plains. For me, this feeling was like entering into one world from another within a few mins, that left me ineffable (could not take any pic of that moment because it was already late and I was also driving).
Driving into the hills in the night was risky but some risks are supposed to be taken to experience some joyous or unforgettable moments that could have never been possible without those risks. Therefore, we were not regretting our decision because we were experiencing something we couldn't have during the day, for e.g. we saw wild rabbits, cats and also foxes on the road. Also, since the weather was chilly, some parts of the mountains were covered with dense fog which looked like a scene from a horror movie (believe me I had never experienced such a view in my entire life). We were only the humans on the road at that odd time so, it became easy for me to drive because there was no one. We were continuously driving at a steady speed which reduced our driving time to reach the hotel by at least 10 minutes.
Finally, after driving continuously for more than three hours from our last break, we reached our hotel (actually a home-stay) by the name "JOSHI HOLIDAYS HOME" which got some very good reviews on the internet i.e. 4.3 stars out of 5 in the Google reviews. I would suggest don't go by the name of this property because it really has a fantastic view of the mountains which I think is worth the money.
Even though my phone was showing a temperature of 9°c it felt like 3°c or less, maybe because of the heavy winds. After relaxing a bit, we called it a night and went to bed.
We woke up listening to the chirping of the birds and the view which was visible from my balcony was beyond the words. It was our first day in Lansdowne and I was amazed by the view of the mountains which can be seen just from my room. I now realized that booking this property was a great decision I have ever made, I would have paid more just to see this kind of view from the room. Seriously, it was a great experience to see such a mesmerizing view from the comfort of my room (see video & pictures posted below).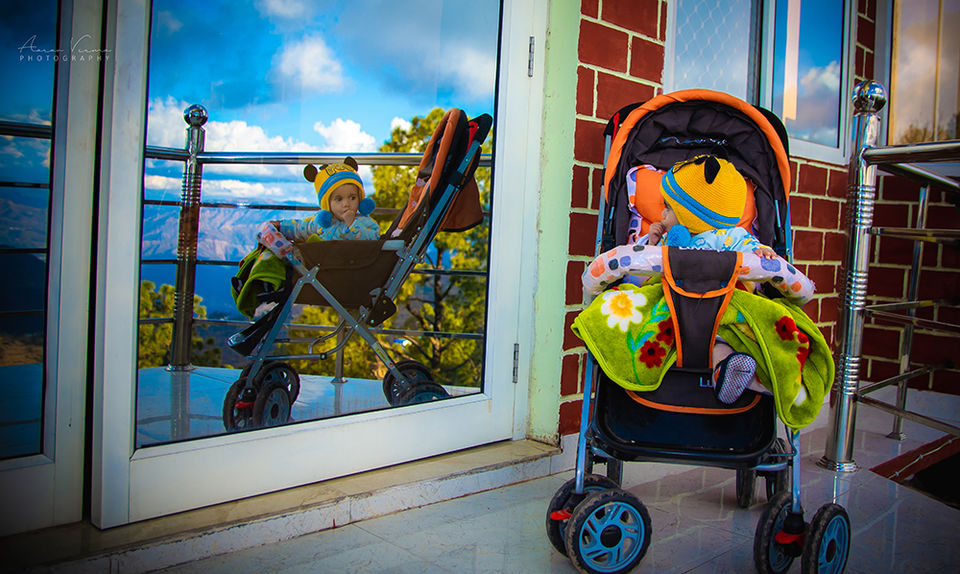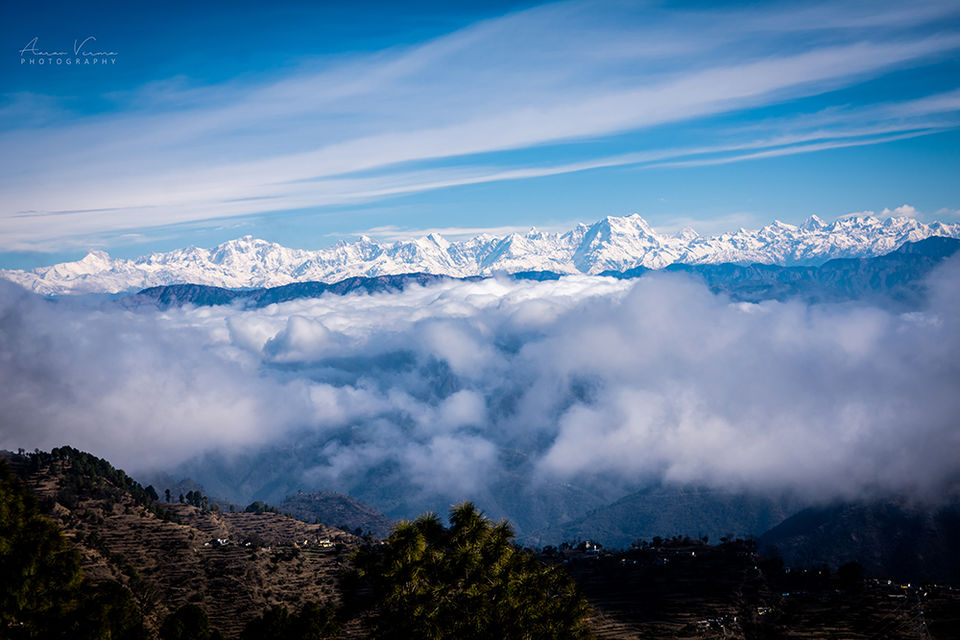 There is nothing much to do or visit places in Lansdowne but is still a great place to visit for relaxing and to be away from your busy and chaotic life. However, a list of the places to be visited is given at the bottom of this blog during your stay at Lansdowne.
Having said so, we decided to stay back in the property as for us this trip was just to relax and to go away for a while from our chaotic lifestyle. Since, we already had enough adventure during our drive to Lansdowne, we considered to just lighten and fill ourselves with the beauty of nature which we can hardly be seen in the capital of India.
Did you notice that I could not stop myself from speaking about the view from my room? This is because the view was so astonishing and compelling that one cannot stop talking about it. Some pictures of the view are posted below: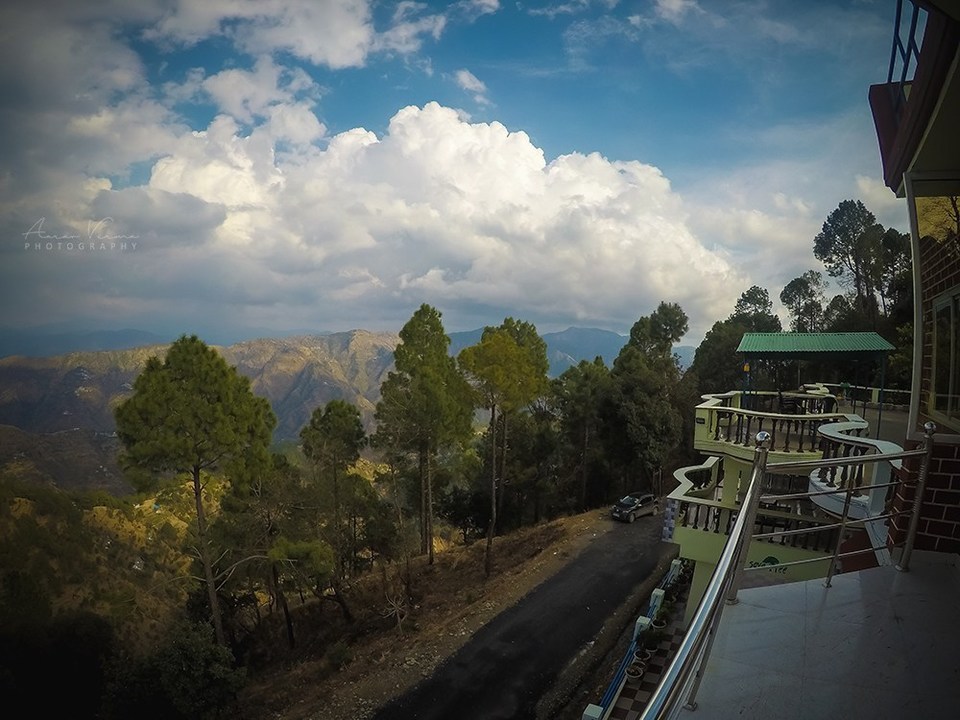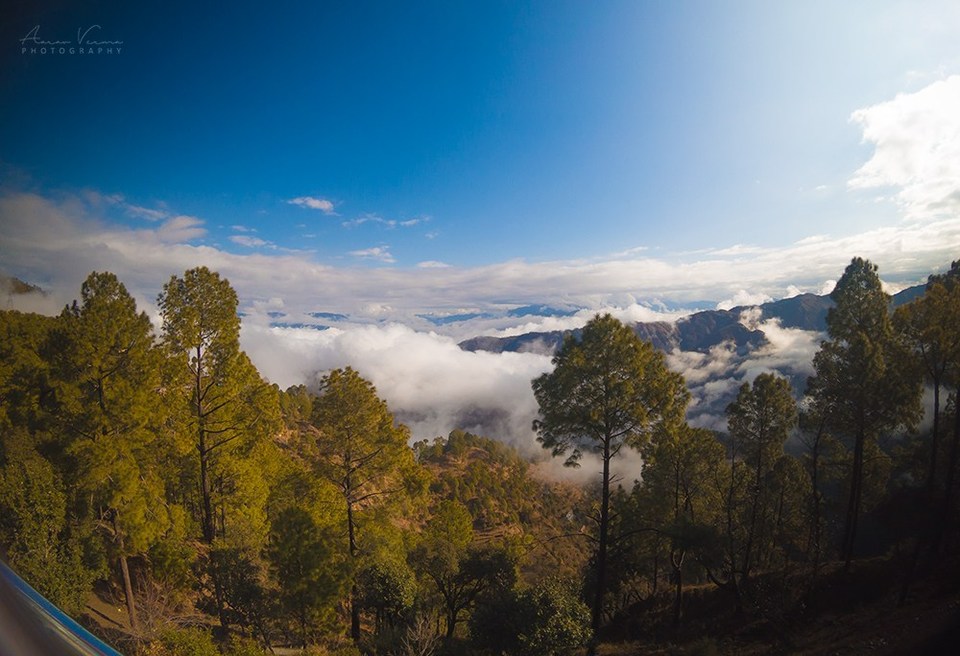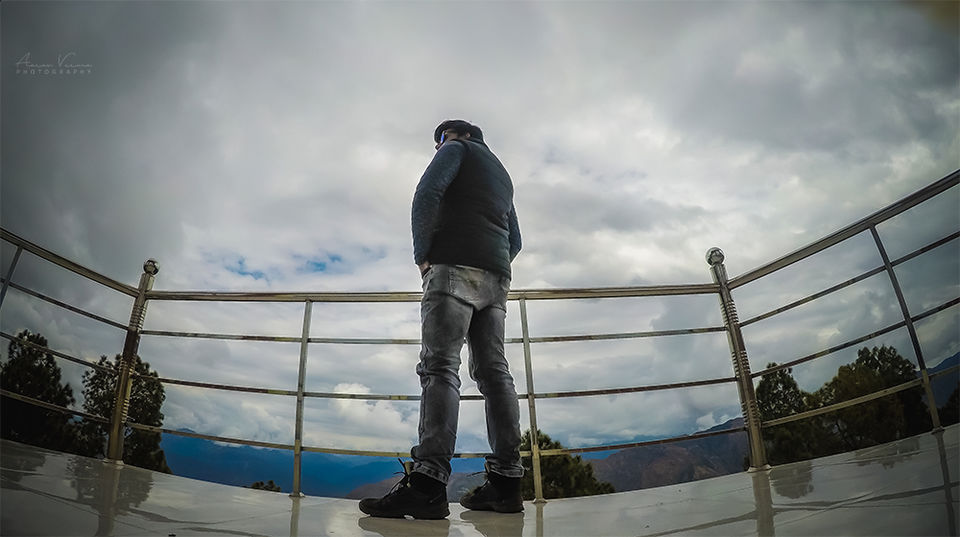 Sometimes staying in your room and doing nothing brings a lot of happiness. This is something I realized in Lansdowne. Later that evening, it started pouring heavily in Lansdowne, followed by the hailstorm. For me it was very surprising to experience hailstorm in the mountains, one can experience snowfall but hailstorm was quite unexpected in the hills. And again, this is something which cannot be expressed in words. Saying so, this was indeed a great day spent in Lansdowne. After experiencing so much for a day, we went to sleep.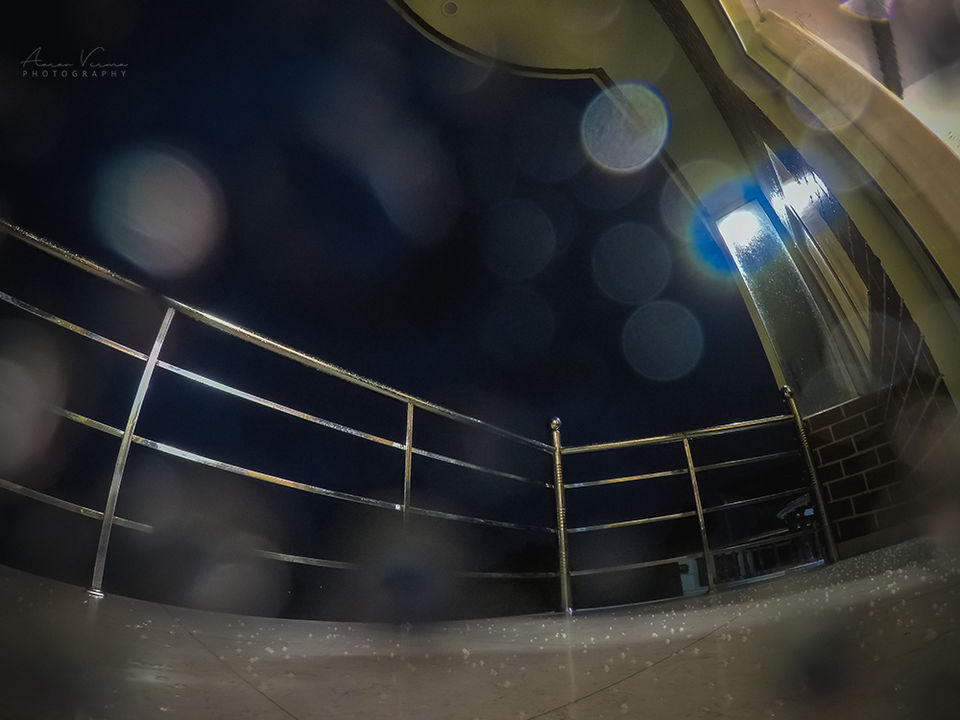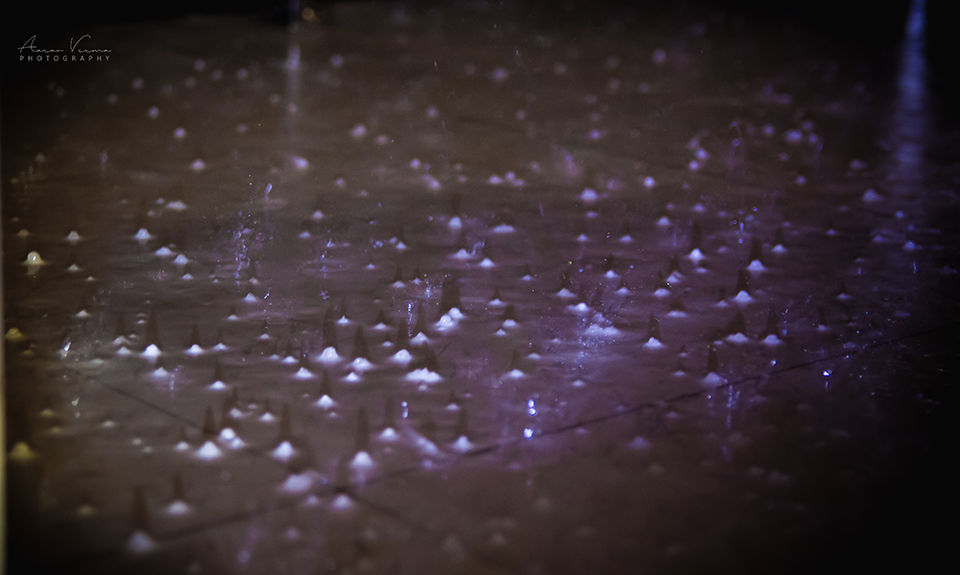 Our next day started with more unexpected events, as soon as I opened the curtains, I saw something which blew my mind away. The thing which blew away my mind was the biggest "RAINBOW" I have ever seen, emerging from one end to another. I have never seen such a clear and bigger rainbow in my entire life. I can also guarantee that such a rainbow cannot ever be seen in Delhi or any other city of India.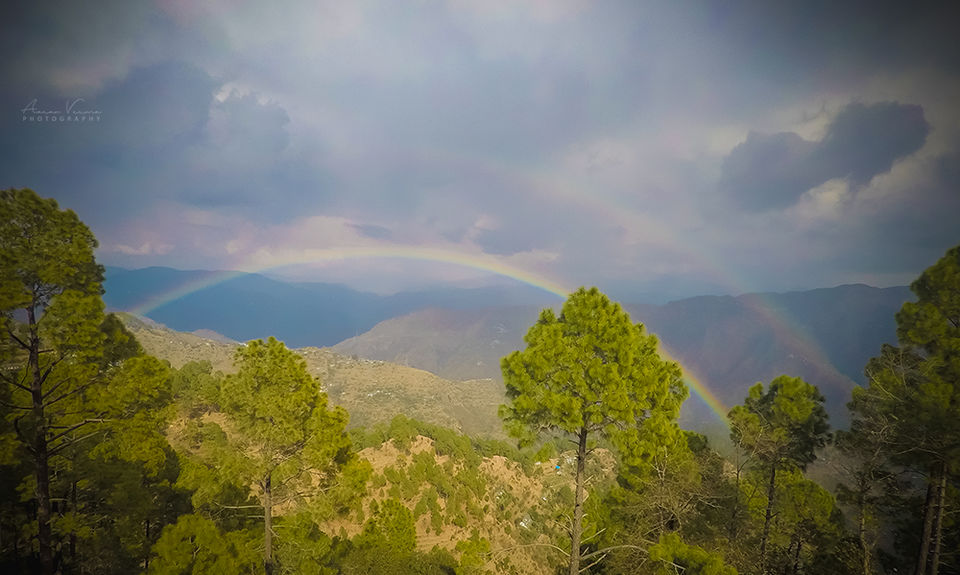 This was our last day in Lansdowne which started with a lot of excitement, even though last day of a trip happens to be low because one has to leave all the excitement, adventure and happiness behind and resume their chaotic life. But for us, this trip was an unforgettable trip which has resulted in never ending excitement from the beginning till the end. We, at around 11 AM checked-out from the property and before taking our way to Delhi, we decided to give a visit to TIP N TOP (the highest point from where you can see Himalayan ranges).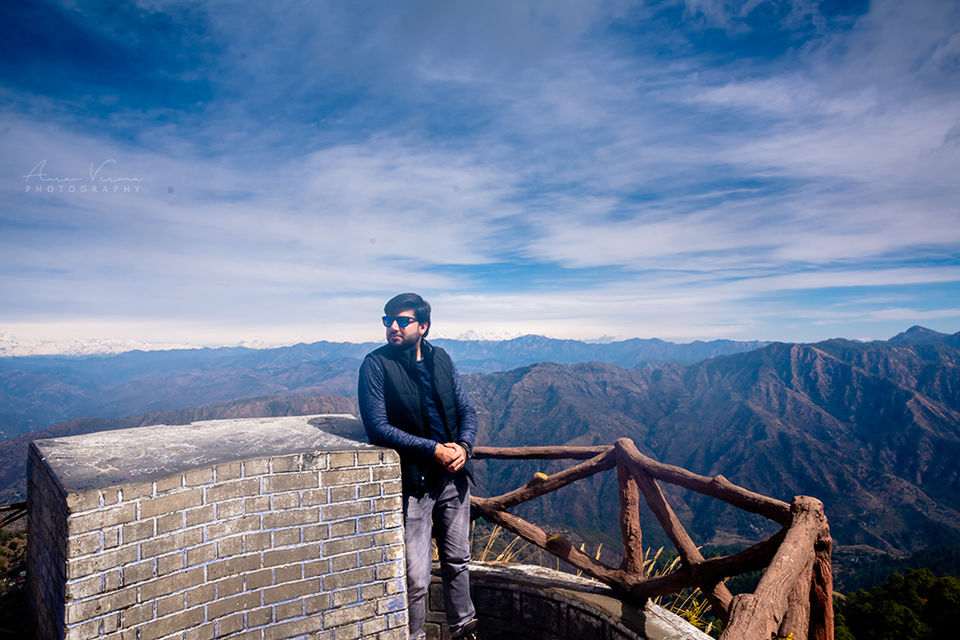 After visiting Tip n Top, we finally said goodbye to the most adventurous and unforgettable trip to Lansdowne and started back our journey at 1 pm and reached home i.e. Delhi at 9 by the night.
This trip for me was indeed an unforgettable trip and has encouraged me to start my travel blogs so that I can connect with the people who do not believe in destiny or always whine about their bad trip experiences and also for those who have a habit of checking out on other peoples experiences. This trip made me learn many things but the most important was that " whether you plan or not, destiny plans everything for you. So, stop stressing yourself and start living, whatever comes in your way start enjoying it to the fullest ", as we did in our unplanned, unexpected and unforgettable trip to Lansdowne.
Disclaimer: all pictures posted herein are taken by me unless specified.
Follow me on Instagram.
You can also read this blog on my website.