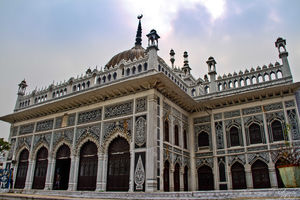 Best time to visit
8:00 AM - 4:00 PM
Open hours
6:00 AM - 5:00 AM
Things to do
history tours
Budget
Indians- INR 25, foreigners- INR 300
Traveller Types
Families, Friends, Couples
Rank
10 out of 73 attractions in Lucknow
Chhota Imambara
The landmark of Lucknow, it is also known as the Hussainabad Imambara since it was the office of the Hussainabad Trust, the previous owners of the city. This is located in the Old City Area. The monument was built in the 19th century under the 'food for work' scheme which was commissioned by Nawab Muhammad Ali Shah when the region witnessed a very serous famine. The beautoful white monument is built in the Charbagh style with a stream flowing along the middle of the garden. The architecture is Indo- Islamic though a lot of Persian influemce can also be seen. There are a lot of Islamic callicraphy carvings done inside this Imambara. This was the mausoleum of the nawab and a number of members of his family.
Places to stay near
Chhota Imambara
Explore the city of Lucknow
OYO 6804 Hotel Buddha Residency
OYO 2136 Hotel The Continental
Reviews of
Chhota Imambara
•
3
The Chota Imambara(Small) was built by Mohammad Ali Shah. The Chota Imambara has a beautiful garden, and feels like heaven when the lights are lit up. There are replicas of tombs inside the Imambara. Incase you haven't seen the Taj Mahal, you will get a view of its replica here.
Chhota Imambara also called the Hussainabad Imambara. This monument was built by Nawab Muhammad Ali Shah, the third Nawab of Avadh. The chandeliers inside Chota Imambara were brought from Belgium.
Another congregation complex of the Shia Muslim sect, The Chota Imambara was built in 1838 by Nawab Muhammad Shah Ali. The complex also serves as the tomb for the Nawab who is buried there alongside his mother.
Attractions near
Chhota Imambara