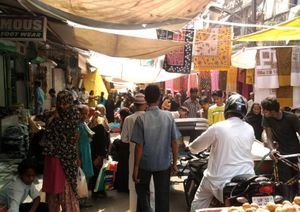 Open hours
11:00 AM - 10:30 PM
Things to do
Delicious Food, Heritage buildings
Rank
4 out of 73 attractions in Lucknow
Chowk
Chowk is the one of the oldest markets in the state of Uttar Pradesh with around 5000 shops in it. The Chowk is also called as the godown full of historical heritage of Lucknow. The market is a modern business centre but it still retains a blend of Nawabi glamour in it. The market is very famous for chikan clothes and ornaments. The handicrafts items available in this market make it quite popular. People in this area are mostly involved in making ornaments and handicrafts made through carving of ivory and bones. Nagra shoes and Jardoji clothes are the main attractions in this market. This market also has many food stalls which serve delicious food such as Kabab Paratha, Biriyani and few milk products. The most reputable fast food stall in the Chowk are "Ram Asraya" & "Radhey Lal Sweets", they are also one of the oldest establishments in this area.
Places to stay near
Chowk
In the bustling Industrial Part!
Reviews •
3
Old Lucknow, where the famous paradise for non-vegetarians, Tunday Kebabi is situated. Shop for Chikankari at low prices here.
Chowk area, the food capital of Lucknow, brought out the glutton in us with a variety of taste-bud tickling 'Avadhi' cuisine – from Idrees' Gosht Pulao to Raheem's Nihari-Gilafi Kulcha; from Tundey kabaab to Mubeen's Pasande; from Shukla golgappas and chaat to Shaid's fish tikkas. And then, there was always a paan for every occasion.
Another foodie's heaven is Chowk, which boasts a of equally long line up of mouth watering delicacies. The famous Tunde Kababs originated here.