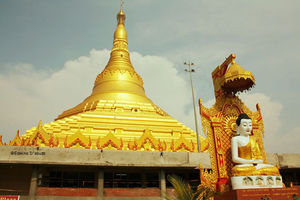 Traveller Types
Families, Friends
Rank
26 out of 446 attractions in Mumbai
Global Vipassana Pagoda
This is the world's largest pillar less dome and thus an architectural marvel in Gorai, Magharashtra. This place can accommodate 8000 meditators together and is a beautiful place with sea on three sides and attractive views. This is just the next stop afterAshoka's Era. The Vipassana Meditation is again taught here just in the same authentic way in which Lord Buddha taught about 2600 years ago. The whole place is in the Tibetian decoration to honor Burmese Master Ven Sayagyi U Ba Khin as he is the oe to revive Vipassana meditation around the world. The real relics of Lord Buddha are also found inside.
Reviews of
Global Vipassana Pagoda
•
2
Another cliché place that is spoken about a million times by many but visited by a few. Head here to try out the short 10-15 min Vipassana session to gain an insight into the way of like of meditation and being with oneself.
The Global Vipassana Pagoda is an angelic structure constructed as a dedication to Buddha, his teachings and the monks who practice the Vipassana (meditation). It is a replica of the Shwedagon Pagoda in Myanmar which is claimed to be the oldest pagoda in the world. After a planning of 3 years, the construction of the Global Vipassana Pagoda began in the year 2000. The structure is built on a donated piece of land under the guidance of founder Lt. S.N. Goenka. The place was inaugrated by Ex-President Pratibha Patil in February 2009. The Global Vipassana Pagoda holds a world record as the largest hollow stone structure without any pillars. It has a meditation hall, a library, book shop and a small video room which plays clips on the course of making the Pagoda. It also has a painting gallery depicting the life and times of Buddha. The entry to the pagoda is free. They often conduct a 10 day meditation course for which the devotees can enroll free of charge. You are allowed photography except in the Painting gallery and Meditation hall. Unlike some of our ignored monuments, the Pagoda is designed to be visitor friendly housing a Food court, seating places, toilets and parking space which make up for its 11 acres of land. The food court though limited in options provides appetizing vegetarian thalis, juices and snacks at extremely modest prices.
Attractions near
Global Vipassana Pagoda