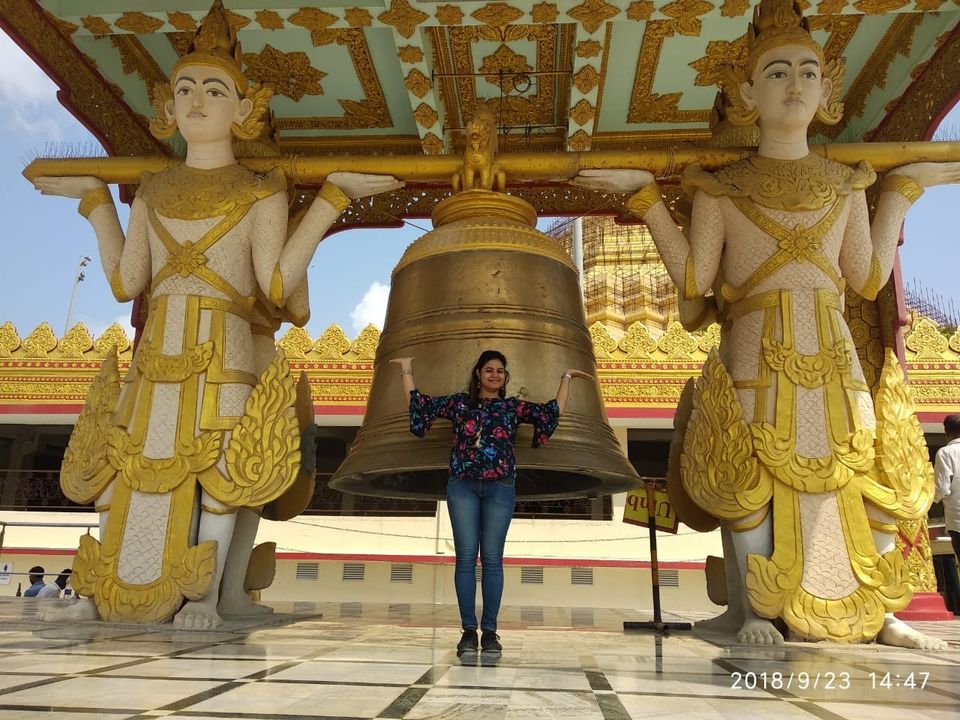 The Global Vipassana Pagoda is a Meditation Hall built in the year 2009 on peninsula between Gorai creek and the Arabian Sea in Mumbai. It has traditional Burmese design and is painted with glimmering Thai gold paint. The shape of the pagoda is replicated of the Golden Pagoda in Yangon, Myanmar. The centre of the Pagoda contains the world's largest stone dome built without any supporting pillars. It consists of three sub-domes. The first and largest dome was completed when bone relics of Gautama Buddha were enshrined in the central locking stone of the dome, making it the world's largest hollow stone masonry structure containing relics of the Buddha. To the north and south of the main pagoda, stands two other small pagodas which are 60 ft high. A 4000 kg Dhamma wheel is suspended at a height of ninety-feet within the monument. The monument also hosts a magnificent Ashok Pillar
It has been built out of gratitude to the Buddha, his teaching and the community of monks practicing his teaching. The inside of the pagoda is hollow and serves as a very large meditation hall with an area covering more than 65,000 ft. The massive inner dome seats over 8000 people enabling them to practice the non-sectarian Vipassana meditation. A 10-day vipassana meditation courses are held free of charge at the meditation centre that is part of the Global Vipassana Pagoda complex.
The pagoda has 2 food courts and 1 souvenir shop which has amazing collection.
When to visit?
One can visit the pagoda throughout the year between 7:00 AM-6:00 PM
How to reach?
By Air: The nearest airport is Mumbai airport which is approx. 38 kms from Gorai Beach
By Rail: Mumbai has well connected rail networks
By Road: One can hire a cab/Auto rickshaw to reach the pagoda. Govt. buses also ply on this route.
By Ferry: You can hop into the ferry from Gorai creek. Once you cross the creek, you can find several auto rickshaws to take you to pagoda