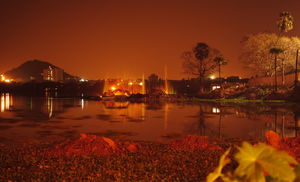 Things to do
Photography, sight- seeing
Traveller Types
Friends, Families, Solo, Couples
Rank
82 out of 446 attractions in Mumbai
Powai Lake
This place earlier had just a few small Powai Houses around and this is the reason why this place wasw named Powai and the artificial lake that we see here now had been named the same. This place was at that time under the British Raj and used to be leased out for various purposes to officials ranked in higher positions of the company. After that this lake was created to solve some water and irrigation problems of the area as well as provide better infrastructure to the growing populations of the state. Presently, it is a tourist hotspot due to the wonderful sceneries and you will also find a number of plus hotels have come up here. two premiere educational institutions of India namely the Indian Institute of Technology Bombay and The National Institute of Industrial Engineering are situated on either sides of the lake which was once made depending on a tributary of the Mithi River.
Reviews of
Powai Lake
•
3
Powai Lake sits quietly in north-eastern Mumbai, downstream of the Vihar Lake on the Mithi river. Indian Institute of Technology (IIT), Bombay was built to the east of the lake. Subsequently, the Hiranandani complex came up nearby, along with other housing projects in the area, which has turned the region into an ideal spot for plush hotels. Although the lake has gone through many stages of water quality degradation, Powai Lake still remains a tourist attraction. The lake pulls you towards it, especially during sunsets.Facts about Powai Lake:
Powai Lake is another very prominent site around which an entire area is based named Powai. One of the historical institutions i.e Indian Institute of Technology, Bombay (IIT B) rests within its domain. Whether on foot or through vehicles you get a glimpse of this place which seems serene and noisy at the same time as if in an oxymoron. Being in Mumbai, you ought to come across Powai Lake as a complimentary package.
Attractions near
Powai Lake