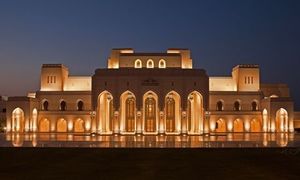 Best Months
September - May
Contact
351039682440330096824403322196824403332296824403333396824403334
Traveller Types
Couples, Friends, Families
Rank
2 out of 67 attractions in Muscat
Places to stay near
Royal Opera House
Cozy Double bed for 2 pax.
Next to the beach, swimming pool
cozy 1 BR in the heart of Muscat
Reviews of
Royal Opera House
•
2
The magnificent Royal Opera House in Muscat is a must on your itinerary. An opulent contemporary arts venue bordered by landscaped gardens and retail outlets, has brought the international culture into the heart of Oman. Opera, symphony, ballet and jazz fans alike will be delighted by their program of events. Located in Shatti Al Qurum facing the Sultan Qaboos Highway, the Royal Opera House Muscat is one of the most elegant architectural masterpieces in the Sultanate of Oman. The theater of the Royal Opera House Muscat features a state of the art technology including subtitles for operas displayed on individual touch screens in front of each seat. There is a strict formal dress code for attending the shows, no jeans, shirts or sports-wear shoes are allowed. Timing is also something that is strictly followed in this part of the world. Ticket holders are not allowed to enter the theater if they arrive after the show has started. They are made to wait in a room to watch the show on a screen until intermission, hence, time your schedule.
Attractions near
Royal Opera House