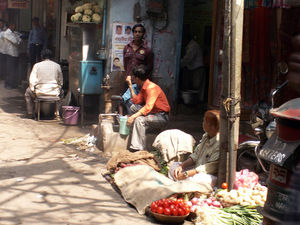 Best time to visit
9:00 AM – 11:00 AM
Open hours
unable to verify
Things to do
Enjoy vegetarian food at its best. Each and every item that you get over here is purely vegetarian. This is done keeping in mind a large number of Jain clientele that the food does not even include onions and garlic.
Best Months
December - May
Traveller Types
Friends, Families, Couples
Rank
84 out of 370 attractions in New Delhi
Gali Paranthe Wali
Also known as Gali Paranthewali, this is one of the most attractive by lanes of Old Delhi. Earlier kmown as the Gariba Dalan, this is where you will find old shops selling a variety of delicious paranthas. The specialty is that the stuffing put into these has unique flavors and combinations. This place was earlier a normal market place full of shops selling sarees and jewelry before the paratha sellers moved into this place. The lane is so famous that many celebrities visit this place regularly. It is said that the aroma of the yummy fried delicacies does not let you pass this lane without trying something from here. Jawaharlal Nehru and his family were regular customers here. the main flavors added to the paranthas here are of mint, different vegetables, cashew, khoya, mahwa and parat. The shops also sell yummy sweet dishes. Another remarkable development is that these shops have now partly switched on to the e-commerce world with online ordering services. Many other restaurants are trying to take inspiration from the environment of this place but the originality always serves the best.
Places to stay near
Gali Paranthe Wali
Pearl Premium Luxury Homes
Superior Double AC With Breakfast
Reviews of
Gali Paranthe Wali
•
7
Attractions near
Gali Paranthe Wali