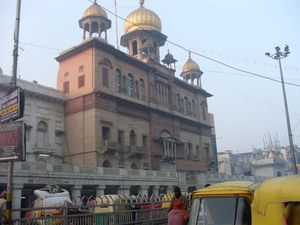 Best time to visit
7:00 AM – 7:00 PM
Open hours
6:00 AM – 9:00 PM
Things to do
Worship and pray More details: You are to cover your head when entering the gurudwara. The nearest metro station is the Chandni Chowk.
Traveller Types
Families, Friends, Couples
Rank
10 out of 370 attractions in New Delhi
Gurudwara Sis Ganj Sahib
The sacrifice of the 9th Sikh Guru, Guru Tegh Bahadur and his disciples is a tragic and important event in the Indian history and this place is a symbol of the incident. This gurudwara was built in the memory of Guru Tegh bahadur to honor his martyrdom during the reignh of Aurangzeb when they were beheaded as they refused to accept Islam as their religion. A devotee of the Guru named Baghel Sing h later discovered the site where the Guru was beheaded and thus the gurudwara was built. The shrine opens to a spacious hall where at the center is a golden canopy under which the Granth Sahib is kept. The cleanliness catches the eye at once. The place is very peaceful and creates a magical effect on all who visit this place.
Places to stay near
Gurudwara Sis Ganj Sahib
Superior Double AC With Breakfast
Stay in a true Delhi neighbourhood
Optimum Palm D'or @ New Delhi Railway station
goStops Delhi (Stops Hostel Delhi)
Reviews of
Gurudwara Sis Ganj Sahib
•
2
Gurudwara Sis Ganj SahibA lot-some spiritual place, located in Chandni chowk. Make sure to learn about it's history, coz that's the one thing which is so inspiring and connects you with it spiritually. Spend some time there listning to shabads and grace yourself with some blessings.
Situated in Chandni Chowk, it's a sacred place where one can get to know about the history of Sikh religion. Visit this place with a scarf covering your head, to enter and feel the serenity by listening to Gurbani.
Attractions near
Gurudwara Sis Ganj Sahib