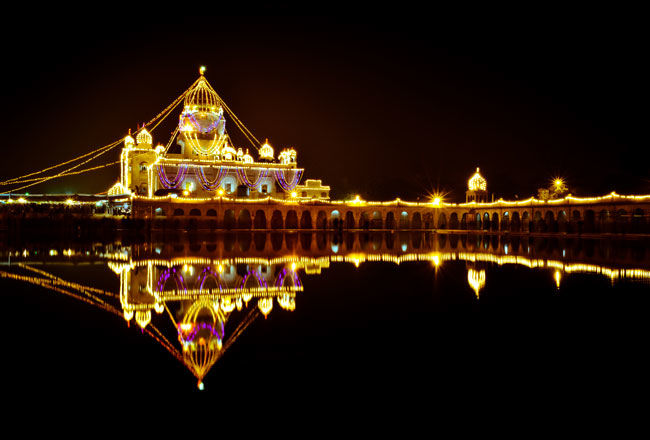 Delhi, The capital of India and Sikhs have a story that goes back about 500 years ago. Sikh Gurus have blessed the old city with their visit and This ancient city is also soaked with the sacred blood of many thousands of Sikh souls; The Ninth Guru,Who Sacrificed his life to save Hinduism , The Eighted Guru, who gave his life to 1000's of people effected from deadly disease epidemic and thousands of brave and fearless martyrs who died for the Freedom and Humanity, Defended and fought for the most noble of human causes - the protection of ones liberty, the right to practice ones own religion and the freedom to live with the assurance of justice. The army of Sikhs also Defeated Mughals and Hoisted Khalsa Flag on Delhi Red Fort in 1800's.

#pics #credit #google.com #picsdownloadedfromgoogle
1. Gurudwara Bangla Sahib , CP
This magnificent gurudwara is situated at Connaught Place. Gurdwara Bangla Sahib was originally a bungalow belonging to Raja Jai Singh of Jaipur. The area around the bungalow was known as Jaisingh Pura. This historic neighborhood was demolished to develop Connaught Place, the shopping district by the British. Raja Jai Singh requested Guru HarKrishan Sahib, The 8th Guru to bless the people of his town plagued by Small Pox Delhi in 1664. Guru Harkrishan stayed in his bungalow and helped the suffering by giving aid and fresh water from the well at this house. He had a small stick which He carry along and He was very powerful. He sued his Stick and As per Historian Did some Magic and Water started flowing upwards from that point. The water of the Well is considered as holy and is said to cure many diseases. The Water is still coming out automatically after hundreds of years and still the source is unknown.
While serving the people, the Guru too contracted the illness and passed away on March 30, 1664. Raja Jai Singh donated the bungalow to be built a shrine in the memory of Guru HarkrishanSahib. Also Known as " Bala Pritam " as He was just 8 years old when he passed away.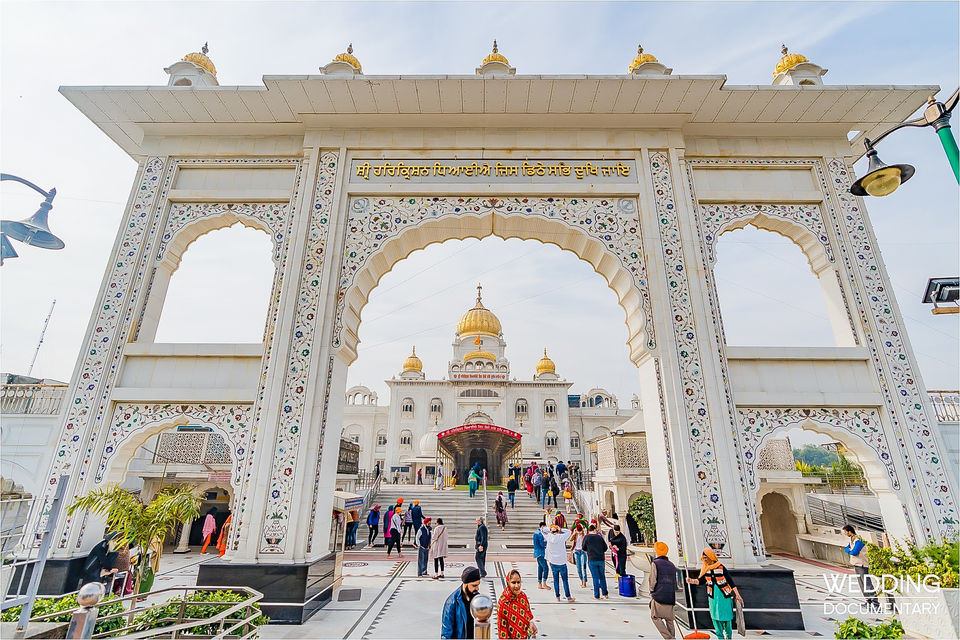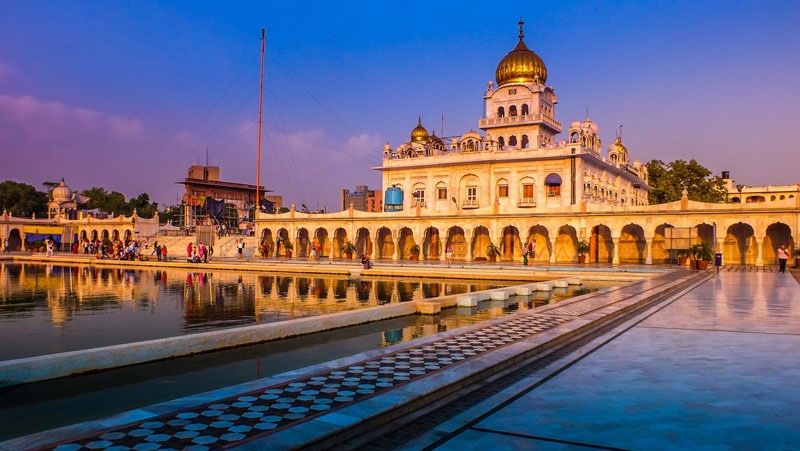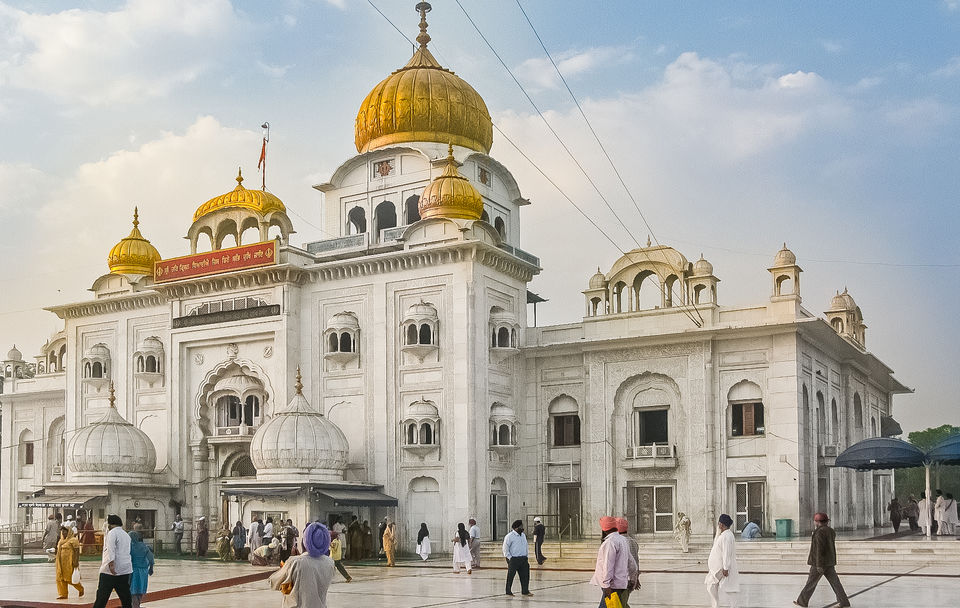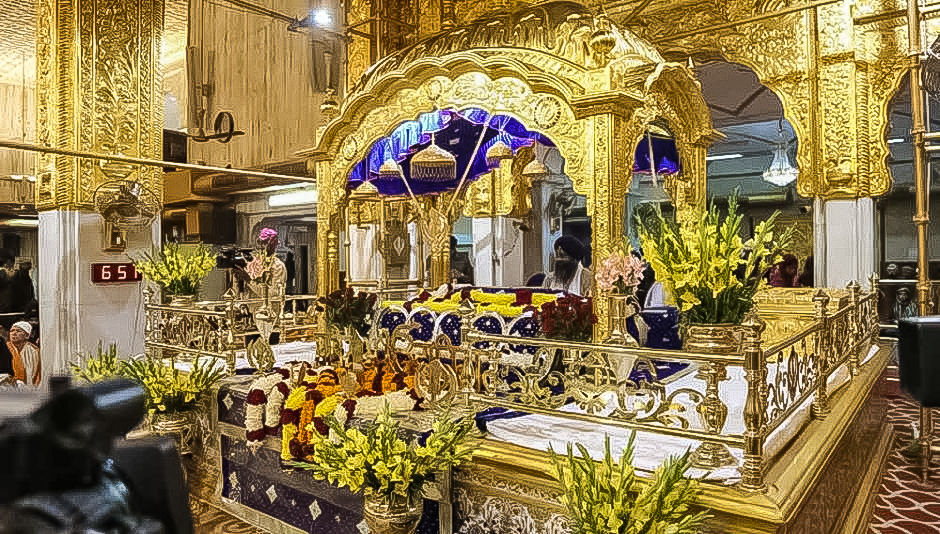 2. Gurudwara Nanak Piao Sahib , North Delhi
Gurdwara Nanak Piao is built at the site, where Guru Nanak Dev camped when he visited Delhi in 1505 during the reign of Sultan Sikandar Lodhi. Here Guru Nanak offered water to the thirsty travelers, hence the name of the shrine. The word "Piao" mean to "offer water to drink" and refers to the offering of water to all the thirsty who visited this shrine. Even today, the Well used by the Guru is preserved from which Guru Nanak served water at the shrine.
Guru Nanak, the founder of Sikhism went on a pilgrimage and his way return to Delhi, sat near a garden where he preached and gave sermons to the fellow travellers regarding Sikhism. Do visit this historical place.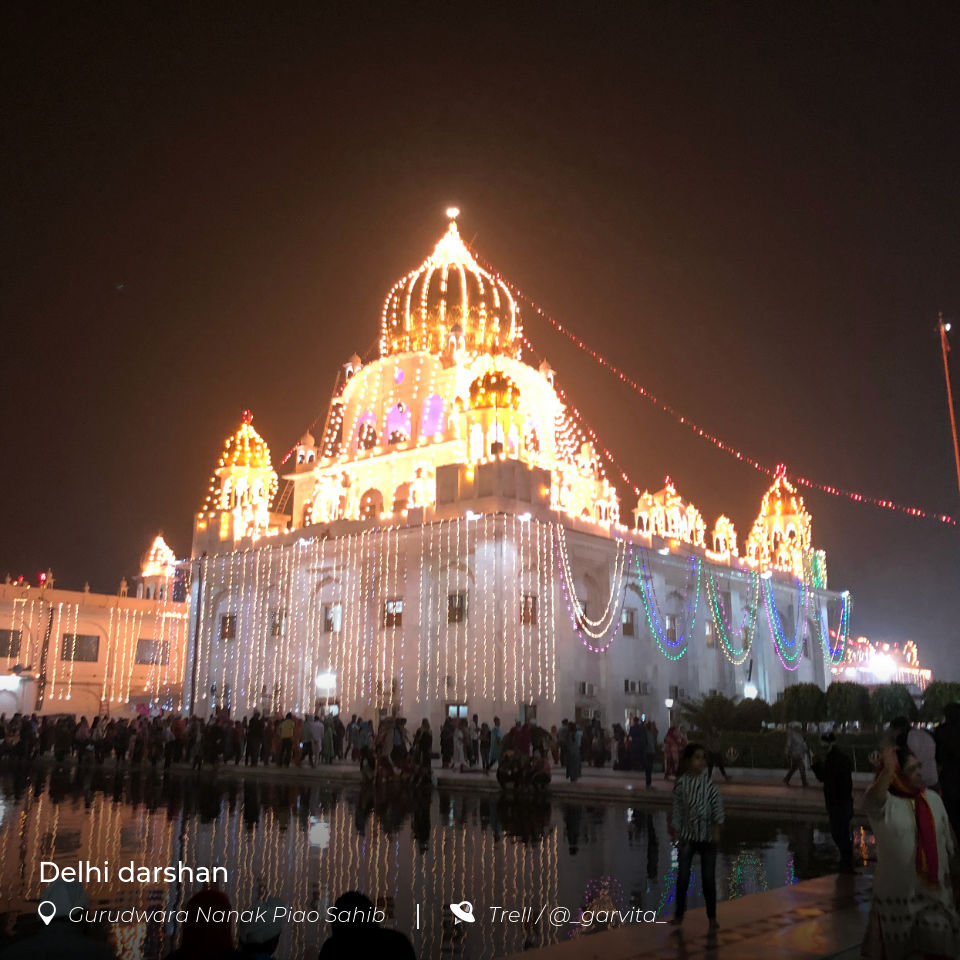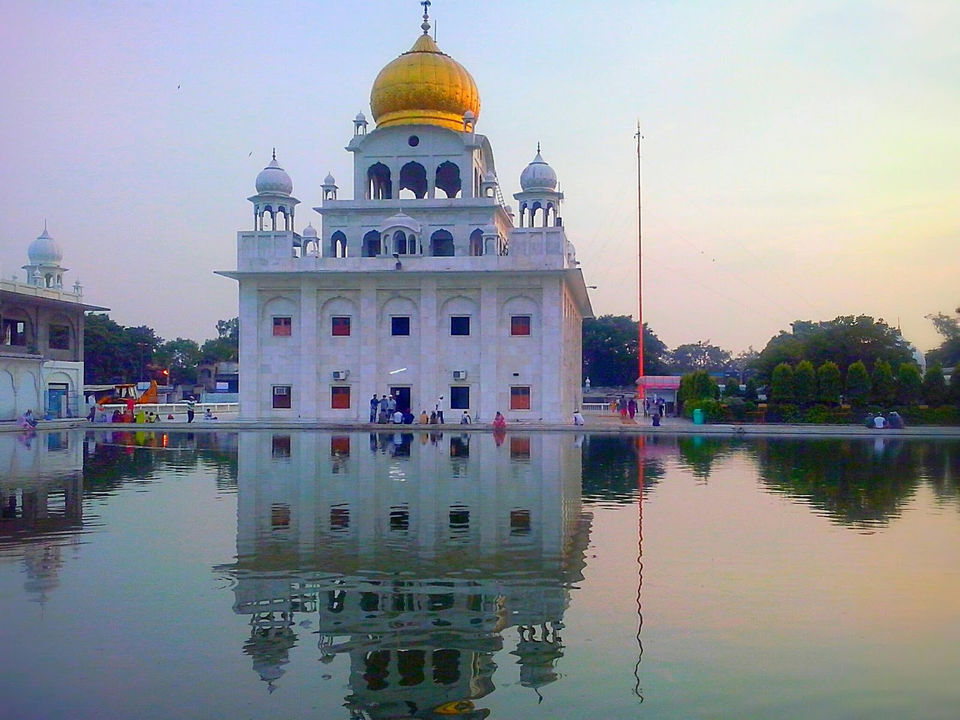 3. Gurudwara Sis Ganj Sahib , Chandni Chowk
The Chandni Chowk is one of the oldest and busiest markets in Old Delhi located near the red fort. Gurudwara Sis Ganj is located near Chandni Chowk. The Gurudwara is Dedicated to the martyr of Guru Teg bahadur, along with Bhai Mati Das, Bhai Dyal Das, and Bhai Sati Das who Sacrificed their life to Safegaurd Hindu Religion when Mughals (Aurngzeb was forcefully converting all Hindus to Muslim ) and Guru Tegh Bahadur was Beheaded to save Hinduism . He is also known as " Hind di Chaddar " This gurudwara is an astounding place and is considered as one of the most important Gurudwara of Delhi.

The 9th Sikh Guru, Guru Tegh Bahadur and his followers Bhai Mati Das, Bhai Dyal Das, and Bhai Sati Das were executed at the Kotwali (Police station) by the Mughals in 1675. The Gurudwaras in the form of memorials were built in 1783 after Delhi was captured by the Khalsa (the corporate body of Sikhs) under the command of Sardar Baghel Singh.
After Guru Tegh Bahadur was Executed , The Mughals told people and Scared them to Not Cremate his Body or A severe Punishment was announced to be given. One of the Brave Heart " Bhai Lakhi Shah Banjara : Took his Body to his Home " Presently Known as Gurudwara Rakab Ganj Sahib " , Next in the List where He cremated the Body of Guru Sahib, and Bhai Jaita carried the Guru's head to Anandpur Sahib, 500Km where It was cremated by his son " Guru Gobind Singh Ji " , 1oth Guru.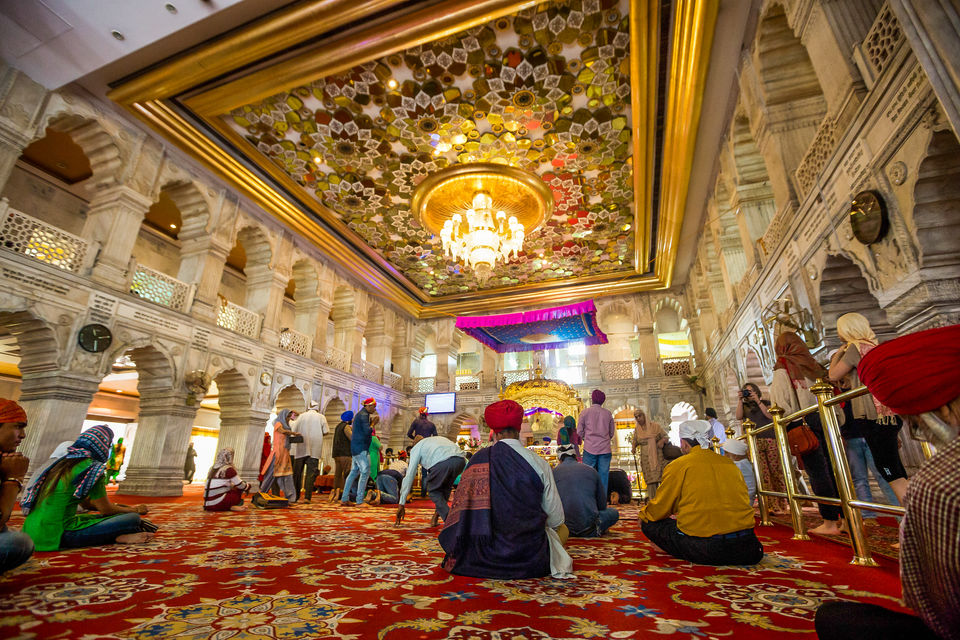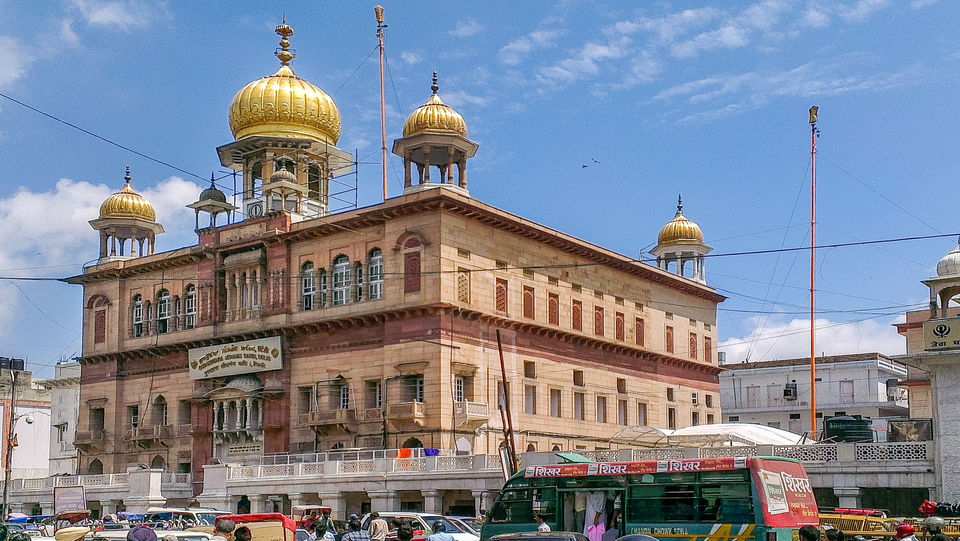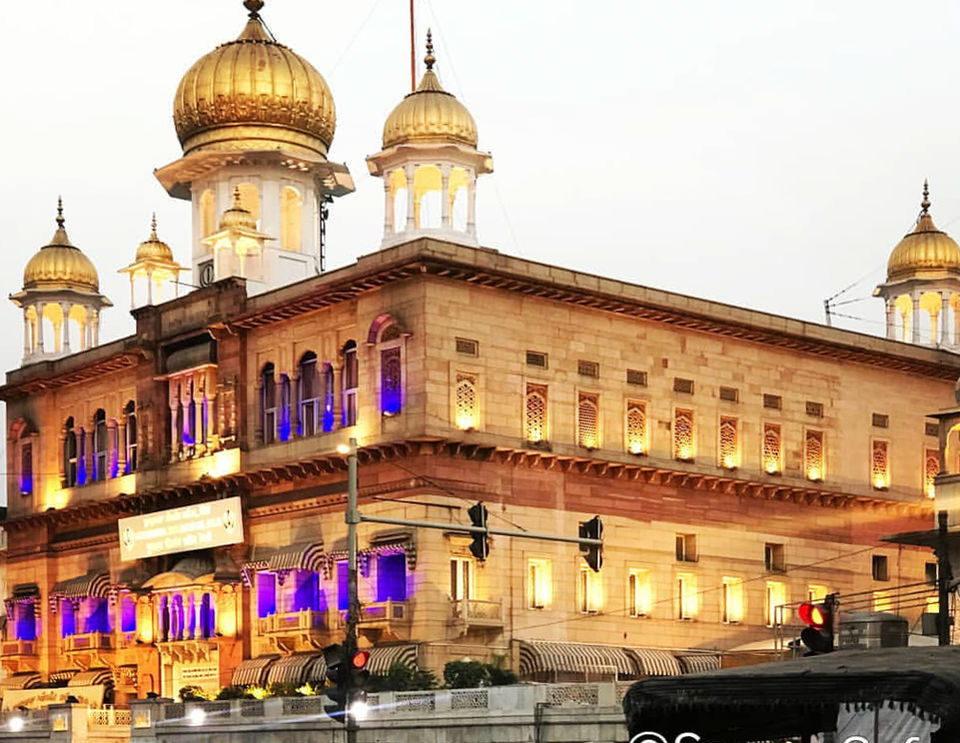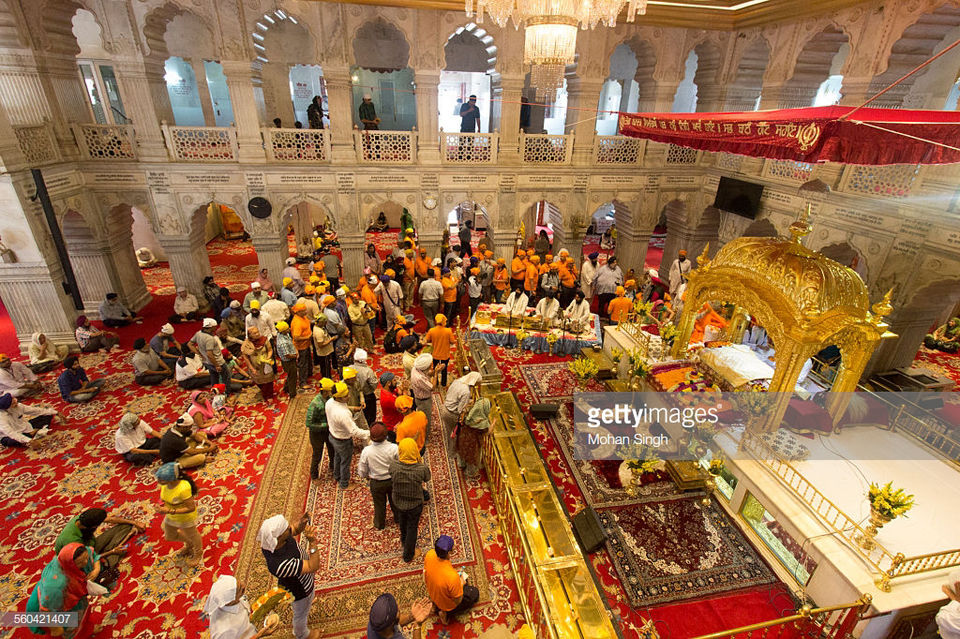 4. Gurudwara Rakab Ganj Sahib
Gurudwara Rakab Ganj marks the site of cremation of the Ninth Sikh Guru, Sri Guru Tegh Bahadur ji, after his martyrdom in November 1675 for standing by the Hindu Kashmiri Pandits. Two brave Sikhs, Bhai Lakhi Shah Banjara and his son Naghaiya rescued the headless body of the Sikh Guru from Chandni Chowk, Gurudwara Sis Ganj Sahib, Delhi during a storm. On reaching their home they placed the body on a bed and set fire to their whole house for a honorable cremation of the Guru. Another devoted Sikh, Bhai Jaita carried the Guru's head to Anandpur Sahib, 400Km away from Sis Ganj, Chandni Chowk. Where His Son, Shri Guru Gobind Singh Ji Cremated his Head with all rituals. Shri Guru Tegh Bahadur Sahib is the one Human Being in the History of the world whose Body and Head was Cremated Separately. Waheguru !!!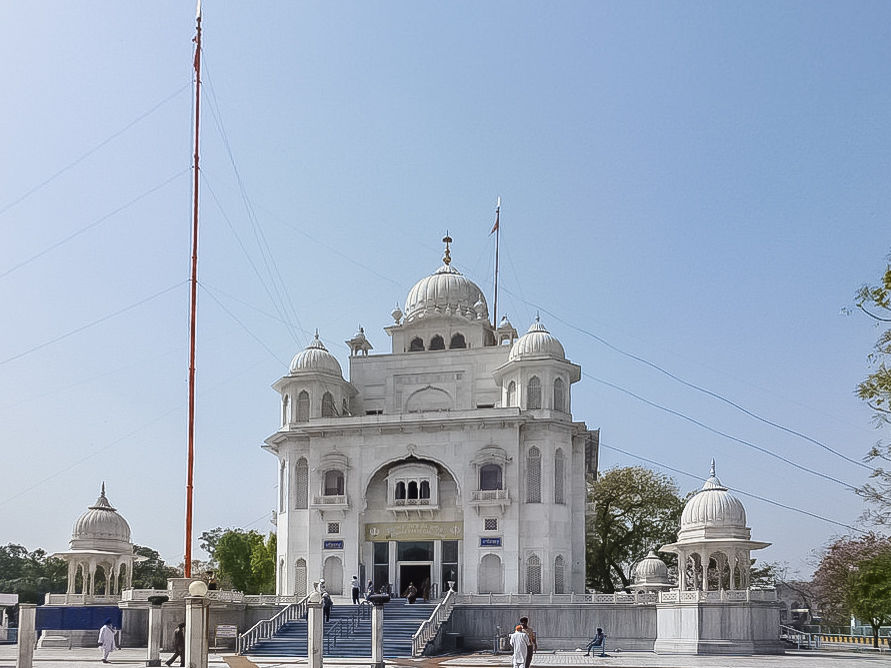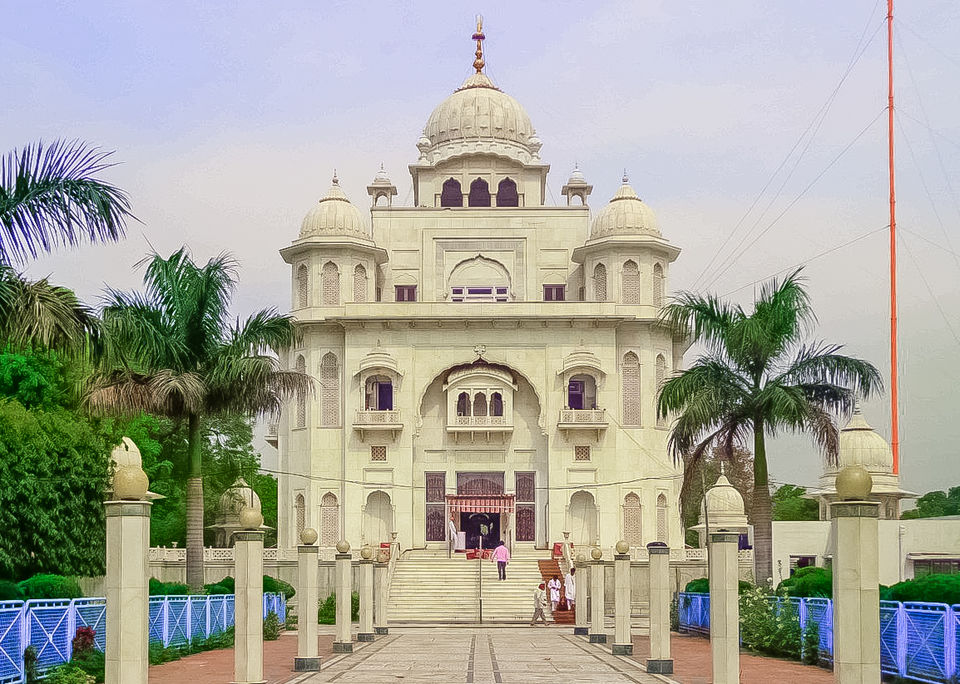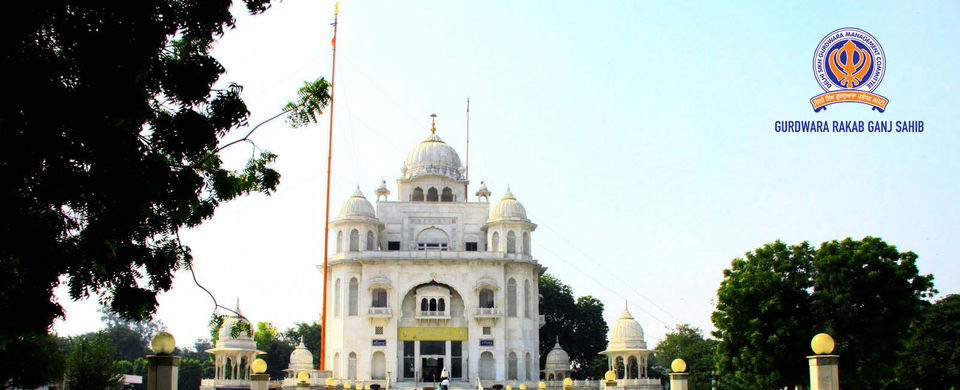 5, Gurudwara Majnu ka Tilla Sahib
During the historic visit to Delhi, Guru Nanak met and stayed with a local Persian Sufi mystic, Abdulla nicknamed Majnu (lost in love) on July 20, 1505. While Guru Nanak was camping atop this mound, many Sufi saints of Delhi came to meet with the Guru and held spiritual discussions. The most prominent among those who came to pay homage to the Guru was the spiritual leader of Nizamuddian Aulia shrine.
This historic gurudwara is situated at the banks of Yamuna river. The most interesting story that surround this gurudwara is about the man after whom this place is named. It is said that there was once a frail Indian man living here with full of yearnings of a glimpse of God. On his visit to Delhi, Guru Nanak held long discourses with this man who used to be called Majnu. Therefore, this place became a famous gurudwara and it still retains the old charm with itself.
Years later,Guru Hargobind was 'invited' to Delhi by Emperor Jahangir, he stayed at Gurdwara Majnu-Ka-Tilla. During his stay he became friends with the Emperor. Later he joined the Emperor's shikars (hunts) and even saved Jahangir from a tiger's attack. When an influential friend of the gravely ill Emperor had the Court Astrologers to suggest to the Emperor to ask his new friend to go to Gwalior Fort to pray for his recovery, Guru Hargobind gladly agreed. When he was released and asked to return to Delhi, Guru ji refused to leave the fort insisting that 52 Hindu prisoners also be set free. Today the event is celebrated as Bandi Chhor Divas. Leaving Delhi, on his way back to the Punjab, Guru ji again visited the hilltop, Majnu-Ka-Tilla, where his fifth predeccesor had stopped to bless Majnu the 'crazy' Sufi who had yearned for, the seemingly unattainable, love of the Kartar (God).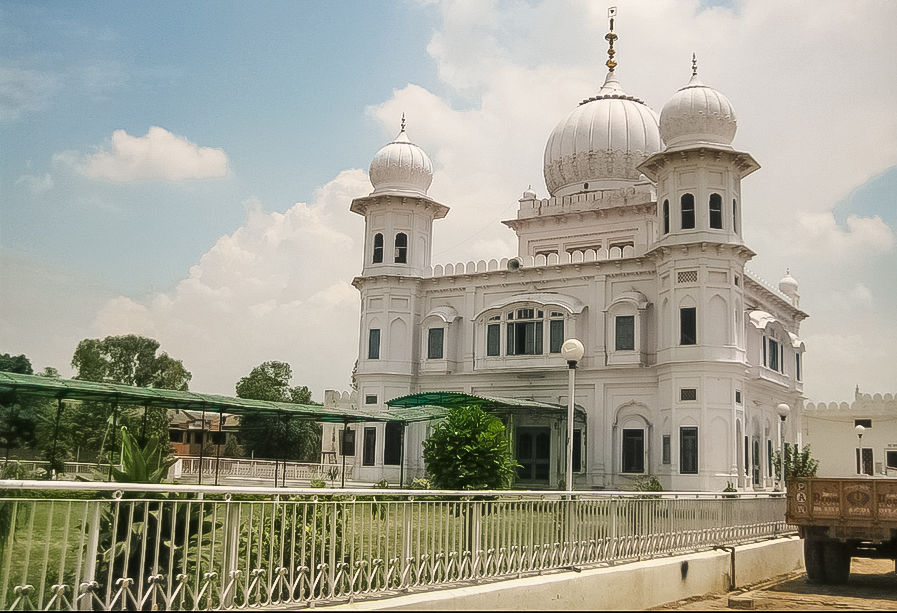 6. Gurudwara Moti Bagh Sahib , Dhaula Kuan
Gurdwara Moti Bagh Sahib marks the place where Guru Gobind Singh camped with his army. It was the known as Mochi Bagh (Garden of Cobblers). An old story relates that the Guru, an accomplished archer, shot two arrows from a colony of cobblers in Mochi Bagh which hit the 'Divan' (throne) of Mughal Emperor Bahadur Shah. The Guru's first arrow announced his arrival in Delhi and the second arrow carried a chit saying, "It is not magic but skill of archery".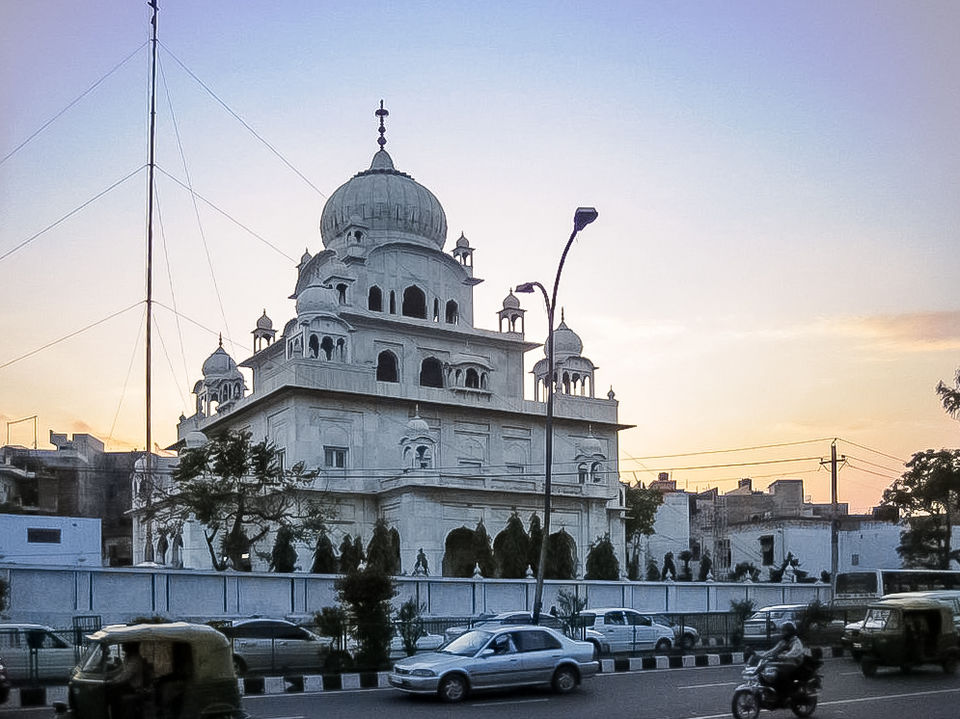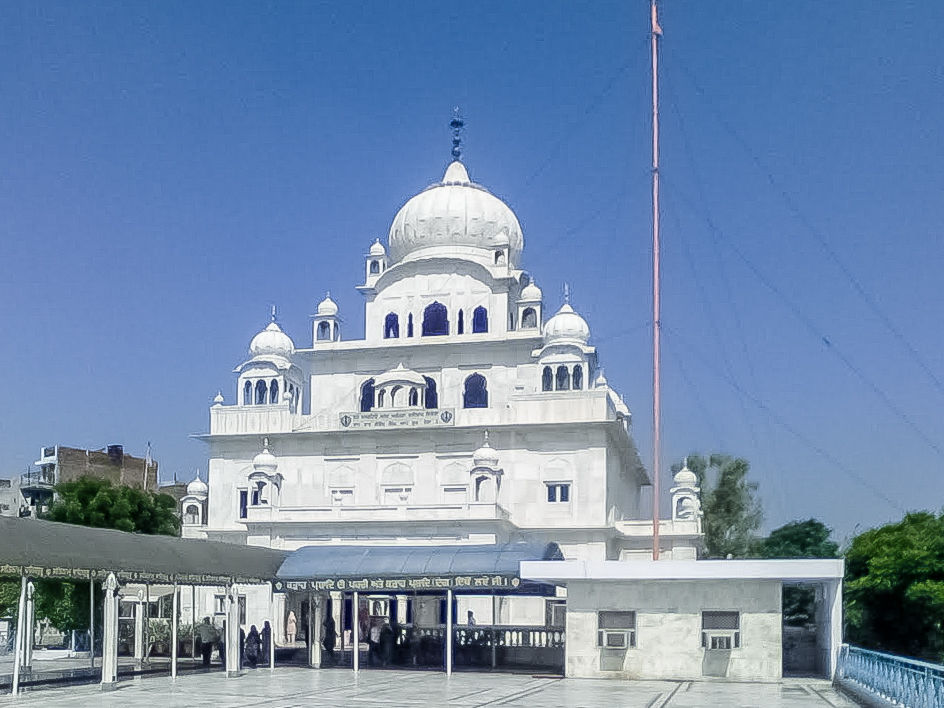 7. Gurudwara Damdama Sahib , Nizamuddin
It is situated in Delhi near Hazrat Nizamuddins Dargah. Here SHRI GURU GOBIND SINGH JI had meeting with Emperor Bahadur Shah. GURU SAHIB came to Delhi in 1707 after Badshah Bahadur Shah captured the Delhi throne. In preliminary meeting GURU SAHIB gave in details the name of all those army personal and Kings of hilly areas who were responsible for inflicting terror & lynching on innocent Sikhs and tender aged Sahibzaadas. They got Shri Anandpur Sahib Vacated and destroyed valueless belongings literary treasures of GURU SAHIB. Listening to these atrocities Emperor promised to punish all those responsible for such acts once he consolidates his power.
After his royal army and Sikh volunteers demonstrated their martial art and then decided to have a fight between martial elephants. Everyone was astonished to see that male buffalo chased away martial elephant from fighting ring. Emperor was very impressed and he was convinced of martial training of imparted by GURU SAHIB.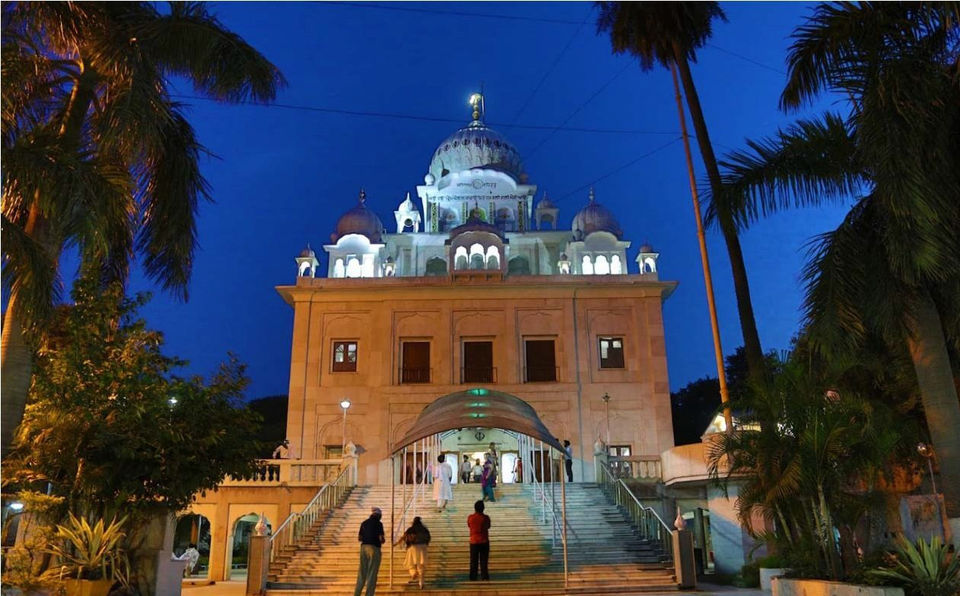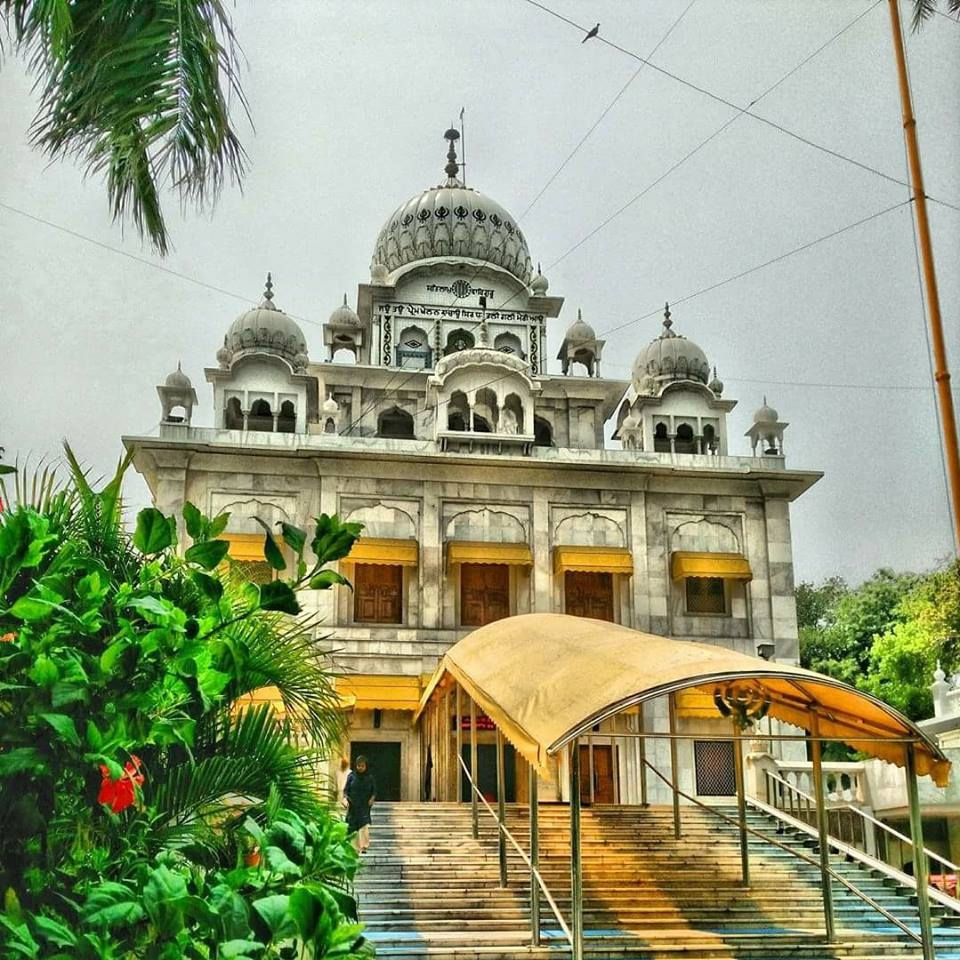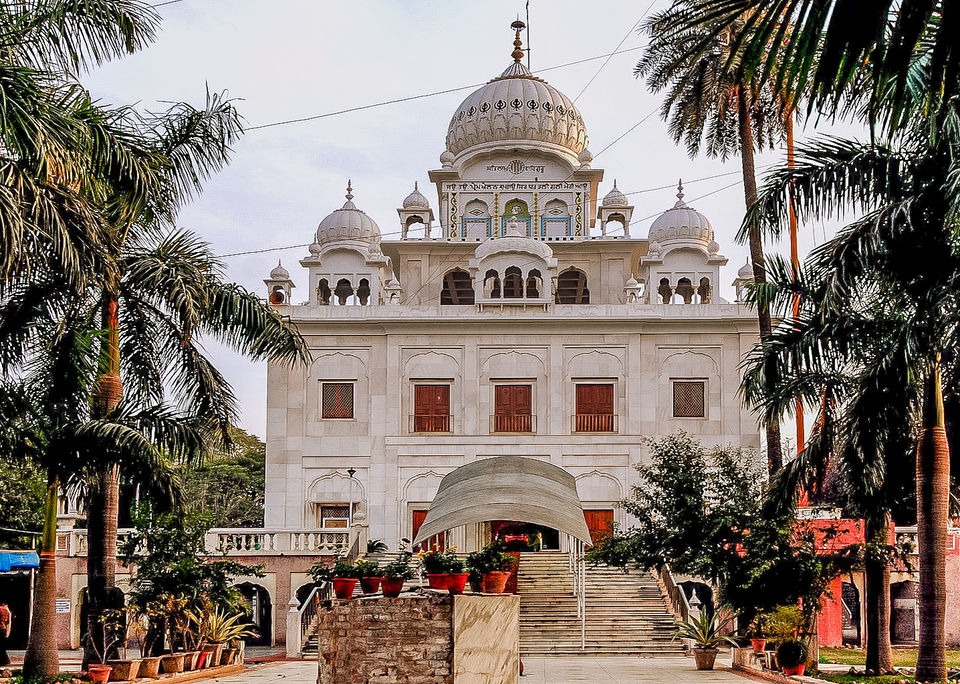 8. Gurudwara Bala Sahib , Sarai Kale Khan
Gurdwara Bala Sahib is one of the most important Sikh shrines in Delhi, next in importance to Gurdwara Sis Ganj and Gurdwara Bangla Sahib. Large number of Sikhs and Hindus visit this holy place daily. This Gurdwara is associated with the eighth Guru Sri Harkrishan Sahib ji and two wives of Guru Gobind Singh namely Mata Sundri ji and Mata Sahib Kaur ji.
During his stay in Delhi, Guru Harkrishan Sahib won the hearts of a large number of admirers by applying healing touch on ailing bodies. He cured hundreds of people, suffering from acute attack of cholera and smallpox. For Sikhs of Delhi, his very presence amidst them, had a very healthy impact. For them the Guru was the boat of salvation, a ladder to reach one's ultimate home, a key to open the lock,a unifier of man with God and so on. In fact for Sikhs a Guru is indispensable, yet he is not an end in himself, but only a means for the attainment of salvation.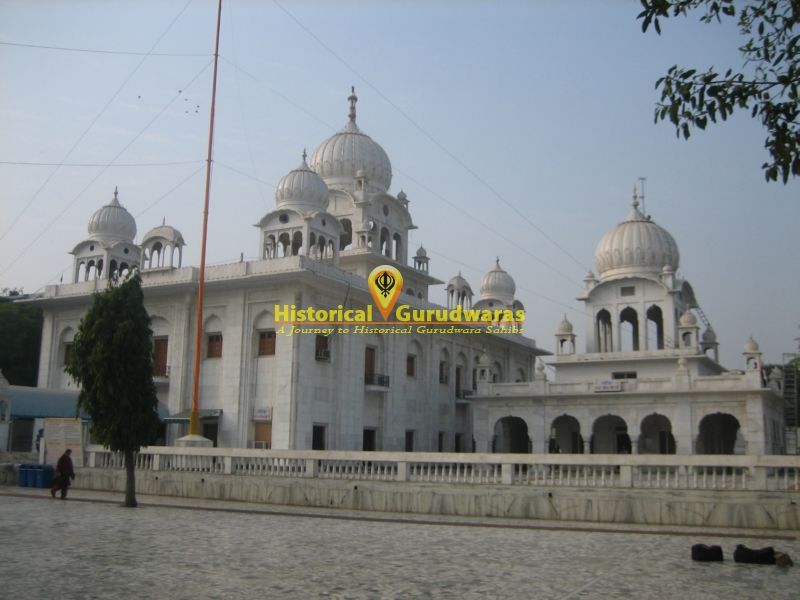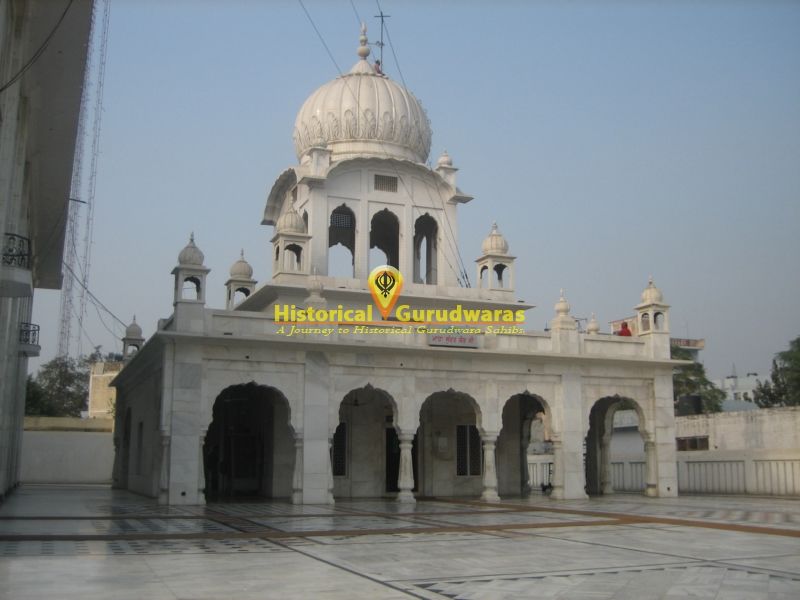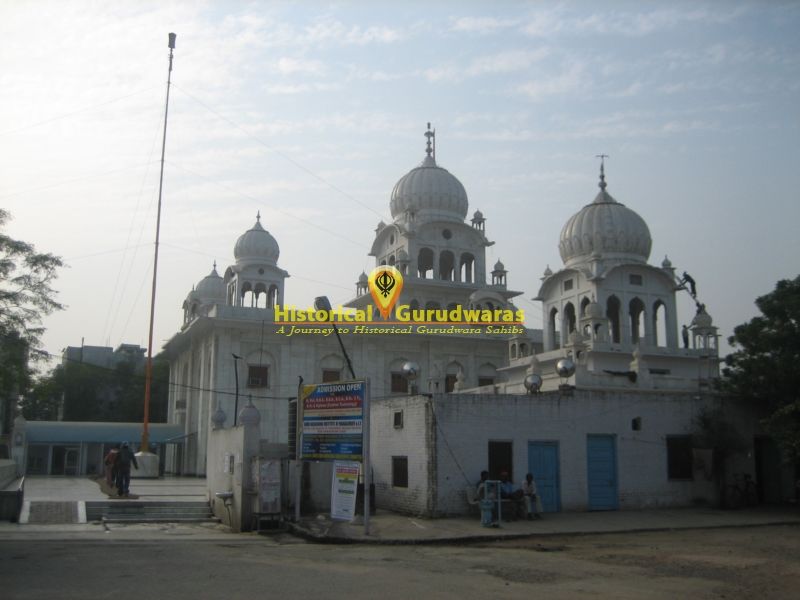 Thank You so much for your time , ChadhiKala... Waheguru Ji ka Khalsa , Waheguru ji ki Fateh