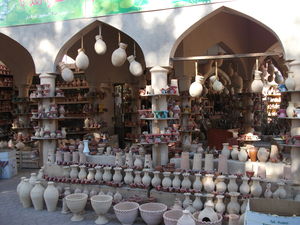 Places to stay near
Nizwa Souq سوق نزوى
Cozy double bedroom with bathroom.
Cozy 2 bdrooms flat to share
Nizwa Furnished Apartements
Reviews of
Nizwa Souq سوق نزوى
•
2
Nizwa Souq: Souq or Souk is actually a marketplace and Nizwa Souq is one of the oldest and most extensive souqs in the country. Some of the souq's loveliest products are things you can't take home – like spices, henna powder, coffee, and other aromatics and edibles.
Today morning, leave for Nizwa. The ancient capital of Oman, Nizwa is spread around its traditional souk, historical buildings and the imposing circular-towered fort built during the mid-17th century by Imam Sultan bin Saif Al Yar'ubi. If you think that the Muttrah souk was impressive, wait till you visit the one in Nizwa. If you love shopping in old bazars, and collecting oriental artefacts, then Nizwa is the place for you. The magnificent Nizwa Fort looms over a fascinating souk that houses the most delicate of silver necklaces and ornamental candle stands. Traders advertise their goods by hollering to customers. With fresh dates and figs, intricately carved pots and pans and hundreds of other trinkets to buy, this is one market where you can easily spend an entire day and still not feel satiated.Time: 6am to 1pm and 3pm to 10pm from Saturday to Thursday. On Friday, it is open from 5am to 11am.
Attractions near
Nizwa Souq سوق نزوى