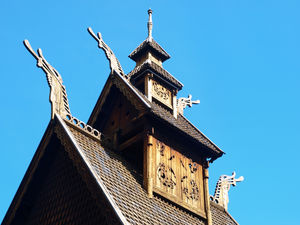 Places to stay near
Norwegian Folk Museum
Ideal for the budget traveler!
Very central room with 2 bikes..
Central, bohemian style family home
Great new apartment downtown
Central, neat room in friendly apt1
Reviews of
Norwegian Folk Museum
•
1
The Norwegian Folk Museum is the place to go if you want to get a lifetime's worth of Norwegian history and culture in and you are short on time. I learned so much about the Norwegian people on my visit, and it was definitely a highlight of my entire trip to Norway. This is the largest open-air museum in the world, and it definitely won't disappoint. You are free to explore the grounds on your own, so you can discover incredible buildings from Norway's past along each path you choose. The highlight is the Stave Church from Gol, a breathtaking wooden church that dates back to 1212. You can also walk around farm houses, a typical 1950′s Norwegian town, and many other regional parts of Norway that have been recreated. The indoor exhibits are definitely worth a look and feature traditional costumes and folk art- I especially recommend the exhibit on the Sami Culture. Admission is free with the Oslo Pass, otherwise NOK 110 (£11, $18) for an adult ticket.
Attractions near
Norwegian Folk Museum