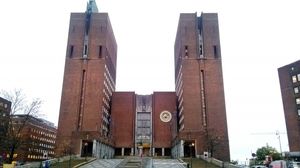 Places to stay near
Oslo City Hall
Ideal for the budget traveler!
Very central room with 2 bikes..
Central, bohemian style family home
Great new apartment downtown
Central, neat room in friendly apt1
Reviews of
Oslo City Hall
•
1
ver wondered where the Nobel Peace Prize is awarded? You may have known it took place in Oslo, Norway, but the actual location is at Oslo City Hall. I had the privilege to visit this famous site, and walk in the footsteps of some of the world's greatest leaders, thinkers, and game changers. Walking up to Oslo City Hall, I was overcome with disappointment. This building had won "Oslo's Structure of the Century" and is a well-known icon around the world. I was unimpressed with the brick facade, which in all honesty reminded me of a library from the 80′s. BUT. Walking inside I was surprised to find beautiful murals and some of the most spectacular artwork I had ever seen. I was not expecting it at all, which made it even more incredible. When you visit a place like the Sistine Chapel, you work it up in your head. By the time you are actually there, in front of some of the greatest art work of all time, you can't help but feel a little disappointed. Maybe this is just a Jessica thing, but I live for the unexpected surprises. Oslo City Hall has the most beautiful interior, and after the shockingly ugly welcome (take my opinion with a grain of salt, I am not an architecture expert) a total surprise it was.
Attractions near
Oslo City Hall