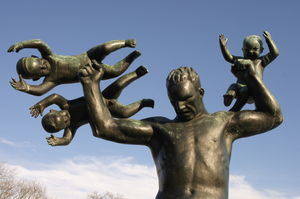 Places to stay near
Vigeland Sculpture Park
Ideal for the budget traveler!
Very central room with 2 bikes..
Central, bohemian style family home
Great new apartment downtown
Reviews of
Vigeland Sculpture Park
•
1
The Vigeland Sculpture Park is a little bit quirky, but a whole lot awesome. One of the world's largest sculpture parks done by a single artist, Vigeland features over 200 sculptures along its manicured lawns from its namesake sculptor Gustav Vigeland. The Sculpture park is actually located inside the larger Frogner Park, which is also great for a stroll or picnic in the warmer months. Admission is NOK 60 (£6, $10) or free with the Oslo Pass.
Attractions near
Vigeland Sculpture Park