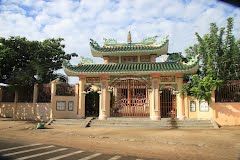 Places to stay near
Mui Ne
Duc Thao Guesthouse - DOUBLE ROOM
DUY AN GUEST HOUSE GARDENIA
Reviews of
Mui Ne
•
3
The fertile waters of Mekong River traverse through dense jungles, frolicking rice terraces and quaint riverside villages in Vietnam. Yet, one place that even the mighty Mekong can't reach nor have most travellers is Mui Ne. 215km from Ho Chi Minh City, Mui Ne has the distinction of having the only desert-like landscape in Southeast Asia. Oceanic winds from the nearby South China Sea have sculpted crimson and powdery white sand dunes evoking romance and fantasy in the onlookers.There are actually two sandy paradises near Mui Ne - White Sand Dunes (doi hong) and Red Sand Dunes (doi cat trang). Stunning landscape, impressive formations and breathtaking views make them a photographer's delight. Very few tourists visit these natural wonders thus giving you an authentic travel experience. There are a few unique desert adventure activities for thrill-seekers as well. And, Mui Ne is also the only place in Vietnam with adventurous hot air balloon rides that provide spectacular vistas of the sand dunes, pristine lakes and swamps.
Mui Ne almost took our breath away. A new Vietnamese tourist destination with the usual strip of fancy hotels and restaurants, it reminded Joseph of Waikiki in the 60's. We were living right on the sandy beach, with shady palm trees rustling in the breeze. We would walk down the beach or along the sand lane to the local market a mile away and by the time we left, everyone knew us, smiling and waving a genuine greeting. The classy hotels with restaurants right on the beach were a great place to watch the kite surfing or beach-goers of all shapes and physiques, from wiry Vietnamese vendors to rotund pink Russians in bulging spandex.
The weather gods weren't kind to us in Mui Ne. Two days of incessant rains kept us indoors, but we managed to sneak a brief sojourn to the red sands and the fishing village just beyond the main coastal strip that houses most of the bars and resorts in town.