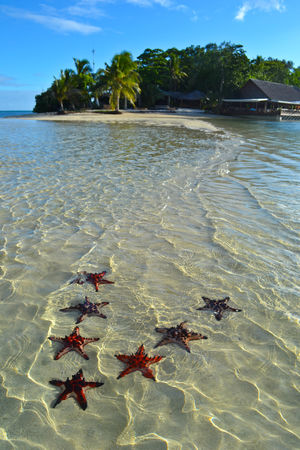 Places to stay near
Vanuatu
2nd - Cliff-Top Above Port Vila.
Rooms in a spacious villa ,central
Reviews of
Vanuatu
•
1
An archipelago made up of 83 islands, the island nation of Vanuatu is about a 2 ½ hour flight from either Brisbane, Australia or Auckland, New Zealand making it one of the most easily reachable South Pacific islands for both Aussies and Kiwis (and they account for almost all of the visitors). In 2007, it was named the Happiest Country in the World by the New Economic Foundation's "happy planet index" which has helped to promote their tourism industry (who wouldn't want to visit the happiest country in the world?). And after just a few hours on the main island of Efate, it's easy to see why everyone's so happy here. After all, what's not to be happy about when you live in paradise? Like in Tasmania, I'd procrastinated about booking a hotel in Vanuatu and only in the past few days had confirmed where I would be staying. My top choices were the Erakor Island Resort and the Hideaway Island Resort, both on their own separate islands reachable by jetty.