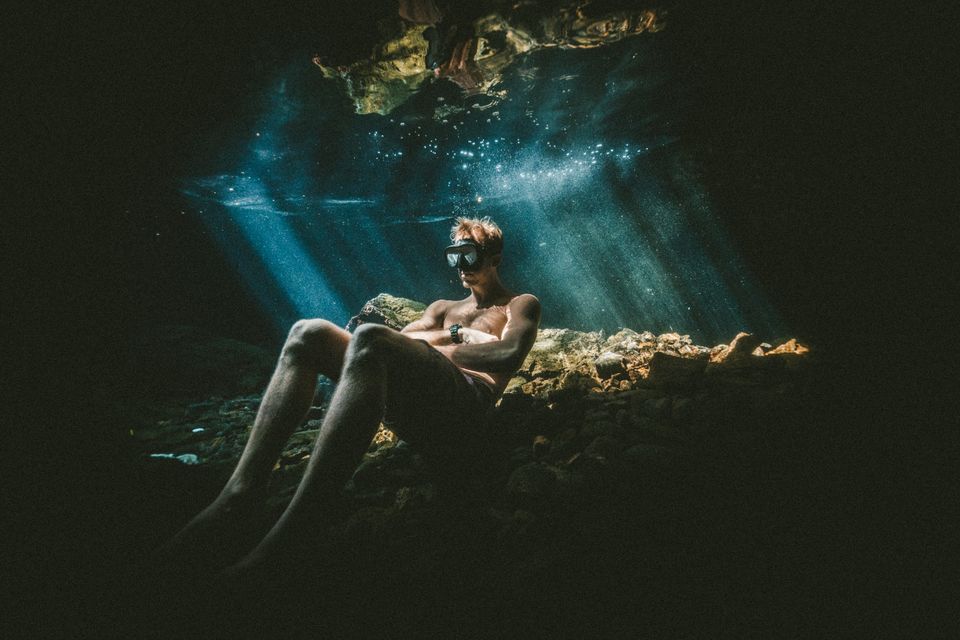 About 71% of our planet's surface is covered by oceans. With everything that humans have achieved on land, it is no surprise that we have tried our best to explore what lies under the great blue. The oceans that look calm on the surface hide secrets that men have spent centuries uncovering. Now with the advancement of technology, we can observe the curious world under the ocean with the help of scuba equipment, oxygen helmets, and and even an underwater hotel.
If you want to experience the magic of life under the sea, here is a list of places that will give you glimpse into the best slice of the ocean world:
World's Only Underwater Hotel – Jules' Lodge, USA
This submarine underwater hotel is located in the lagoon at Key Largo Undersea Park, Florida. To reach the entrance of the lodge one has to scuba dive 21ft underneath the surface of the sea. The lodge is filled with compressed air, which prevents the water from rising and flooding the rooms. And for food, you have pizza – which is delivered hot to you. A scuba diver packs pizza in a sealed suitcase and delivers it to the guest living in the undersea lodge. Jules' Lodge is cottage-sized and has all the comforts of a cozy home complete with hot showers, a well-stocked kitchen, books, music and video movies. You need to be a certified scuba diver to enter the lodge. Don't worry if you are not certified, this place offers scuba training in the emerald water of the lagoon.
Price:
A three-hour visit and pizza-delivery lunch at Jules' Undersea Lodge costs $150 Or Rs 9,670.
Overnight stay package for two costs $800 or Rs 51,572 and includes the famous pizza delivery dinner. For a group of five to six people, the cost is $300 or Rs 19,339 per person. ☞ Find more information here.
World's First Undersea Restaurant – Ithaa, Maldives
This all-glass undersea restaurant is one of a kind. A spiral staircase leads guests 16ft under the sea to this restaurant. Surrounded by a throbbing marine life, you can enjoy your meal while trying to spot sharks or saying hi to a scuba diver outside. This restaurant seats 14 guests and serves lunch, dinner and cocktails. Opened in the year 2005, it is estimated that restaurant, which is located in an area with extreme conditions, won't last more than 20 years. But it does go well with the underwater hotel mentioned earlier in this list.
Price:
Dinner costs US $320 or Rs 20,624 per person and lunch is US $195 or Rs 12,567. Prices include one glass of champagne. ☞ Find more information here.
World's Only Undersea Post Office – Hideaway Island, Vanuatu
This unique post office, located in the marine paradise of Vanuatu just off Hideaway Island near Port Vila, is bringing back the love for postcards. The post office sits three meters below the surface and can be easily reached by wearing just a snorkelling mask. Thousands of visitors have posted special waterproof postcards available in Vanuatu to their loved ones in this extraordinary post office. These postcards are collected regularly by one of Vanuatu Post's four trained scuba divers who make sure each postcard reaches the destination.
Price:
One waterproof postcard cost US $3 or Rs 193. ☞ Find more information on Vanuatu Post.
World's Largest Undersea Museum – Cancún, Mexico
This undersea museum perfectly demonstrates the interaction between manmade art and environment. The world famous undersea museum with over 400 life-sized sculptures covering an area of more than 150 square meters, called Silent Evolution, was created by renowned sculptor Jason de Caires Taylor. The ever-evolving sculptures are fixed to the seabed that's only 28-feet deep and made from special materials that promote coral life. They form part of a complex reef structure that encourages marine life to colonise and inhabit them. This project was created with an aim to provide an alternative spot for diving and snorkelling as mass tourism to Cancún was destroying the natural reefs of the region.
Price:
$45 to $65 or Rs 2,900 to 4,189 for one-tank dives for certified divers. Glass boats and snorkelling trips are also available. ☞ Book here.
World's Biggest Underwater Viewing Dome – Hengqin, China
The Chimelong Ocean Kingdom Whale Shark Exhibit Aquarium is located on Hengqin Island in the Guangdong province of the People's Republic of China. It features one of the world's largest aquariums that allows guests to view rare whale sharks, beluga whales, polar bears, and other exotic animals up close. This aquarium has set the Guinness World Record for having the world's biggest underwater viewing dome and the world's largest aquarium tank. Its highlight includes none less than five whale sharks as well as an abundance of other species such as manta rays, corals, and sharks. This island is easily accessible from Macau in 30mins and from Hong Kong in two hours by bus or taxi. If only it had an underwater hotel next!
Price:
Entrance fee for one adult is CNY 360 or Rs 3,420. ☞ Book here.
Have you ever experienced the magical world beneath the great blue oceans? Share your story with the 25 million travellers of Tripoto community.
Frequent searches leading to this page:-
Maldives honeymoon package cost, top Maldives tour packages with price, best Maldives tour packages for couple with price, best Maldives tour packages with price from Delhi, Maldives tourism best places to visit, Maldives tourism best time to visit