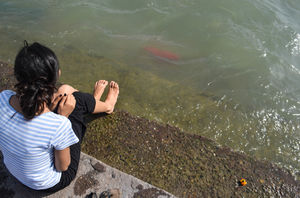 Traveller Types
Families, Couples
Rank
14 out of 45 attractions in Rishikesh
Triveni Ghat
Triveni Ghat, a junction of three holy important Rivers the Ganges, the Yamuna and the Saraswathy, is a most revered sacred bathing spot in Rishikesh and is located on the banks of Ganges River. It's of perception that those that take a dip in Triveni Ghat will have release, a reduction from all sins carried out; the water right here has the ability to purify them. In the early morning at sunrise they offer milk to the river and happily feed the fish in the Ghat. A powerful view of lamps floated in the river as a part of aarti ceremony is enjoyable to eyes after the sunset. Triveni Ghat holds a big place in the Hindu Mythology and Puranas and likewise finds a point out in the Hindu epics Ramayana and Mahabharata. It's believed that Lord Krishna visited this holy spot when he was harm by an arrow shot by Jara who is a hunter. The famous temples like Gita Mandir and Lakshminarayan temple are located on the banks of Triveni Ghat.
Places to stay near
Triveni Ghat
Reviews of
Triveni Ghat
•
3
Once you have reached the peaceful town of Rishikesh, it's time to look for the stay options. There are a variety of holiday homes, hotels, dharamshalas and ashrams spread across the town to cater the accommodation of large number of travellers. You can stay near Triveni Ghat, Sai Ghat or some accommodations on Dehradun-Rishikesh highway.
In the evening, We left for the city. The main daily event of the attraction in the evening is Aarti of Goddess Ganga(Maha Aarti). So, there was no better option than watching Ganga Pooja Arti at Triveni Ghat.
9. Witness the 'Maha Aarti' at Triveni Ghat.Triveni Ghat is situated at the confluence of three holy rivers – Ganges, Yamuna and Saraswati and it is here that is performed the Ganga Aarti, a mystical tradition dating back to thousands of years. It will definitely leave you with a sense of calm and make room for some quiet introspection.
Attractions near
Triveni Ghat