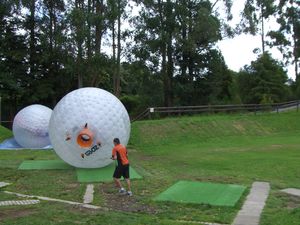 Places to stay near
ZORB™ Rotorua
Great Lakes and hills view home
Private room for up to 2 people.
Comfortable and Quiet Queen Room
Best Western Braeside Rotorua & Conference Centre
Quiet Sunny Retreat, Waiteti Stream
Reviews of
ZORB™ Rotorua
•
1
I spent my time in New Zealand wine tasting in Marlborough and driving through North Island up to Auckland. On the way we stopped for a little adventure in Rotorua and decided to try Zorbing (where they put you in a plastic ball and roll you down a hill). It was quite an experience! I have to say, Napa Valley is beautiful, but Marlborough is just amazing. Though the wine region there is very small by comparison, I enjoyed it so much more since all of my favorites are made there. And, we were able to taste a number of other wines that are not available in the States. However, the most fun part of New Zealand was the local invention: Zorbing. It was impossible to stand up once we started rolling and even more impossible to stop laughing as we sloshed around inside the zorb with water splashing everywhere; elbows and knees flying. Luckily, they gave us towels and there were hair dryers in the changing room so we were able to get pretty again before getting back in the car and continuing the drive up to Auckland.
Attractions near
ZORB™ Rotorua