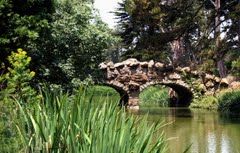 Traveller Types
Couples, Families
Rank
5 out of 487 attractions in San Francisco
Places to stay near
Golden Gate Park
Wired, Convenient, Clean, Modern Design (A3)
Reviews of
Golden Gate Park
•
3
Rent a bike from Golden Gate Park with ParkWide and you get the option to drop it off at a different location, which is awe-some. I don't remember the rate but I think it was a 3h ride. They have a map with best routes to go and get back depending on the uphill or downhill.
Having experienced the famous Haight through windows of time-altered perception, your next destination is the lush gardens of Golden Gate Park for a stop at Conservatory of Flowers. Hear how America's largest urban park hosted the first Human Be-In and the first Earth Day. You may even join a drum circle!
While I enjoyed the drive over the Golden Gate Bridge, I was told not to miss out on the Park either. So off I went to unravel what seemed to me a plethora of interests merging at one place- the Golden Gate Park. While on one side I sipped on some exotic tea at the Japanese Tea Garden, on the other side the nature lover in me came alive seeing the exotic species at the Conservatory of Flower. As I walked further into the greens, I encountered an opportunity to walk along paths of history at two of the most famous museums- the California Academy of Sciences, which was a wonder in itself and then came the De Young Museum. And then I thought to myself, little did I know before I had left home for that one drive across the bridge, that I'll get to explore something much more than what I had expected.
Attractions near
Golden Gate Park