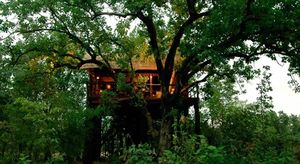 Tree House Hideaway Resort
A beautiful Treehouse resort located in the Bandhavgarh Tiger Reserve, sits in the lap of nature and is spread across 21 acres of tiger infested land.
Reviews of
Tree House Hideaway Resort
•
1
Now this one is luxury on a tree! The Tree House Hideaway at Bandhavgarh is an intimate property featuring five exclusive tree houses, spread through the dense jungle bordering Bandhavgarh National Park! The tree houses are earthy and equipped with great facilities like modern attached bathrooms, hot water, air conditioning, power back up, and mosquito netting! The quaint, cozy balconies look out to the national park, which is great for animal spotting! I mean, how many places can you count where you can live in a beautiful tree house and can just look out of your window to see some wildlife?
Attractions near
Tree House Hideaway Resort