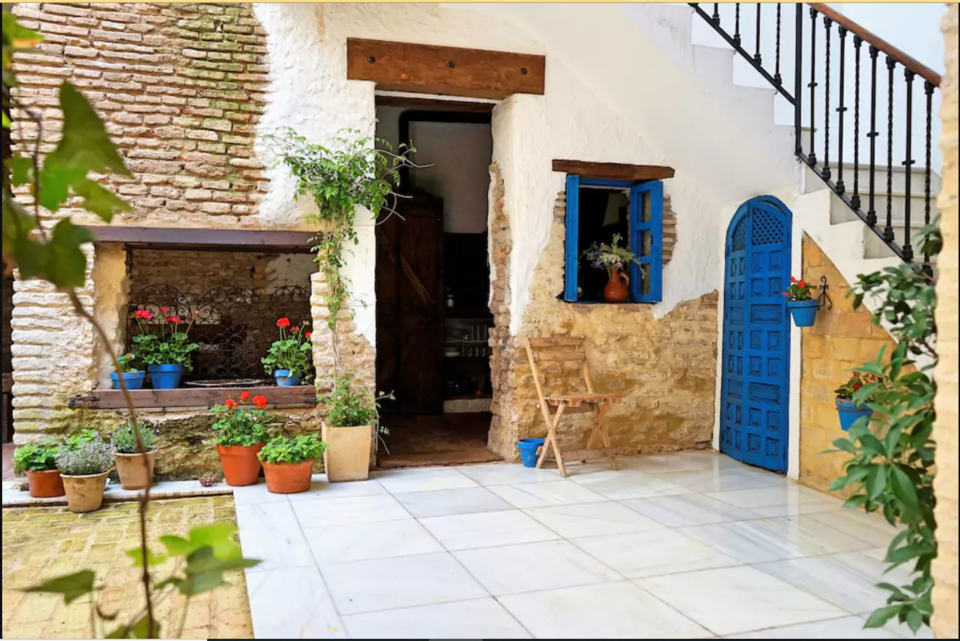 Andalusia is becoming increasingly popular among tourists across the world and Seville is where most people are headed. Whether you want to enjoy authentic flamenco shows, sit by the river and relish delicious tapas, get happy high on some really incredible local wines, watch a man v/s animal encounter up close in a bullfight, or shop till you've spent all your money and then some, Seville is the place to be!
We've handpicked a few Airbnbs in Seville for you that will help you experience Spanish culture better and give you a more personalized experience than hotels ever can. Moreover, these are located so well, you wouldn't even need public transport to get around. Take a look:
1. A Cosy Apartment In Historic Center
Hosted by Jorge, this studio apartment is set in a restored building that quiet and peaceful, yet in the heart of the city from where one could easily walk to the Museum of Fine Arts, the Cathedral, the Alcázar and a number of local restaurants, bars and shops that are around this area i.e. Corral del Conde. The guests are welcome to access the galleries of the building, its small chapel, and its fountain. The residential complex is green and tranquil, making for a great place to stay!
Check it out! Click here.
2. A 500-Year-Old House Restored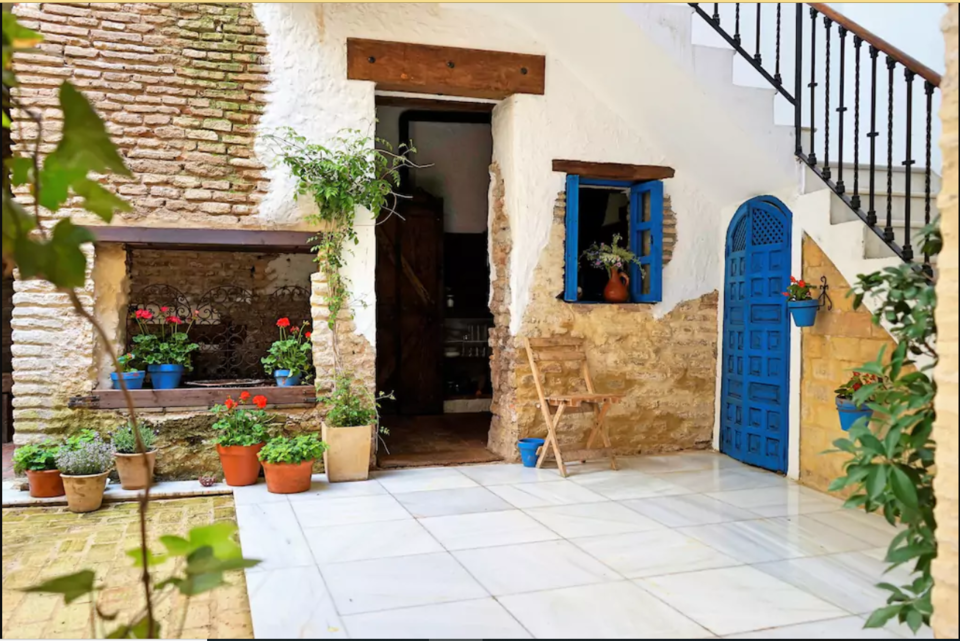 This triple storied, 500-year-old Spanish residence is known for making guests want to spend more time indoors than they plan to, and I think that's quite an achievement considering how beautiful and exciting being outdoors in Spain is! This luxuriously designed house lies bang in the middle of the Santa Cruz area and is close to many bars and restaurants. A beautiful combination of modern comforts and traditional historic fittings await you here.
Check it out! Click here.
3. Best of Triana, Altozano Square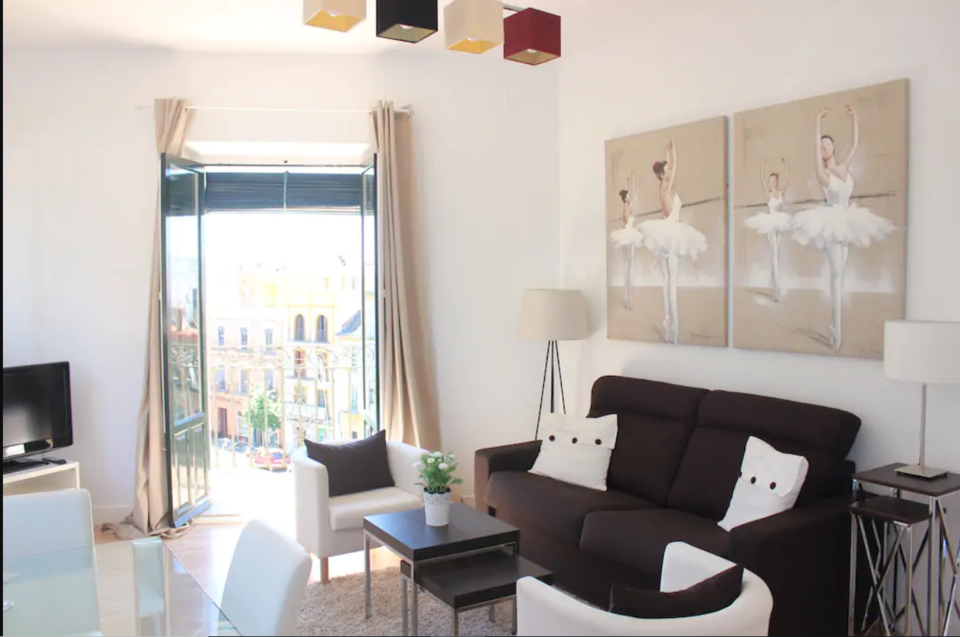 This newly renovated apartment in the Plaza del Altozano area is very close to all the main attractions in Seville and that's what guests seem to like the most about this place since they don't even have to use public transport as almost everything is within walking distance! There's a cute little terrace that offers a priceless view of the routine activities of locals, giving you a sneak peek into the life around here.
Check it out! Click here.
4. A Serviced Apartment In The Old Town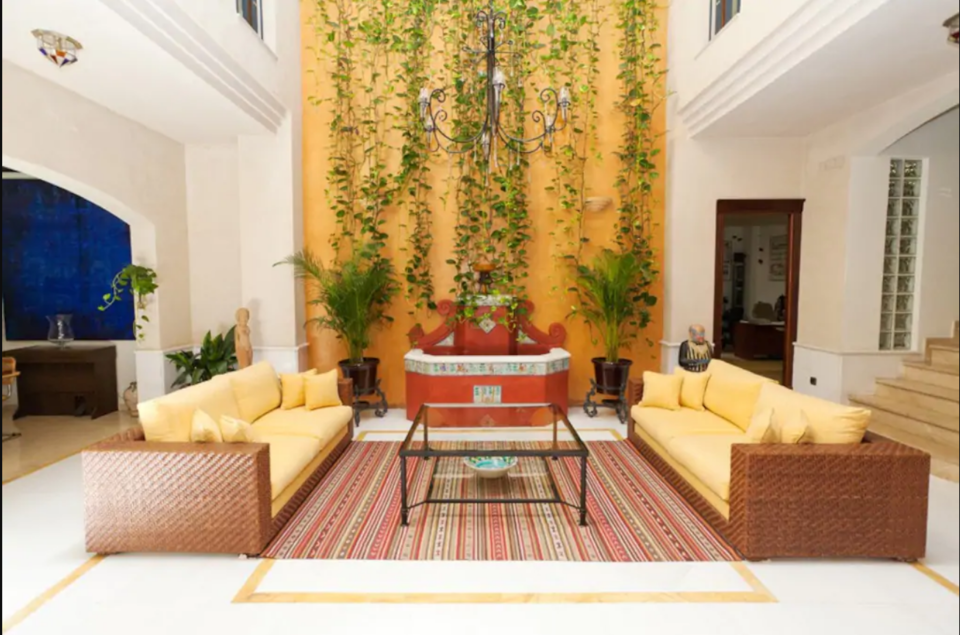 Located the old Jewish quarter, Juderia, this serviced apartment is where you should be staying if an authentic and traditional experience is what you're looking for. In the middle of a beautiful pedestrian street, that is narrow and quiet, this apartment is within walking distance of a number of traditional attractions. Be it the Arab Baths, or the traditional traders, the artisans' workshops, the Art Galleries, or The House of Memory of Al-Andalus, everything is close to this hidden jewel.
Check it out! Click here.
5. A Fantastic Apartment With A Pool And Giralda View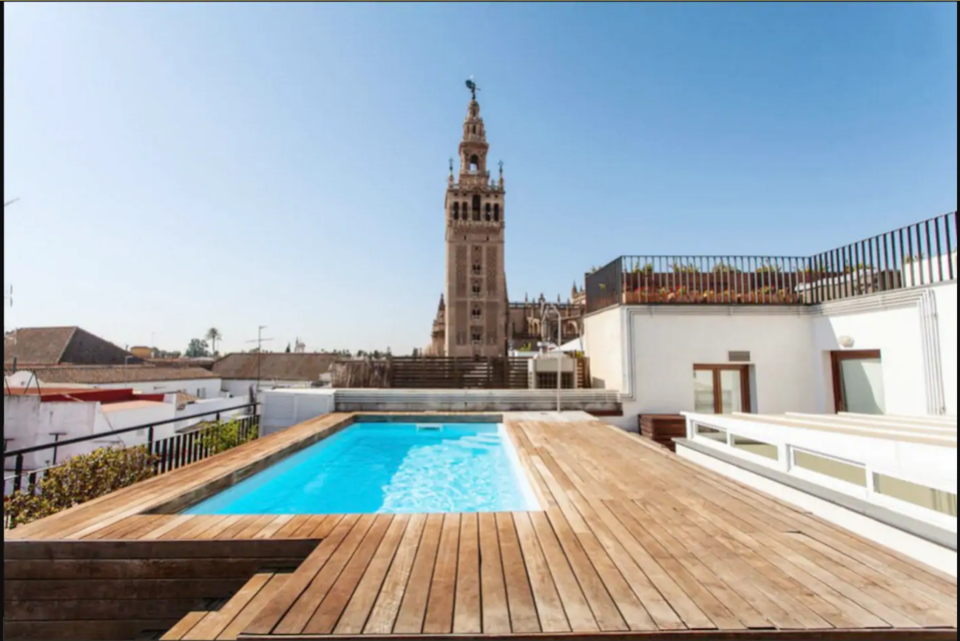 A swimming pool on its terrace with a view of the Giralda is what this newly done studio has to offer but that's not it because it is located in Barrio Santa Cruz and that area is known for its buzzing nightlife. Who wouldn't want to stay in a place that's close to all the party places in town, offers a great view something historic and has a pool on its terrace? I wish I had stayed here when I was in Seville, but unfortunately, it was booked for almost an entire month around my dates!
Check it out! Click here.
6. A Super Apartment In Central Seville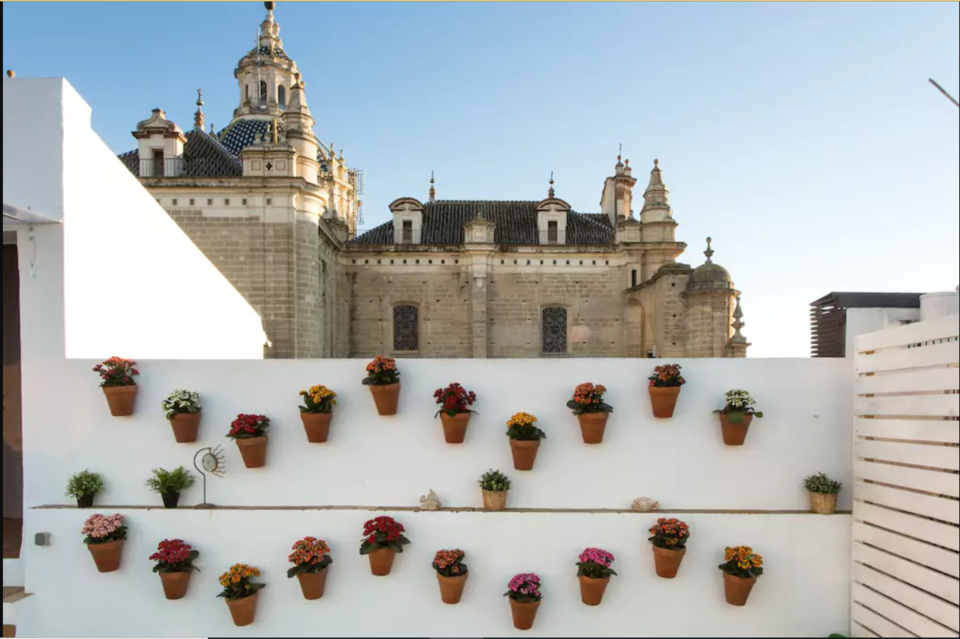 With such a close view of the church of EL Salvador, this apartment is a typical Spanish residence with an adorable terrace that the guests seem to love a lot. Combine the very central location of this apartment and hostess Barbara's amazing recommendations of places to visit, things to do and food to try, and you've got yourself the Andalusian vacation that'll well exceed your expectations. She is popular with the guests as she really tries to make your experience memorable.
Check it out! Click here.
7. A Penthouse With A Private Terrace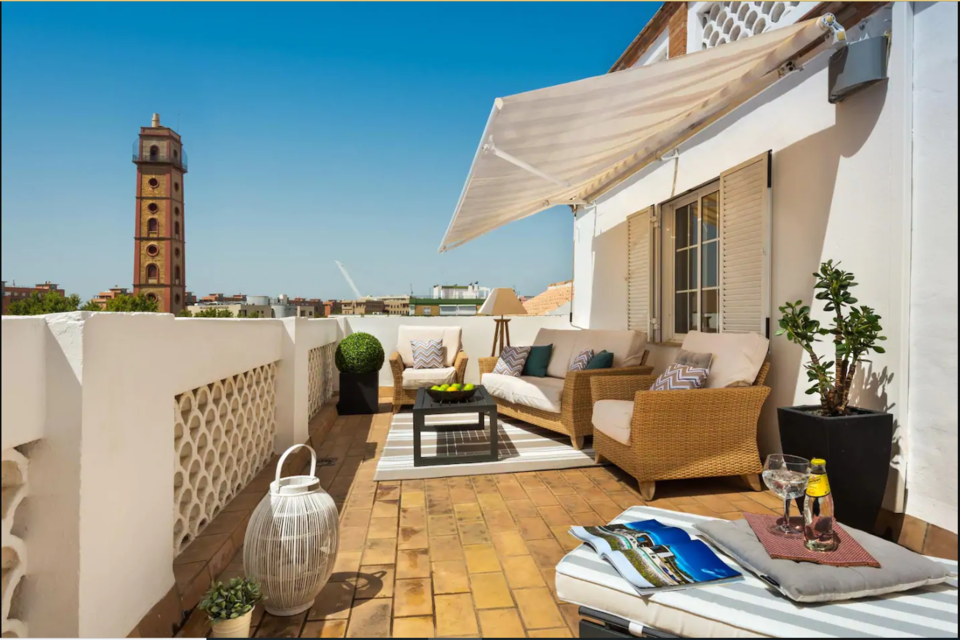 This fresh and luxurious penthouse is located next to the famous square "La Alameda de Hercules, which is known for its dining and entertainment options. Their big terrace offers unmatched views of the historic center of Seville and their modern Sevillian design is just the right combination of comfort and tradition together. Equipped with all the modern facilities, including an elevator, this place is within walking distance from a number of tourist attractions other than the restaurants as well.
Check it out! Click here.
8. A Penthouse With Views Of The Golden Tower And River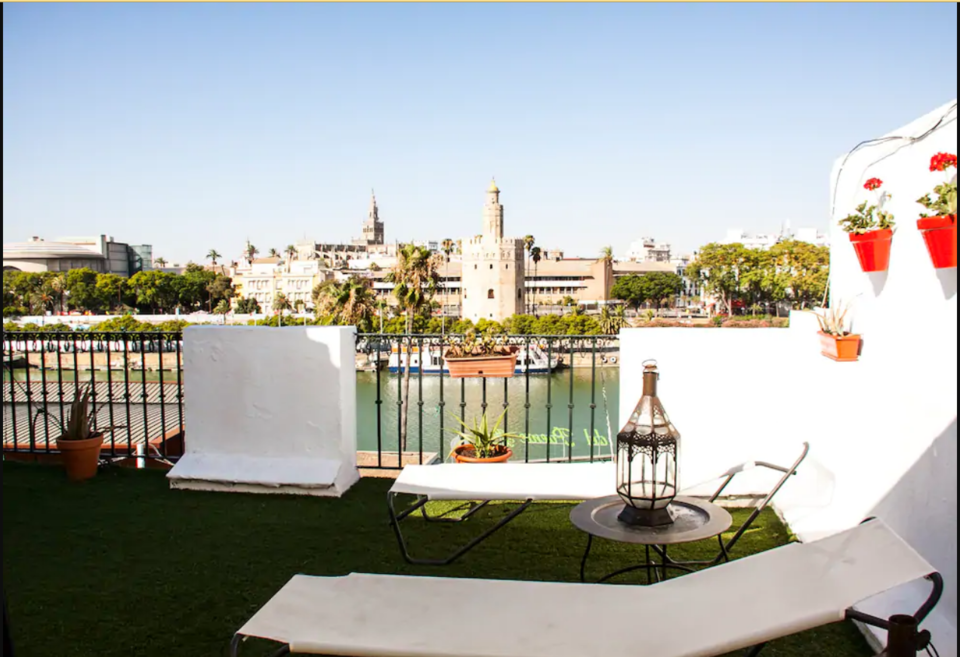 At a 5-minute walking distance from the city center, this charming penthouse offers an amazing terrace from where you can enjoy some of the most beautiful views of Seville, including that of the Guadalquivir River. You can also see the Torre del Oro, the Cathedral, the Maestranza and the Triana bridge from this place. Designed with a lot of love that is clearly visible from the décor, Luis' place is clean, comfortable, and obviously very highly sought after.
Check it out! Click here.
9. Enjoy An Elegant Room In The Heart Of Alameda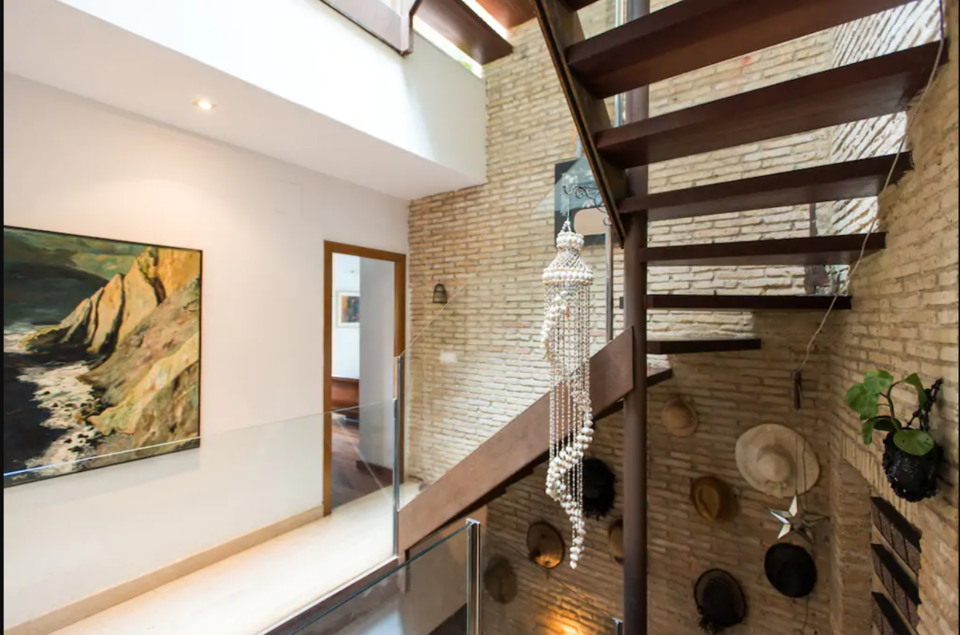 This is the place where I stayed when I was in Seville and the best part about this place is the fact that it is almost adjacent to some of the best restaurants in Seville. Located in La Alameda de Hercules, the minute you step out of this place, you'll see lovely fountains and a flee market where I ended up shopping quite a bit from. The host, Jero, is very sweet, so much so that he dropped me to central bus station, where I had to take a bus to Portugal from because he didn't want me to get troubled with the luggage! (I would had to change two buses or walk quite a bit had he not dropped me).
Check it out! Click here.
Seville is a place that has a charm of its own and I feel that this can be best enjoyed on foot. One can only do so if they are staying in a place that is centrally located and I'm glad that's what I did because I didn't waste time in trying to get to the city center or understanding complex bus schedules which gave me a lot of time to actually enjoy and imbibe the vibe of Seville.