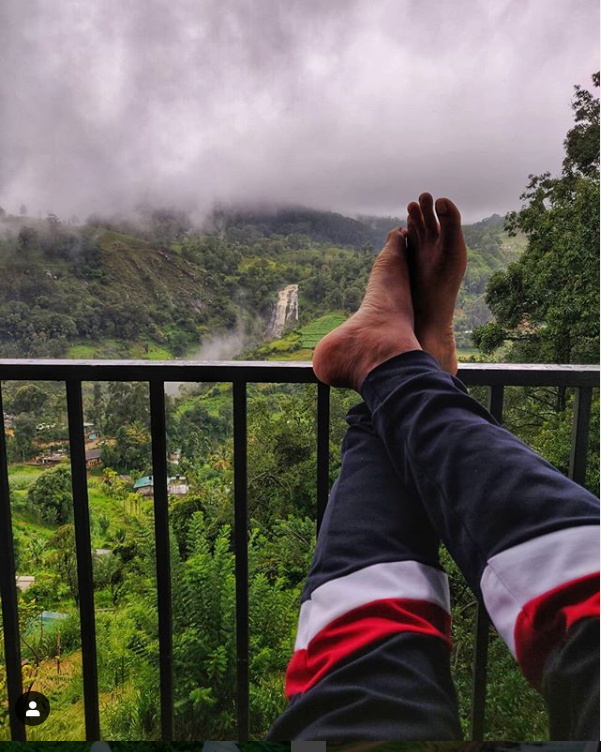 One of the best birthdays ever. Tucked away in the misty Sri Lankan high country, amongst idyllic green hills and gushing waterfalls lies Ella: one of this tear-shaped island's most appealing destinations.
At its heart, Ella is a charming and laid back village perfect for relaxing, hiking and escaping the searing temperatures of the southern coast.
It is approximately 200 kilometers (120 mi) east of Colombo and is situated at an elevation of 1,041 meters (3,415 ft) above sea level. The area has a rich bio-diversity, dense with numerous varieties of flora and fauna.
# Things to do in Ella, Sri Lanka:
1. Little Adam's Peak
2. Nine Arch Bridge
3. Lipton's Seat
4. Diyaluma Falls
5. Ella Spice Garden
6. Ravana Waterfall
7. Ella Rock
## HOW TO GET TO ELLA, SRI LANKA
1. TRAIN
* COLOMBO TO ELLA
The direct train from Colombo Fort to Ella encompasses the world famous Kandy to Ella train ride, however we'd highly recommend breaking up the journey and spending time in Kandy.
If you're keen to get straight to Ella, be prepared for a 10+ hour train ride.
THE DETAILS
Where | Colombo to Ella Train Station
Cost | 2nd class: LKR 600 per person, 3rd class: LKR 400 per person
Colombo to Ella train departure times | 0555, 0830, 0945, 2000
*KANDY TO ELLA
One of the great train rides in the world, and one of the best things you'll do in Sri Lanka.
Expect the train ride from Kandy to Ella to take between 6-8 hours.
We recommend booking 3rd class for the most authentic experience.
THE DETAILS
Where | Kandy to Ella Train Station
Cost | 2nd class: LKR 240 per person, 3rd class: LKR 175 per person
Kandy to Ella train departure times | 0847, 1110
2. BUS
COLOMBO TO ELLA
If you're on a very tight budget, it's possible to take the local bus from Colombo's Pettah bus station to Ella, however it's a long, arduous journey or around 7 - 8 bumpy hours.
From Colombo/Pettah bus station, take the bus to Bandarawela (around LKR 200 - 700), where you'll need to change and jump on a connecting bus to Ella (LKR 50 - 100). Or, for the final part of the journey, hire a tuk tuk to Ella town (LKR 500)
KANDY TO ELLA
To be honest, don't even think about taking a bus on this route - the train ride is too beautiful to miss
THE SOUTH TO ELLA
The best way to travel from the south (Unawatuna, Mirissa, Hiriketiya) to Ella is to take a local bus to Matara bus station (LKR 50 - 200), and then change onto the Matara - Bandarawela bus (#31, or 31-1 bus), which will stop in Ella via Wellawaya.
This 5-6 hour trip should cost around LKR 200 - 500.
Frequent Searches Leading To This Page:-
sri lanka tour 10 days, best time to visit sri lanka , best time to visit sri lanka 2020, sri lanka weather march, sri lanka weather august, sri lanka weather by month, weather in sri lanka on december