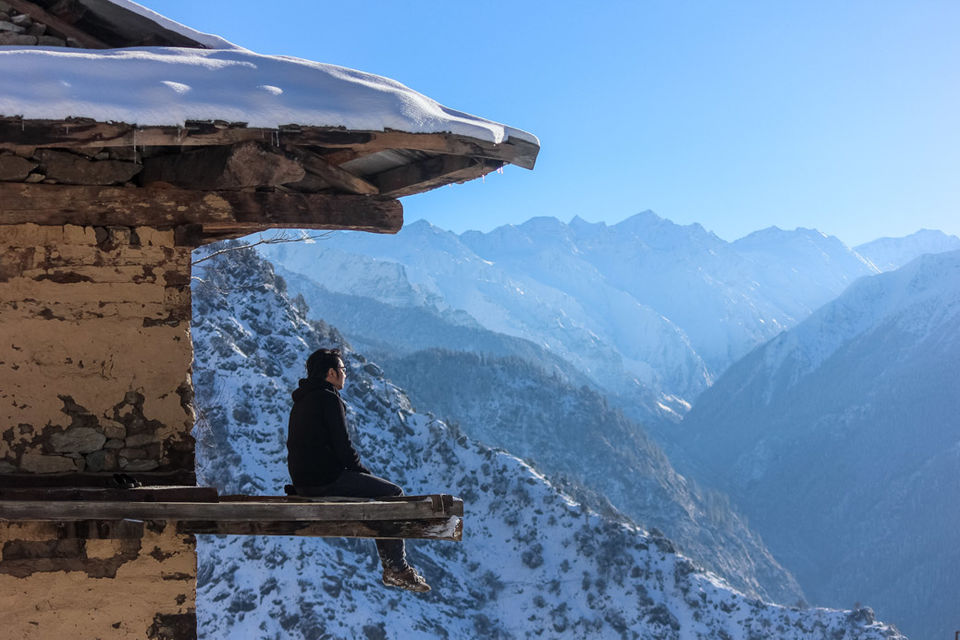 So it all started with what other places i can explore in GHNP (Great Himalayan National Park). After a discussion with a local brother aka Bhai ji we decided to hike Rangthar Top. Rangthar (Approx 9000 ft) is a beautiful meadow for camping with mesmerising views.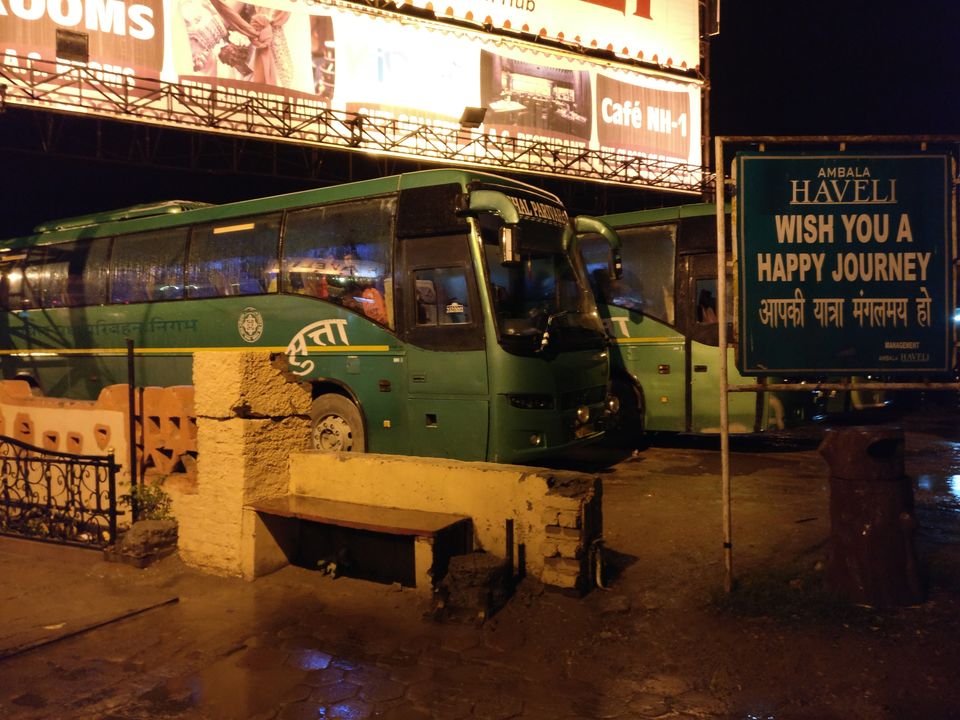 So our bus scheduled 7:35 pm from Kashmiri Gate ISBT. According to our plan we reached AUT(before the AUT tunnel) around 7 am and took another local bus upto Goshaini, which is another 27KM. Goshaini is the gateway for GHNP.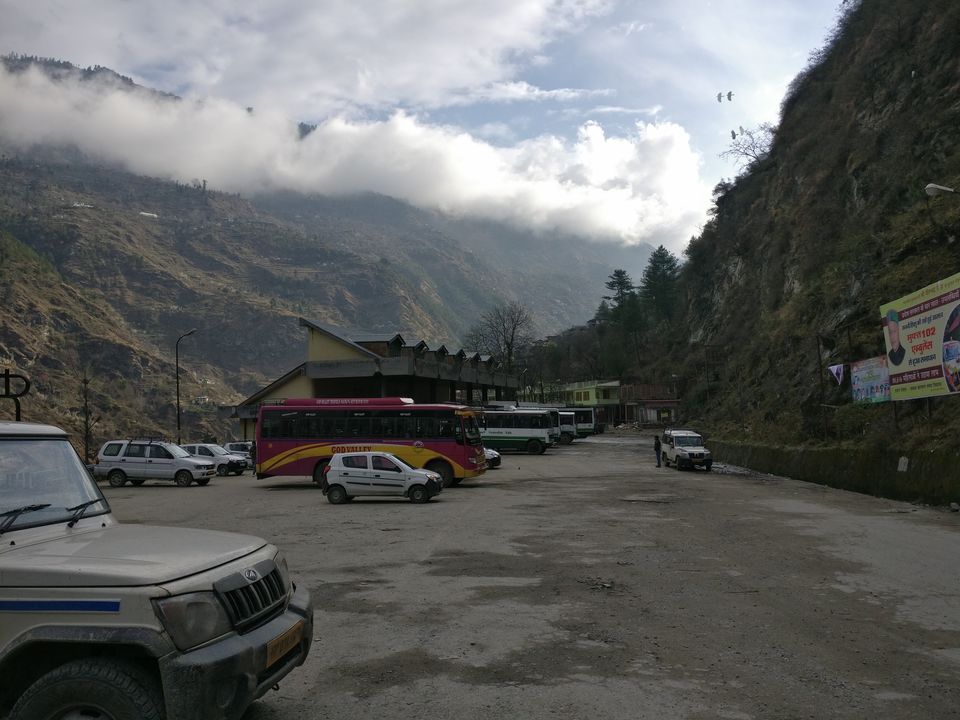 Around 9 am we reached Goshaini and we found a small place for our breakfast, it was my 2nd time in Tirthan Valley so I was quite aware of this place. Meanwhile Bhaiji was also arrived so we decided not wasting any time we should start preparing for the hike. So first we bought our food for next two days and a packed lunch.From Goshaini Rangthar is 15km but you can hire a taxi which can go upto Pekhdhi village from there hike is only 5km.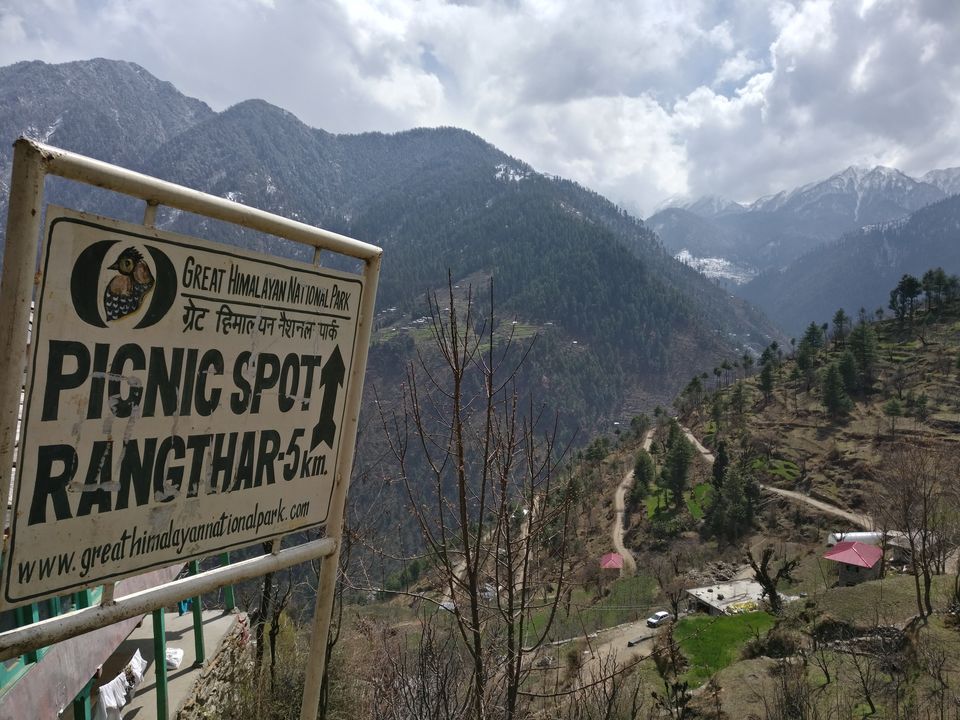 We reached Pekhdhi village around 11am. After a 5 min break we started our hike from that village. First it starts with small narrow trail quite comfortable to walk and some amazing views, Yeah After 2 km of walk the hike starts challenging because it is kinda steep ascending. Bhai ji was telling that weather is acting bad from last few days, 2 days ago it was like continuous snow fall for 7 hours, so we have to be quick. Well i was like i wish i could see some snowfall.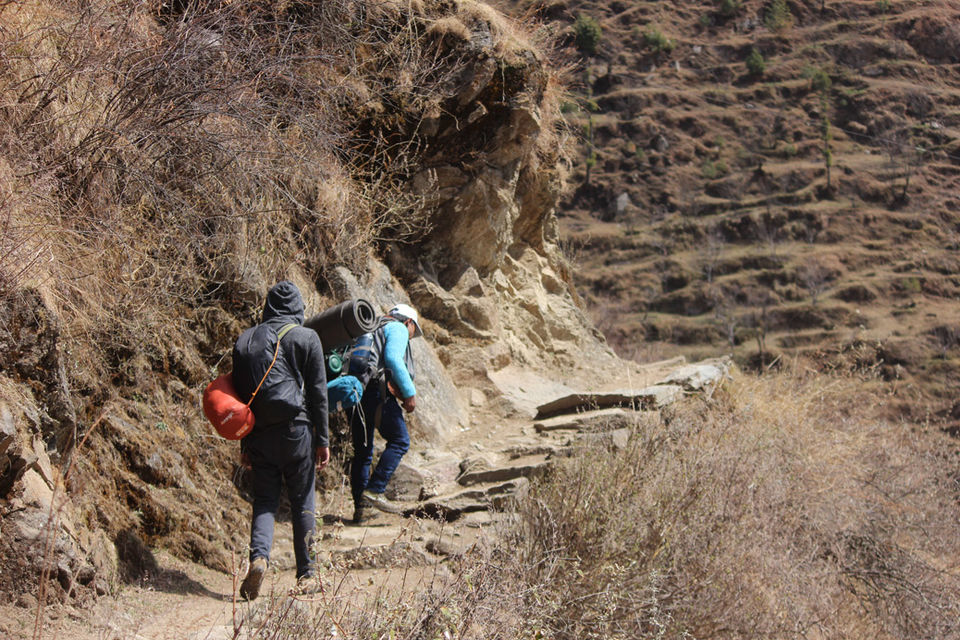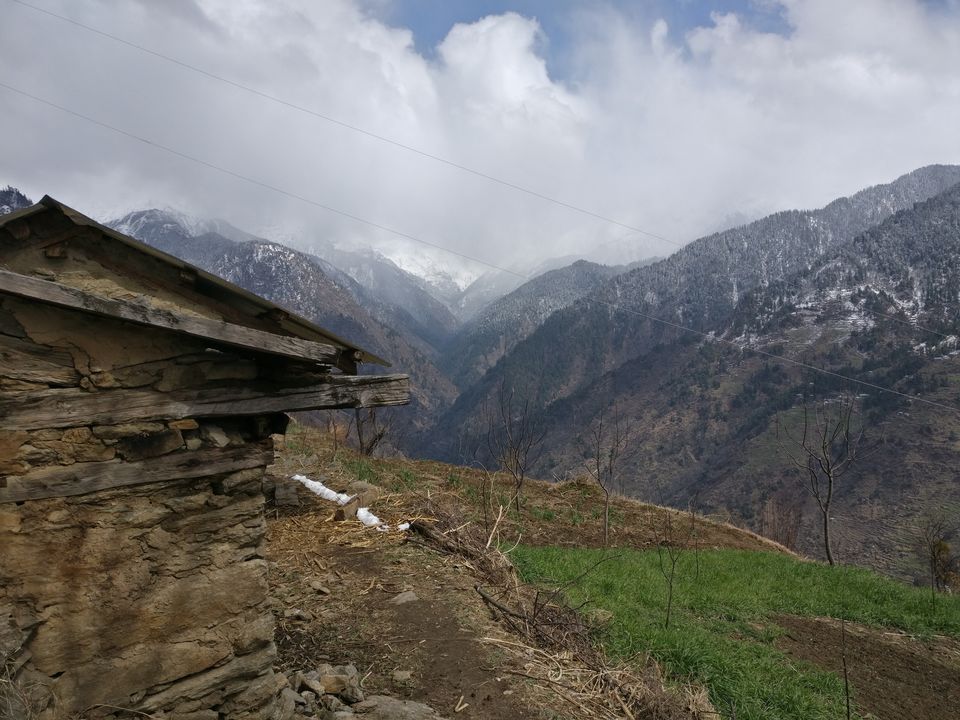 After a 3 and half km of steep hike we reached a tiny village. Only 4-5 houses were there. Its was really sounds disturbing when i heard there are no proper water sources in this village. One have hike 4 km and cross a small mountain to reach the water. Well so many things to learn from these villagers.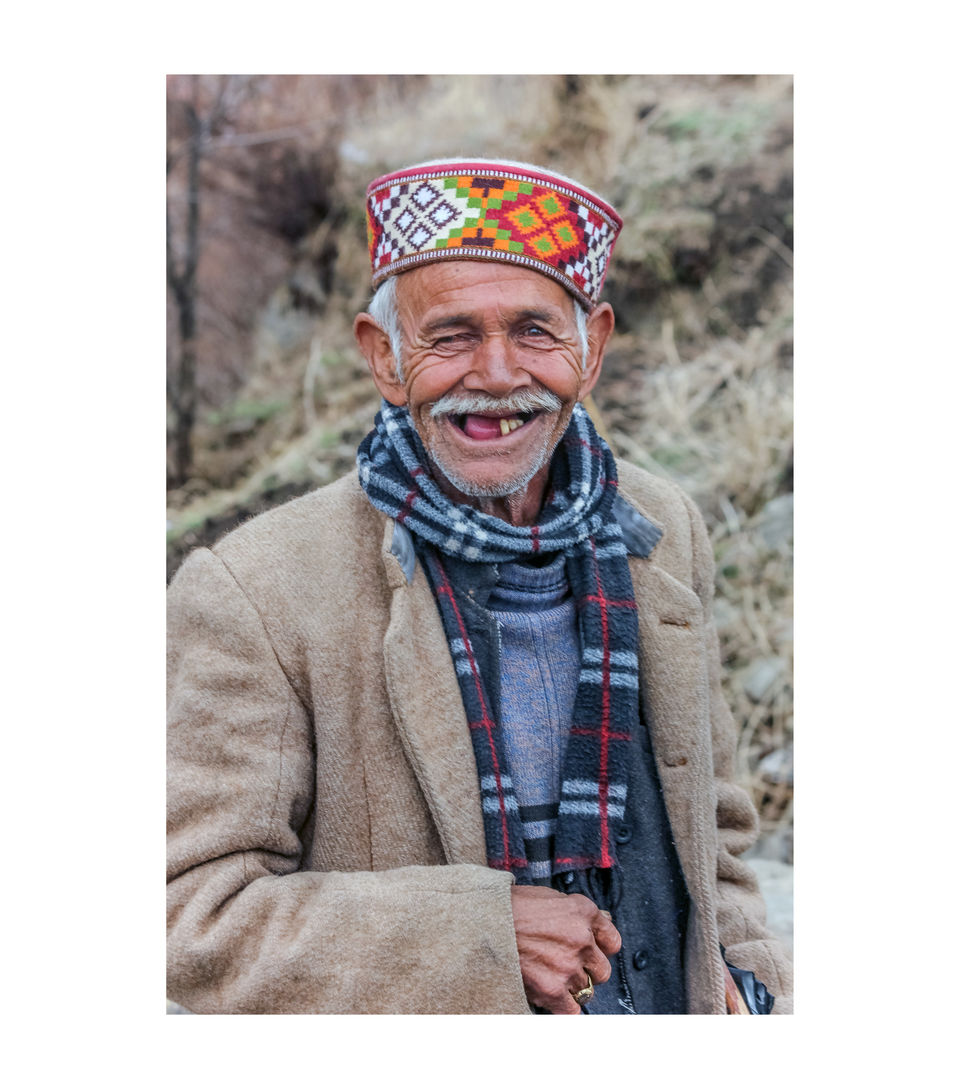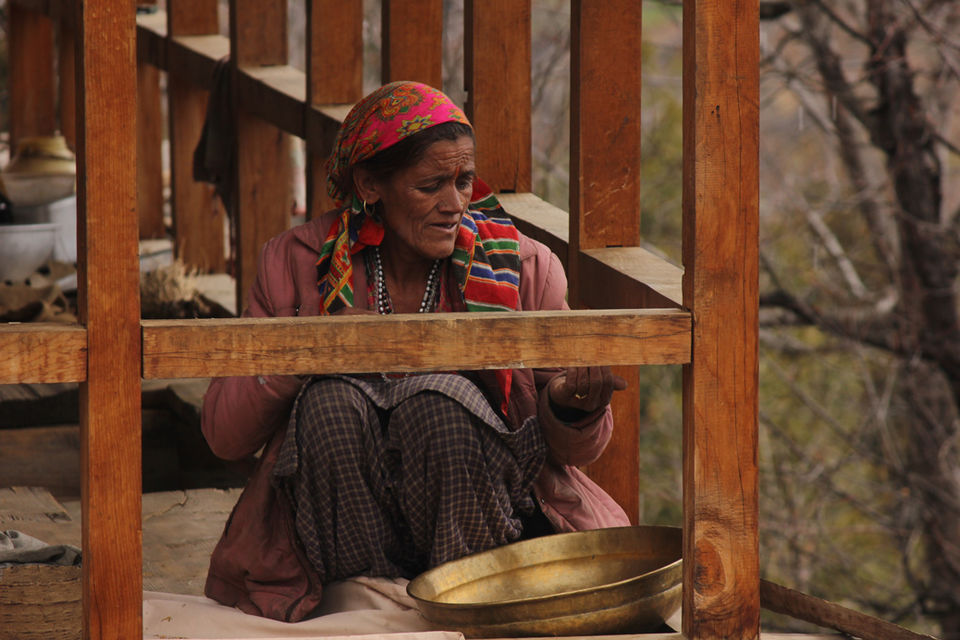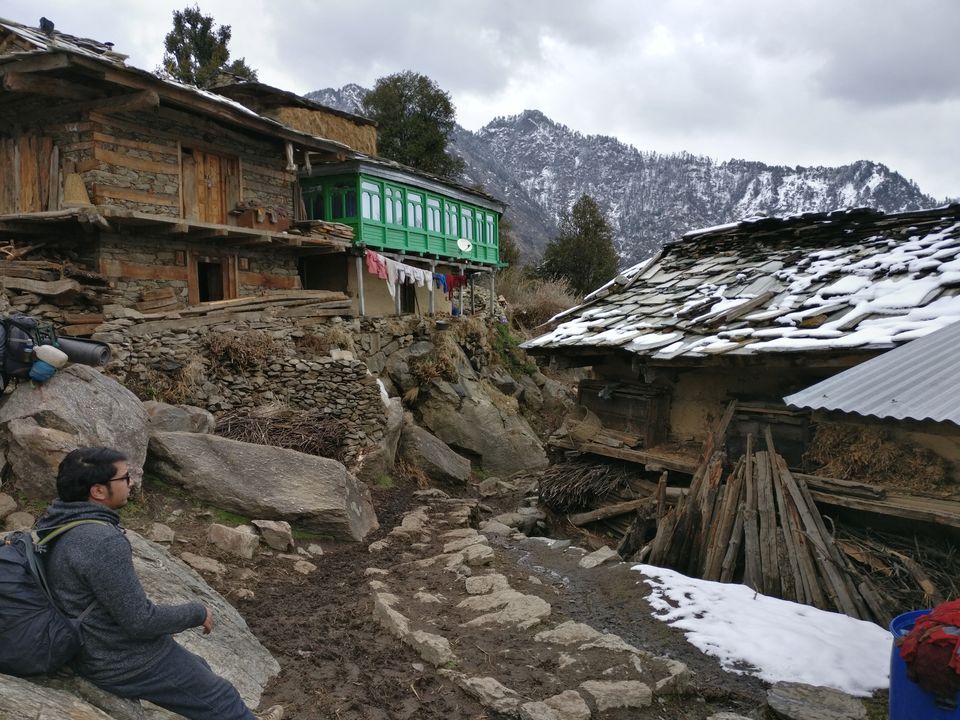 A 5 min of halt and here we start again and we can see that the weather is going to be bad, After a 10 minutes of walk the snow start falling heavily. At a time we are feeling so happy and scared too. We were unable to put our tents because of snow storm so after few minutes of struggle we managed to find a small abandoned hut.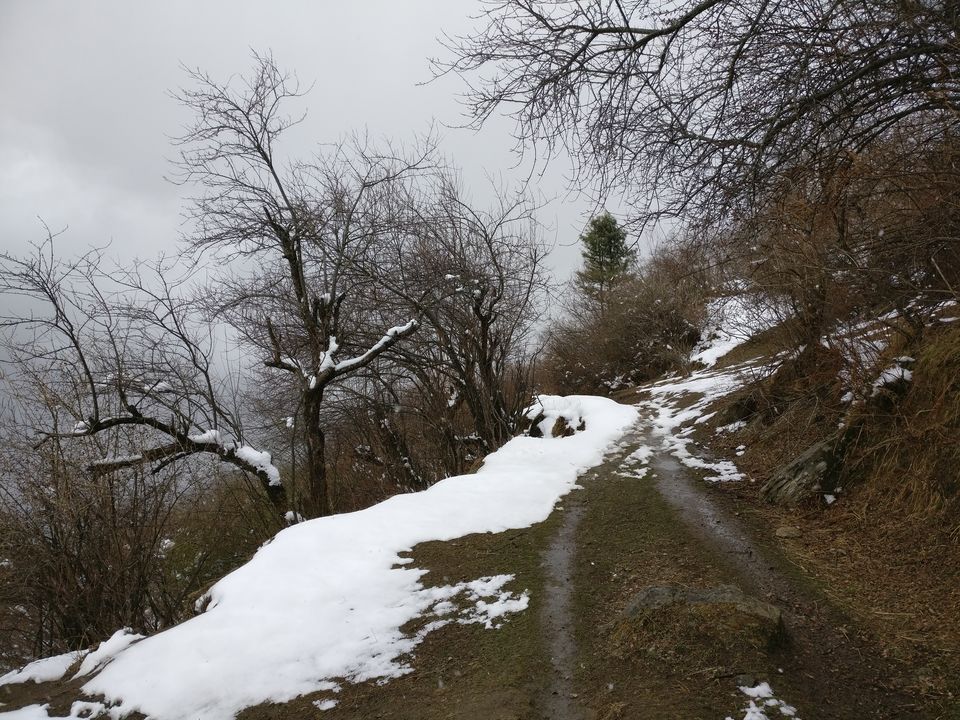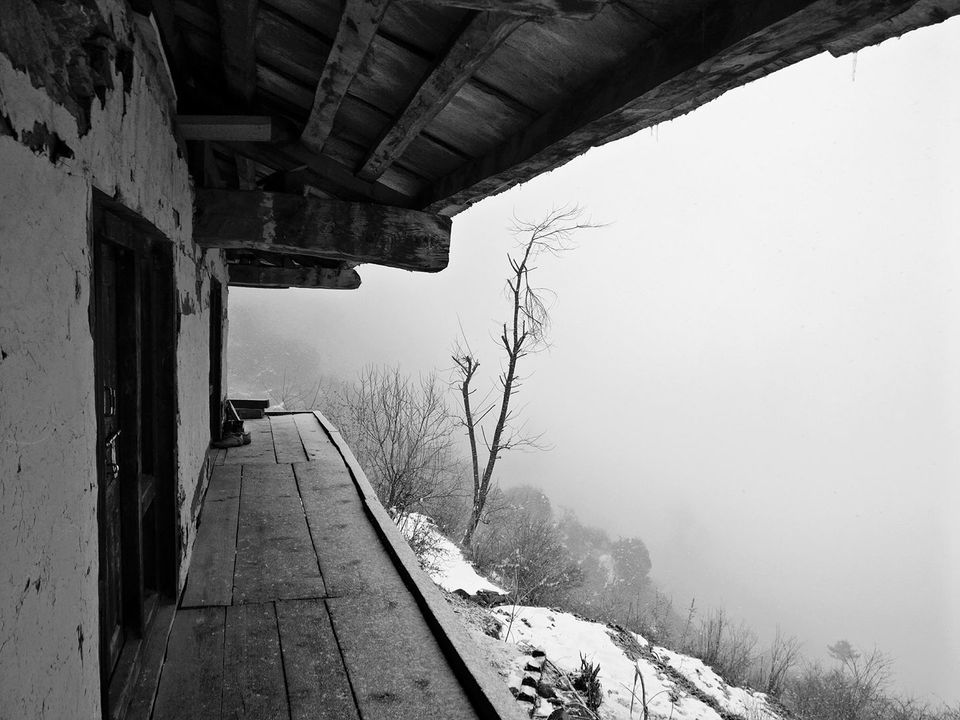 There were only 3 donkeys and 5 cows living in the ground floor of that hut. So quickly we entered the hut put our rucksacks cleaned ourselves. At the mean time Bhai ji made some fire for tea. So we made ourselves comfortable near the fire.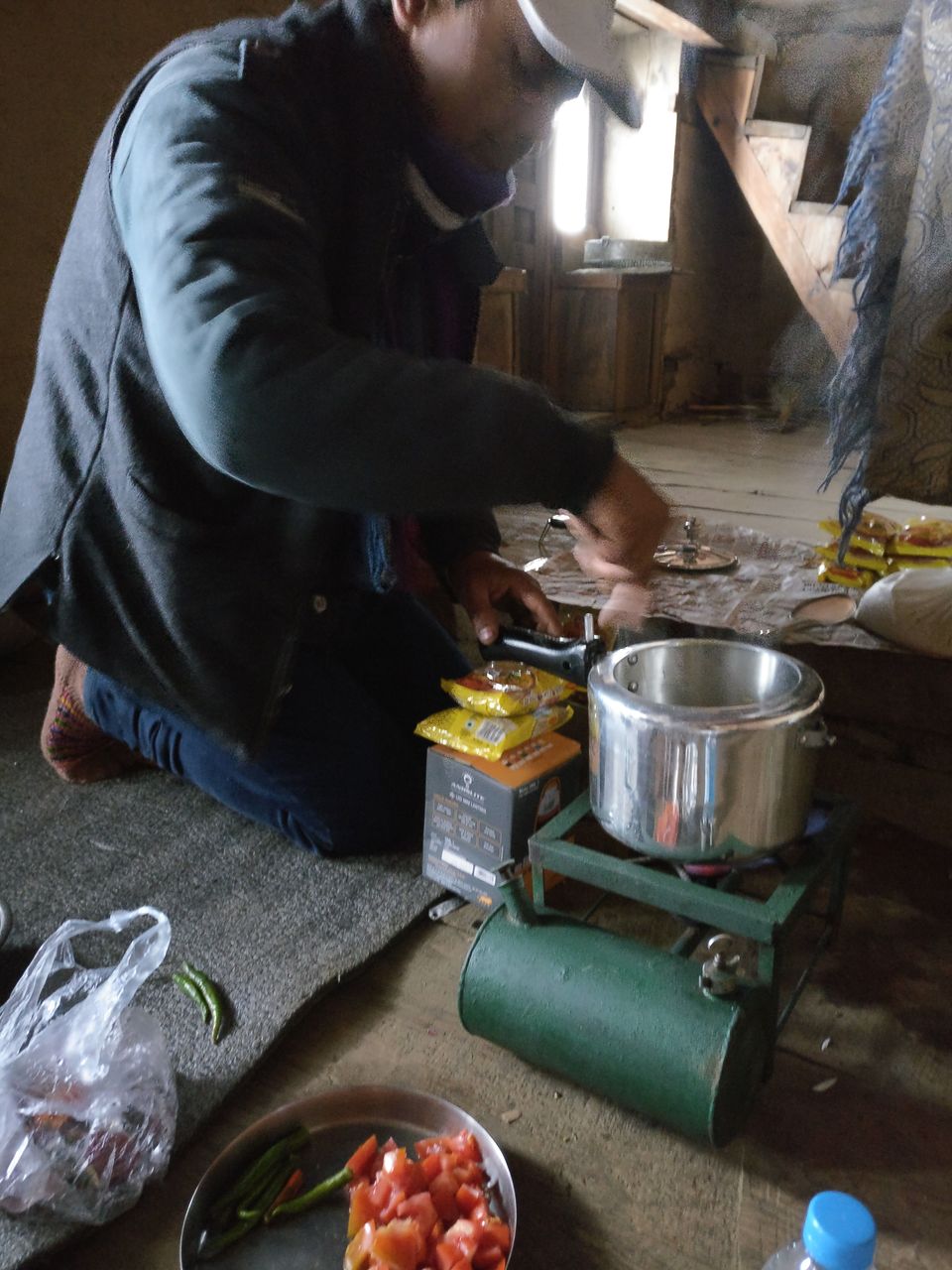 We decided to stay in the hut for night. Rangthar is just 1km away from our hut. Bhai ji suggested that next early morning after our breakfast we will go to the top and spend some time over there.
Next day after a light breakfast we went to the Rangthar Top. It was amazing. Just a small meadow with mesmerising 360 degree snow capped mountain view.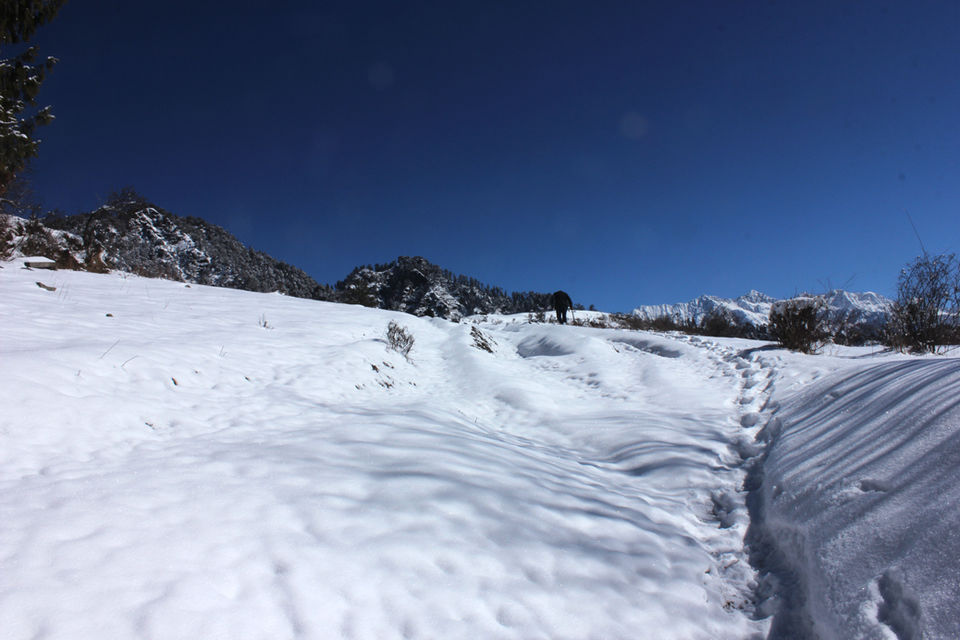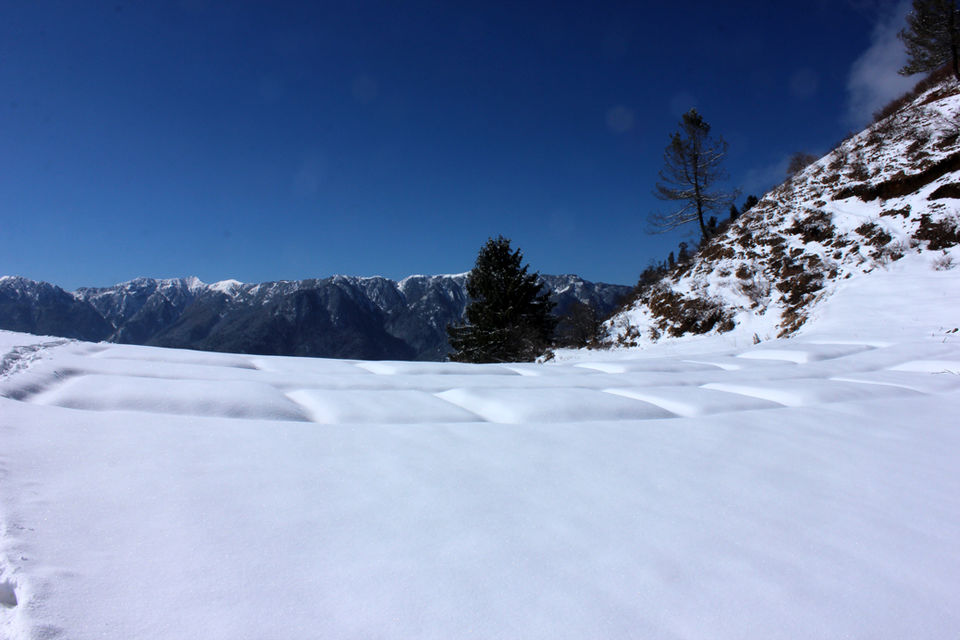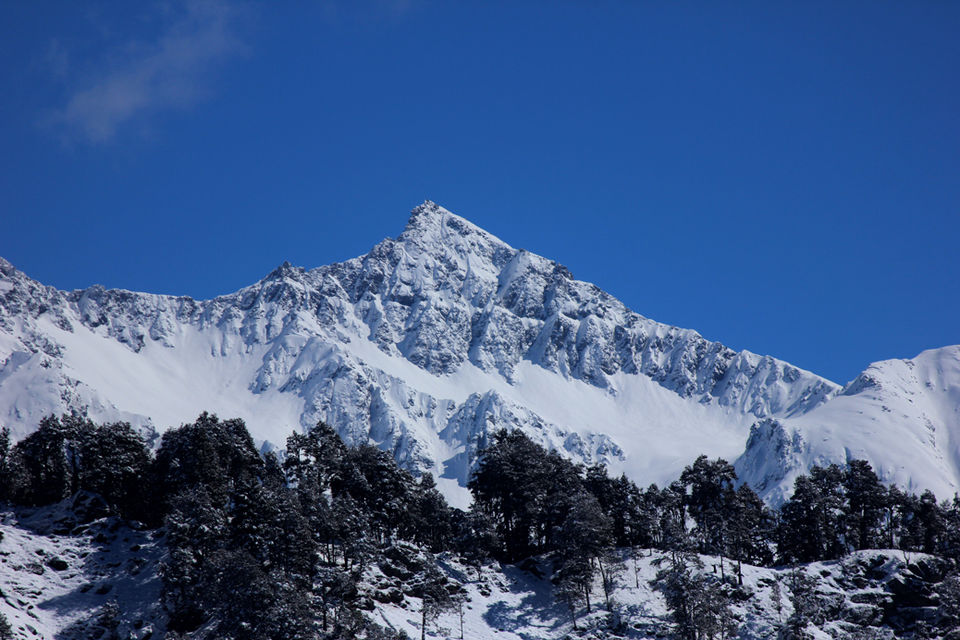 We couldn't find a place for putting our tents because of the heavy layer of snow. So we decided to stay in our hut only.
After spending one hour in the top we headed to our hut. When we reached our hut we have saw a lady was standing and feeding the cows and donkeys. She was so amazing, she said like you guys are brave enough to stay here all alone. Like she stays 2 km far from here because there are lots of wild animal and its quite reasonable that it falls under the GHNP. Phewww.. we were like Thank God we are alive.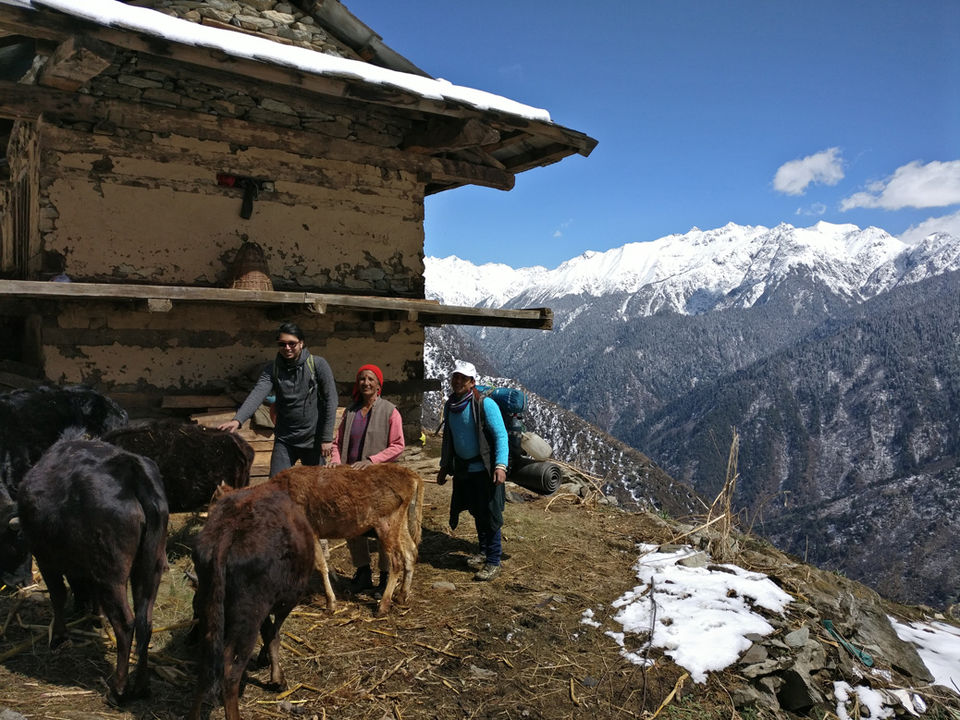 We spend one hell of an amazing time there. Local people are so helpful and kind that despite there are no hotel or homestay, you will be surrounded by their hospitality.
If any one wants to visit the place kindly feel free to contact me. Sher Singh Bhaiji is always ready to help you. My email- oliur2010@gmail.com.
How to Reach- Delhi-Aut-Larji-Banjar-Gushaini. (Its a wise choice to Travel with HRTC. They are always on time and comfortable also.) Stay- Hotels and homestays are available in Gushaini. Khem Bharti Home Stay- 094591 01113,