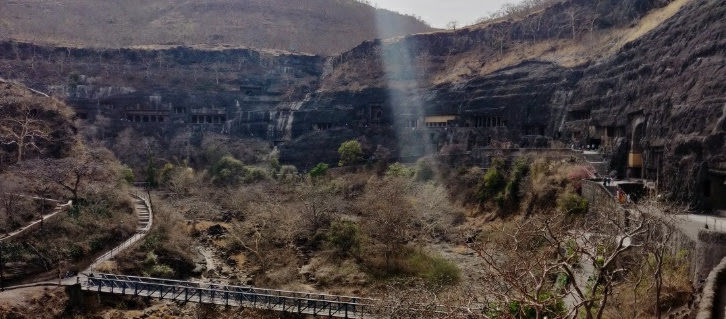 Ajanta Caves being the world UNESCO heritage site considered to be an ancient rock cut caves situated in Aurangabad, Maharastra India.
Ajanta caves basically symbolizes Buddhist monuments. Historical and world famous attraction for tourists across the world.
Transit - Renting a bike is best option, as the place got minimal access to public buses. Most importantly Ajanta roads are very bad for other modes of transportation. The distance is around 100 kms from Aurangabad bus stop.
The journey seems kinda frustrating due to roads and humidity but the place is worth it to face any challenges. 40°C temperature,the area is dry land all over with huge rock cuts. Once you reach the destination, the place offers public bus safari both ways inside the Ajanta area to reach the top of caves. Difficult things aren't easy, but they're worth it. The places provides Snacks, Fruits, Cold drinks etc. Also got small shopping place selling rock cuts of Buddha and other stone sculptures which are very attractive.
The caves at Ellora are a mixture of Buddhist,Hindu and Jain monuments. It's 30kms from Aurangabad bus stop. Monuments and archaeological pieces serve as testimonies of man's greatness and establish a dialogue between civilizations showing the extent to which human beings are linked. Peace has its victories no less than war, but it doesn't have as many monuments to unveil. Ellora caves being God's kingdom.
"Peace brings with it so many positive emotions that it is worth aiming for in all circumstances"
Thank you,
Usha L