Every year pilgrims wait for Char Dham Yatra to get started. Yatra mostly starts in first week of May and ends by October. Devotees in huge number visits Char Dham (Gangotri, Yamunotri, Kedarnath and Badrinath). Some of them visit all the dhams in one go and some of them visit any one of the char dhams. All of these places are in Uttarakhand and to visit these places one has to reach Haridwar or Rishikesh.
This year I also planned to visit one of the Char Dhams and decided to visit Shri Badrinath Dham. On 31st May night, I started my journey with my younger brother.
In this blog, I'm going to share information about my trip to Badrinath and will share the information about reaching Badrinath from Delhi, Accommodation, Places of interest and food. So, let's get started with my journey.
Shri Badrinath Temple
Shri Badrinath Temple, also called as Badrinaryan Temple is situated in Uttarakhand state along the banks of Alkananda river. This temple is dedicated to Badrinath as Lord Vishnu and is one of the Char Dhams. The Kapat (Doors) of temple mostly opens in May. The route to Badrinath temple is so fascinating and has lots pilgrimage at Deo Prayag, Rudrapryag, Nandprayag and Vishnuprayag. The structure of the temple is so beautiful and colorful.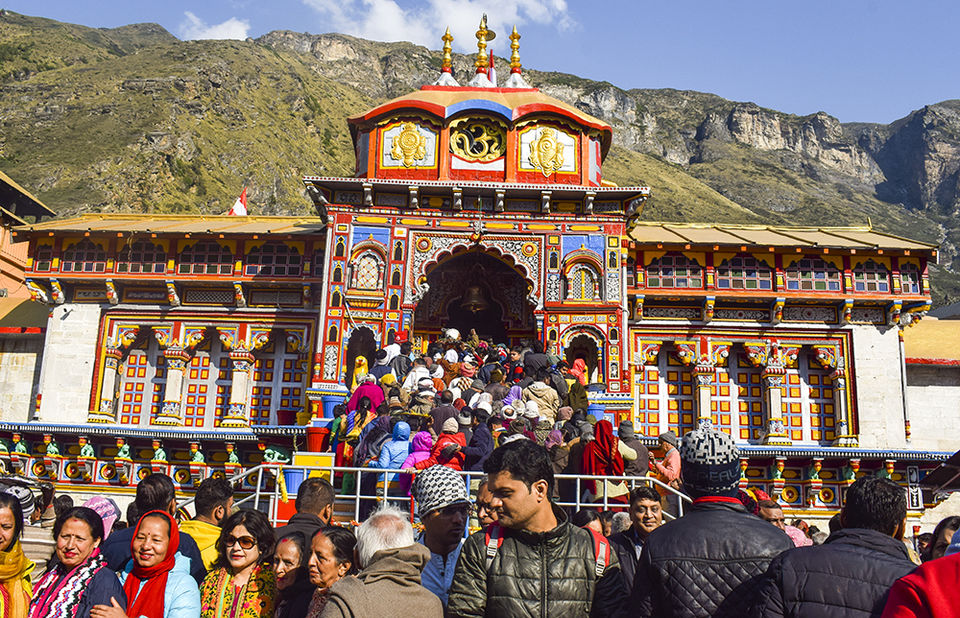 Tapt Kund
At Badrinath one can witness one of the greatest wonders of Nature in the Hot water springs of Taptkund on the banks of ice chilled river Alaknanda. Before visiting the temple the pilgrims take a holy bath in the Taptkund. Trust me; a dip in this holy hot water pond will boast your energy. It's been said that this water works as a remedy for skin diseases.
How to reach Badrinath from Delhi?
Air : Nearest airport is Jolly Grant, 317 km.
Rail : Nearest railhead is at Rishikesh, 300 km
Road : Well connected to Rishikesh, Haridwar, Dehradun and Delhi.
Take a bus to Haridwar or Rishikesh from ISBT, Delhi. After a reaching there, one can board direct buses to Badrinath; however, there is a possibility that you won't get a seat because of heavy rush. So, it's better to reach a day before in Haridwar and get your seat booked in advance. Or, you can take sharing jeeps which runs up to Joshimath and then, you can take another bus or sharing jeep from Joshimath to reach Badrinath. I would recommend traveling in the bus as jeeps are not comfortable.
Tip: Try to book roadways buses online in advance.
Total Duration from Delhi to Badrinath = 24 hrs (hehe yes, it will take 24 hours and may be more depending upon the road conditions and congestion)
Fare:
Delhi to Haridwar or Rishikesh = 280 Rs (ordinary bus)
Delhi to Haridwar by AC bus = 370 Rs
Haridwar to Badrinath by bus = 460 Rs
Haridwar to Joshimath by bus = 400 Rs
Haridwar to Joshimath by jeep = 600 Rs (Sharing)
Joshimath to Badrinath by bus = 60 Rs
Joshimath to Badrinath by jeep = 100 Rs (Sharing)
Where to stay?
Accommodation is not big concern in Badrinath as there is lots of options available from hotels to Dharmshalas. Due to lots of pilgrims visiting the temple, hotels may charge high rates so you can stay in the Dharmshala which may charge from 500 to 1500 Rs per night. We paid 1000 Rs for one night stay in the Dharmshala which was very near by the temple.
Food
There are so many restaurants in Badrinath where you can have your meals. If you are low in budget there are options for you. Also, you can enjoy bhandara which are organized by different organization there during Char Dham Yatra, which will not cost you a single penny.
Places of interest
If you are in Badrinath, don't forget to visit the Mana: India's last village and Vasudhara Falls.
Mana Village
Mana village is located in Chamoli district of Uttarakhand. Its altitude 3200 meters approx. It is the last village of India and is around 4 km from Badrinath temple. Visiting Mana village is an awesome experience in itself. The Himalayas and the river Saraswati will grasp your attention as soon as you walk towards the village. You will see many shops here using "Last shop of India" tag lines on their shops which is obvious because it is the last village of India 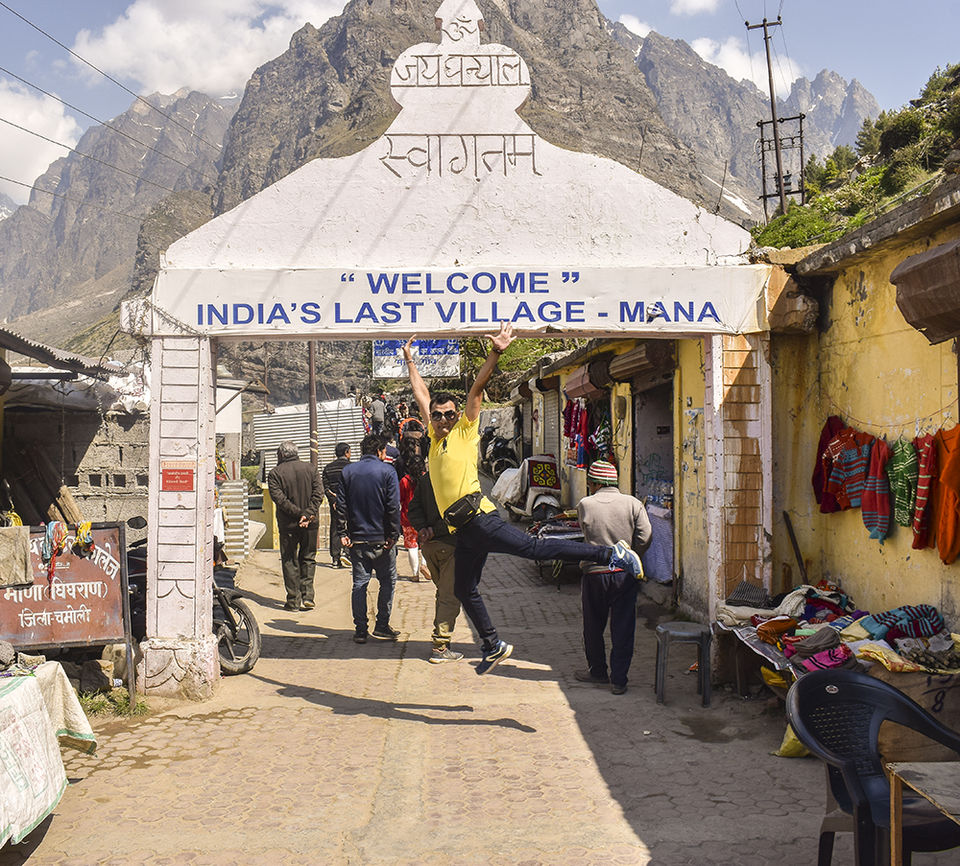 I was so excited to visit this village because the tag line "India's Last Village" was making me crazy. I was amazed to see the beauty of this village and surprised to see that this village has a history attached to it.
There is one point of interest where you'd find a lot of tourists, known as Bheema Pul. It is believed to be created by Bheema, near River Saraswati. It's a huge rock formed as a bridge across the river. The legend has it that Bheema placed the rock to make way for Draupadi, to cross the river, during their journey to heaven. Other places of interest are Vyas Gufa and Ganesh Gufa.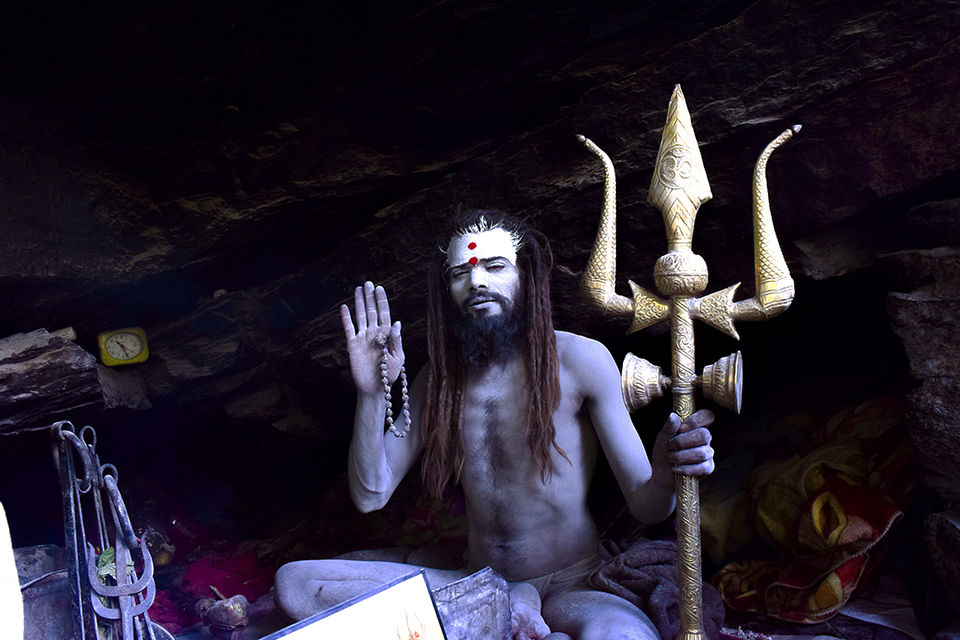 Tip: If you don't want to trek up to Mana village, you can hire a jeep which charges you around 300 Rs one side and 500 Rs up/down.
Vasudhara Falls
Vasudhara Falls trek is around 6/7 km long and is steep. Trek starts from the Bhim-pul in Mana Village. The trek is well marked but food or water is available on the way. So, carry your stuff accordingly. Trek takes around 2-3 hours to complete one side. Glacier is viewable from the falls which is a source of Alaknanda River.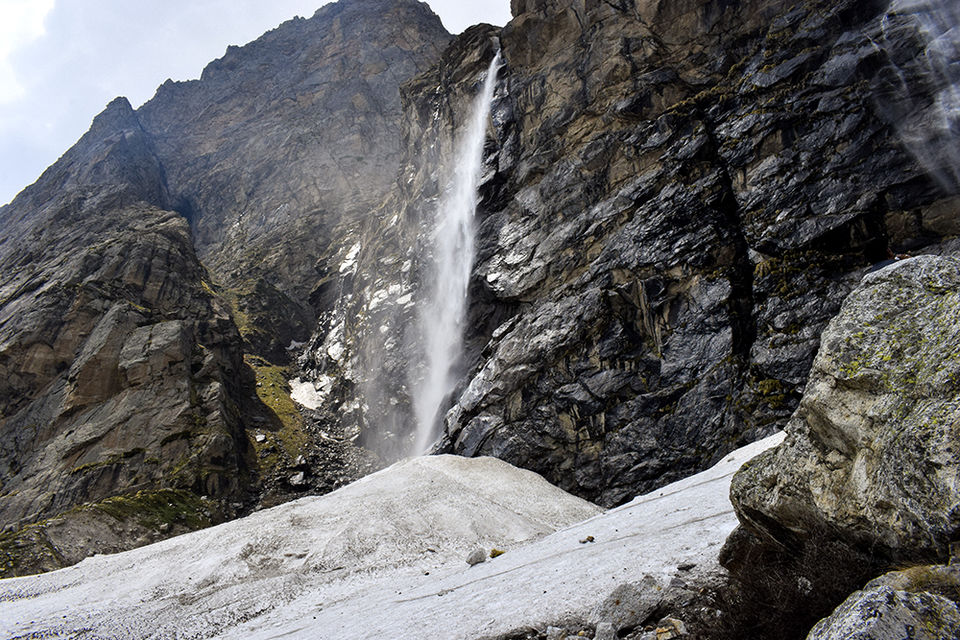 Please feel free to ask any information if required. You may also follow me on Instagram "Mytravelrunbynaveen". My Youtube Channel link