In a world where digital media is steadily becoming the norm, and printed media is gradually snubbed, portable file storage is always a welcome gift. Everyone who uses a computer owns one. Amusingly, one is never really enough. Having more than one flash storage is advantageous for several reasons. One is that files are compartmentalized, where work files are separated from personal files and vice versa. Another is to have one or two backups for important files should one flash drive become corrupted.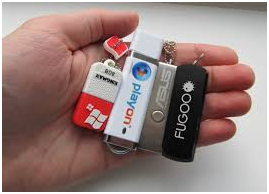 With this in mind, it isn't surprising at all that the omnipresence of flash drives paved the way for the popularity of custom flash drives. The beauty of custom flash drives is that they are flexible and can adapt to whatever event or occasion. And the universality of its usefulness ensures that those who receive it are likely to use it one way or another. Here are some examples of social gatherings and occasions where customized flash drives are perfect giveaways.
1. Weddings
Plenty of engaged couples in the past scratched their heads as to what item they'd hand out to their guests. Some resort to giving away impractical trinkets while some opt for ones that offer functionality. There's no need to trouble a couple on this issue because flash drives are definitely the way to go. Couples can opt to preload the drives with artistic pre-wedding photos or even copy wedding files just before distributing the drives. The latter option might be troublesome if copying takes a while. But then again, they don't have to be preloaded with anything at all, just a custom flash drive that bears the name of the couple plus a few symbolic customizations.
2. Expos
Giving away flash drives in tech expos is commonplace. A start up can distribute flash drives or even SD cards that contain a demo version of their application, for example. However, flash drives as expo giveaways aren't limited to technology-themed ones. Even with something seemingly unrelated like a food fair, flash drives can be given away to interested visitors. A bakeshop that specializes in cookies, for example, can find the perfect design and customize their flash drives to mimic the shape of a cookie. It's gimmicky, but that's the point. As for preloaded files, it depends entirely upon the business. But there's nothing wrong with putting in an image file that contains the business's price list along with appetizing cookie pictures.
3. Seminars
People who are attending seminars are interested to learn about the subject matter. Because of this, it's highly likely that they already have their own flash drives along. A weekend seminar for developers might even require more than one flash drive. However, taking the initiative is a great way to push the brand. Instead of expecting attendees to take out their own flash drives, it would be better to distribute customized flash drives that bear the name and identity of the business.
To learn more about possible design customizations, check out a reliable custom flash drive manufacturer and get in touch with them. It's also best to check out reviews of a manufacturer to avoid low quality flash drives.