Who doesn't like sleeping under the blanket of moonlight, gazing at the stars, where chirping of birds awakes you to a splendid view of sunrise? Don't we all feel amazed when travellers share pictures of breathtaking views from their tent, writing about their escapades?
Traditionally camping was not less than any adventure, but past few years have seen onset of organised camping sites across major offbeat locations. This has made camping much simpler, without losing its fun.
Pawana Lake with a panoramic view of Lonavala mountain ranges, is one such campsite accessible from both Mumbai and Pune (2-3 hours drive).
After being in my bucket list for quite long, our journey started from Mumbai at 9 am with the thrill of finally checking it off. We chose weekday to avoid large groups, as we preferred a calm and peaceful experience. Soon we wished to have started early to avoid city traffic.
As we drove through expressway, the concrete jungle was left behind, all the honking and city noise faded. I was devoid of the divine 'Neera' that you get across those tiny stalls along the highway until my friend introduced me to it. It is perfect refreshment to pump up your energy during any journey. Soon we could see Maganlal Chikki shops in every corner, and that's when we knew we are in Lonavala.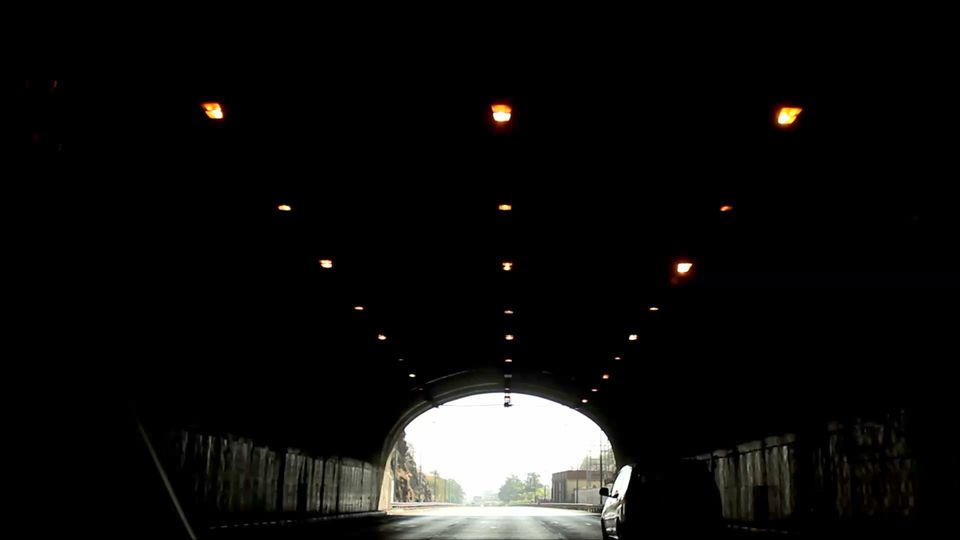 En-route, we did a quick tour of Bhaje caves, a group of 22 rock-cut caves dating back to the 2nd century. There is a 10-15 minutes climb, the initial stretch of being some high and narrow steps. However the rest are low and flat, more like a walk. Halfway through we paused to admire the panoramic view of vast green fields.
The biggest horseshoe-arched cave welcomes you at the top. There are several prayer halls and restrooms that must have been used by monks. These are decently maintained and you can experience the century old architecture wondering how the monks must have lived here.
You can enjoy Maharashtrian cuisines like poha, pakoras and jhunka bhakar in the small eateries nearby. The way also leads to Lohgad and Tikona forts, good trekking destinations.
Growling stomach made us halt at Lohagad Restaurant & Boat Club near Pawana dam. If you're on a short trip to Lonavala, you can visit here to get a view of Pawana dam, but it will be just like visiting any other commercialised lake. If you want to truly experience Pawana Lake, Camping is the right way.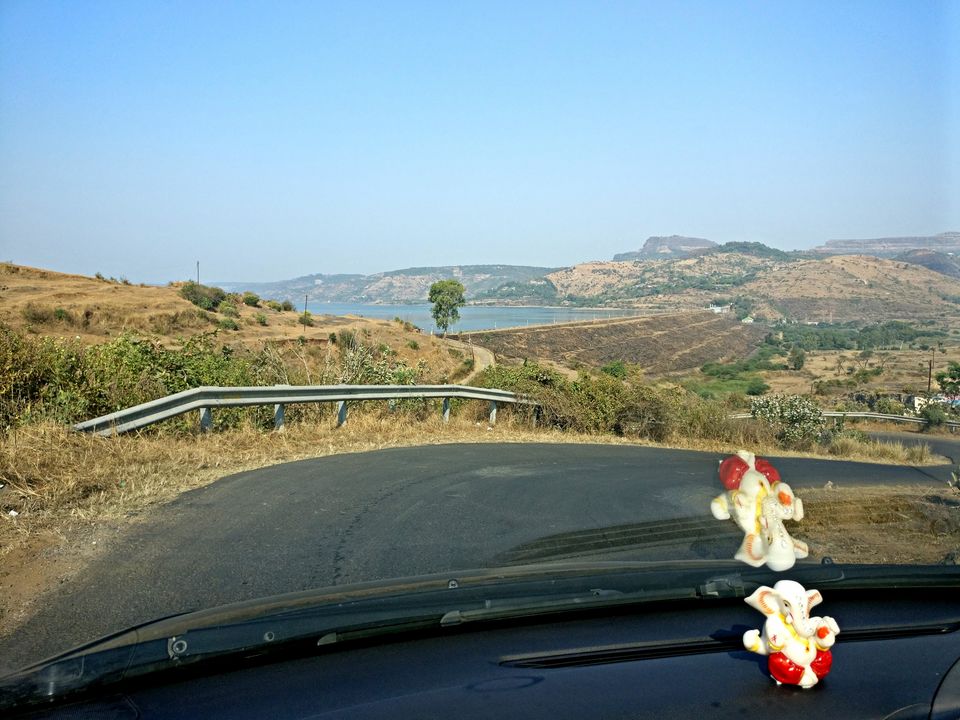 At 3 pm we reached our campsite Aangan Village. Sandeep, our host, made sure we were comfortable throughout the stay. Tents pitched at the backdrop of coconut trees and mountains, Games like badminton, archery, board/card games, etc. neatly stacked near the swing and hammocks installed where one can simply relax and watch the sky, it was perfect arrangement. The only thing that didn't really go as per our expectation was that tents were not lake-facing, they were at a distance of about a minutes walk from the lake.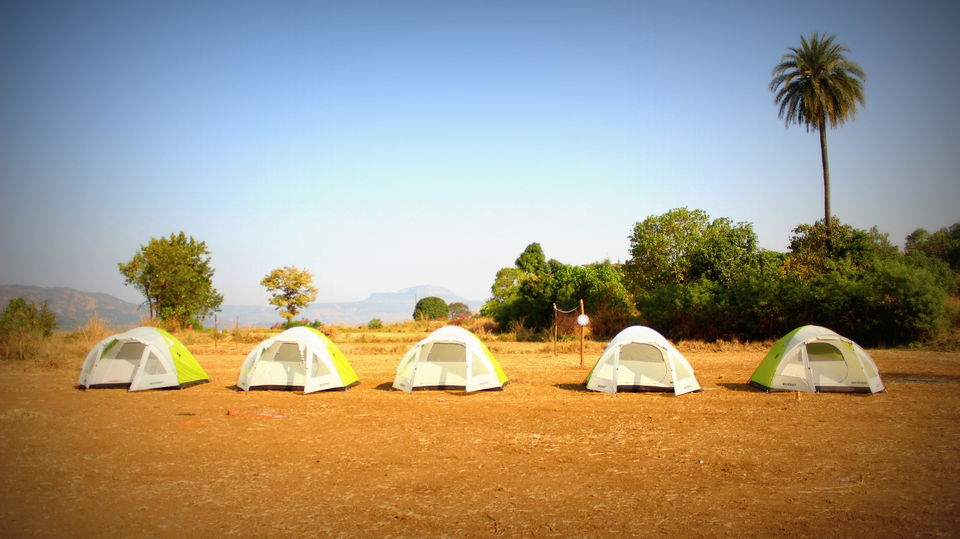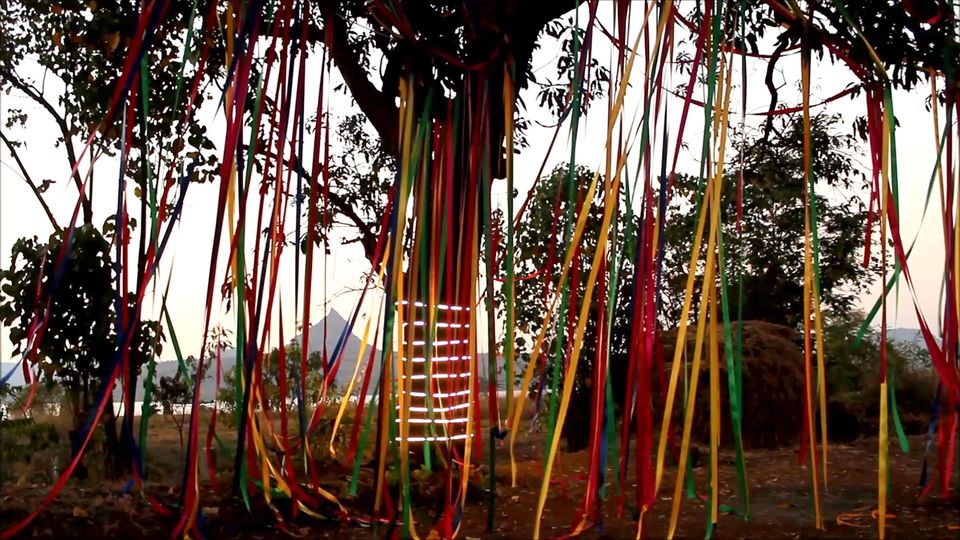 Soon orange hues dominated the sky as surroundings turned gold. Breathtaking would be an understatement for that sunset! Just a thought; we run after big things in life, but ironically things small as a sunset have power to make us feel blissful and complete.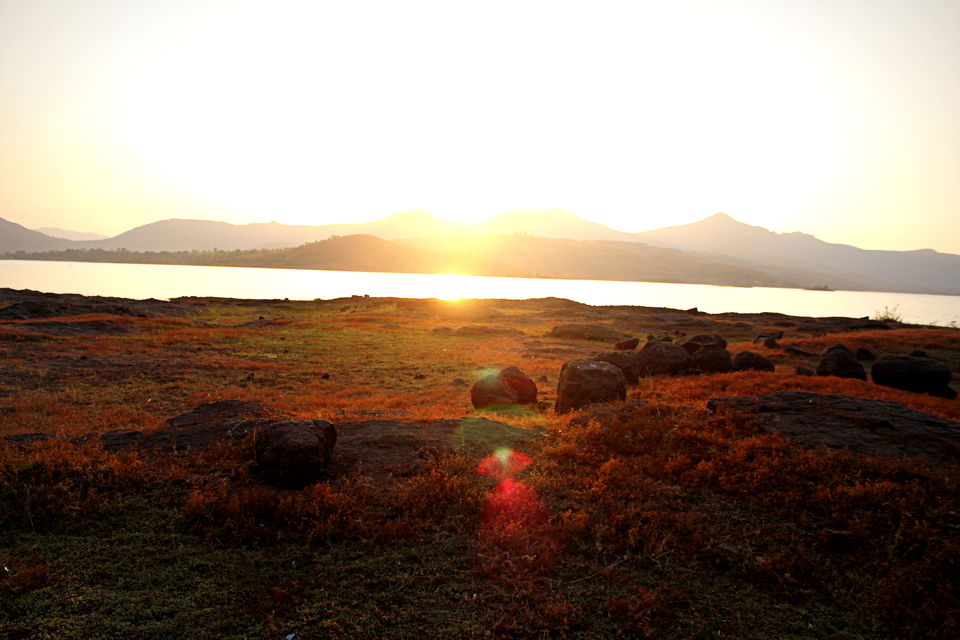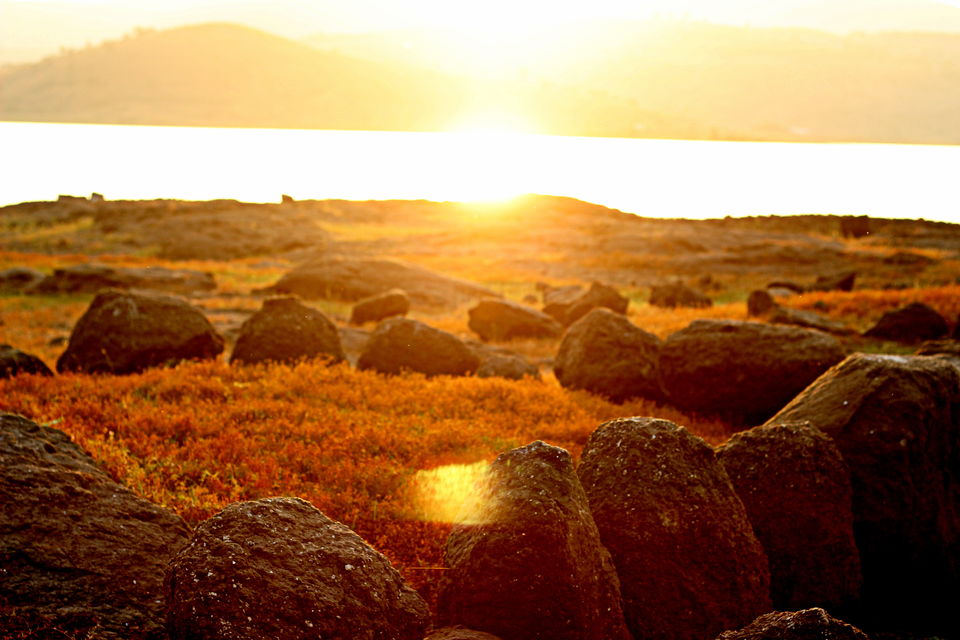 The chill increased announcing time for bonfire. Soft music played as we warmed ourselves near the fire watching tiny fire sparkles vanishing in the air. BBQ included fruits as per my special request. The food is more tasty when you make it, that's why BBQs are fun. Even with BBQ-filled stomach, we couldn't resist gulping plentiful of authentic village dinner that was served later on. That day we were so busy living that we'd no time for cellphone. How can one not like all of this? And don't even get me started on the 'sunrise'. The morning mist, the sun rising and the moon-setting (if that's a word) is a trio that instantly fills positivity in you.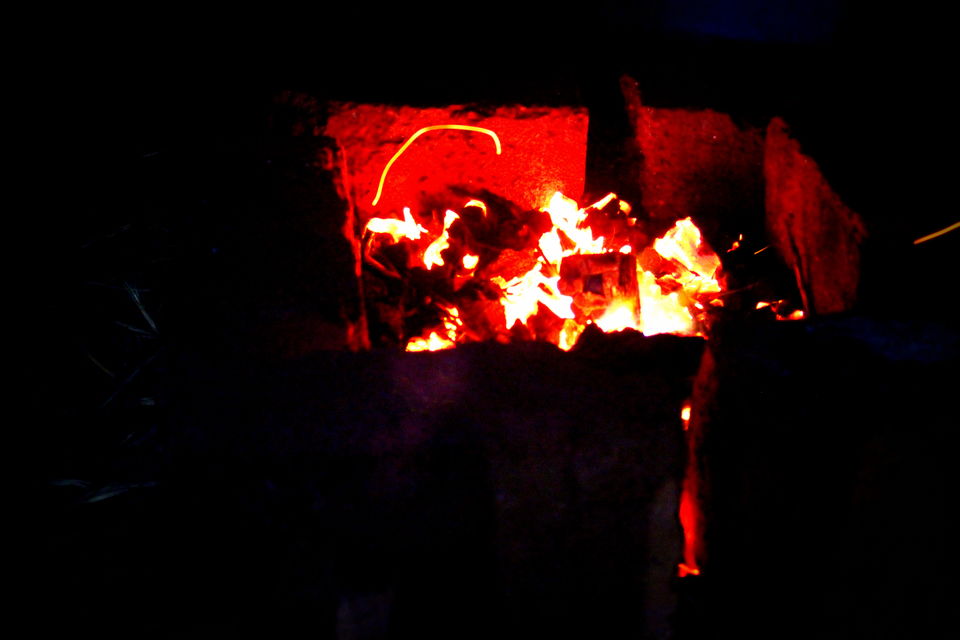 Poha served in the morning as we conversed on the swing was cherry on the cake. With thoughtful conversations and plans for future, we bid adieu to our campsite and proceeded to explore Lonavala.
​I hope this post inspires you to camp!
P.S. : Tips to plan your Pawana Lake Camping:
1. Best season to visit: Post monsoon to winter (Most campsite operate on weekdays too)
2. Finding the best suitable campsite for you:
- There are about 40 campsite operating in the area, so you do have plenty to choose from. Standard format of Evening snacks, games, bonfire & BBQ, dinner and morning snacks is offered by most while some even have option of musical night camping. If you do proper research, you sure can get a deal suitable to you. (What I did was, I zoomed in on Pawana lake location in google maps and phoned almost every of camping location mentioned, you can get their numbers, website, reviews at one place. This works for researching for almost any trip!)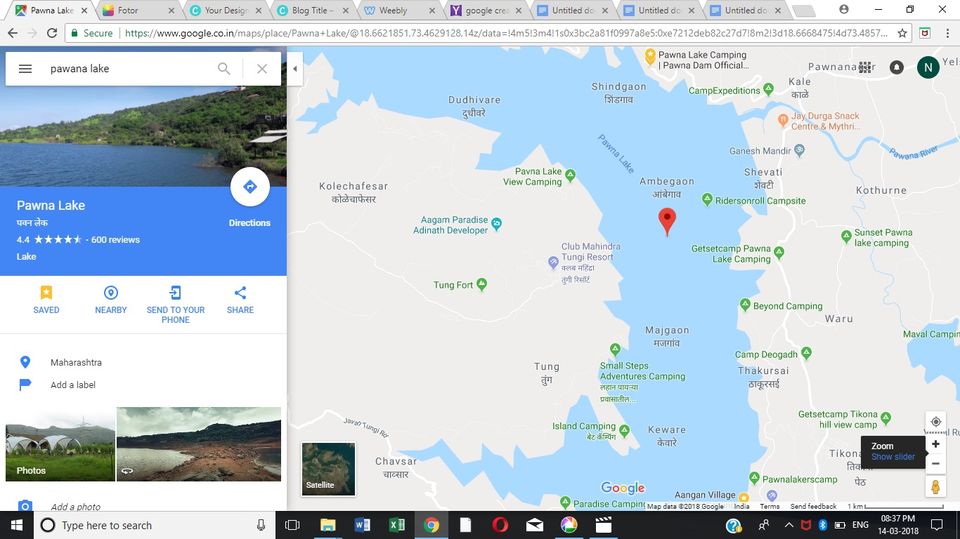 - Campsites or even boating club didn't offer boating or kayaking in Pawana lake due to some recent incidents, please confirm before you book.
- Not all campsite have lake-facing tent, so if you really don't wanna compromise on that, check with the camp before booking.
- If you have your own/rented tent, you can contact private land owners who may allow you to camp on their land for some charge. Positive side- you get to do everything your way, negative side- you'll have to organise most of the things.
3. Other places you can cover: The morning you start or the morning you leave from campsite, you can cover following places if you wish:
- Karnala sanctuary (ahead of Panvel)
- Places in Lonavala like Lion point, Tiger Point, Wax Museum (if you're first time visitor), etc
- Bhaje Caves, Karla Caves & Ekvira Temple (similar to Bhaje caves) Lohagad or Tikona Fort.
If you are in any doubt, don't hesitate to comment below, I'm a camper ready to help! :)
​​Also, you can check my full camping vlog here:
This post was originally posted on :

https://explorewithneha.wordpress.com/2018/03/21/camping-at-pawana-lake

Follow on Instagram for more pictures from my trips.
I'm also available on YouTube, Facebook and Twitter.
Just a girl with dreams of travel…