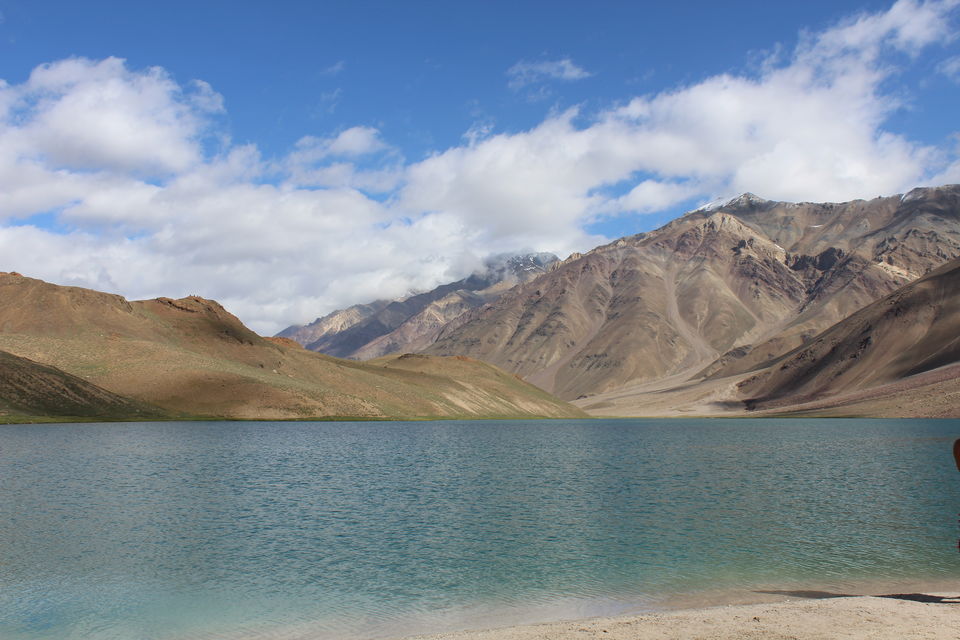 Another long weekend is here and I decided to visit Chandratal Lake. It has been raining quite a lot in the past week in Himachal Pradesh, so I was a little reluctant in planning this trip. But when I checked the forecast for 15 th August weekend it was all clear, so I decided to go for this trip. However the temperature was expected to go as low as 0 degree during the night so I made sure to pack enough warm clothes.
So I got in a bus to Manali, from Delhi ISBT on 12 th night and reached Manali by 13 th noon. This time instead of staying on the Mall road side, I decided to go to the Naggar, and stayed in a cool and funky hostel in Jagatsukh, The Lost Tribe. The place was quiet cheap, food was decent, but you get to meet a lot of fellow travellers and listen to their experiences. I spent the whole day amidst the apple orchards enjoying the lovely weather.
I had arranged for my further journey with a travel group, who would pick up from Manali and take me all the way to Chandratal and then return back. If you are travelling alone, you can hire a Taxi from Manali or you can take the shared jeeps or bus.
In order to reach Chandratal by bus you will have to hop in the HRTC bus going to KAZA from Kullu, the bus leaves Manali at around 5:00 am in morning. The bus doesn't take you all the way to Chandratal, you will either have to get down at Batal and trek 14kms from their or you can get down at Kunzum Pass and trek 8 kms from there. Since it is a high altitude area so trekking can be tough, so be prepared for it. You can return the same way (You must ask the locals about timing of the bus to be sure to catch it).
Similarly if going by a shared jeep you will have to get down at Batal or Kunzum pass and trek.
From Manali you will cross the famous Rohtang Pass in this journey. After crossing Rohtang pass the road condition is very bad but it is drivable, although during month of July and August you have to consider Nala crossing, i.e. streams of water on the road, that can be very challenging and high ground clearance vehicles should be taken on this road. The view you get on this journey are breath taking, there were two rest stops on this journey, one at Chhatru and one at Batal, you can get delicious meals in the middle of the mighty Himalayas with Chenab river flowing right behind you.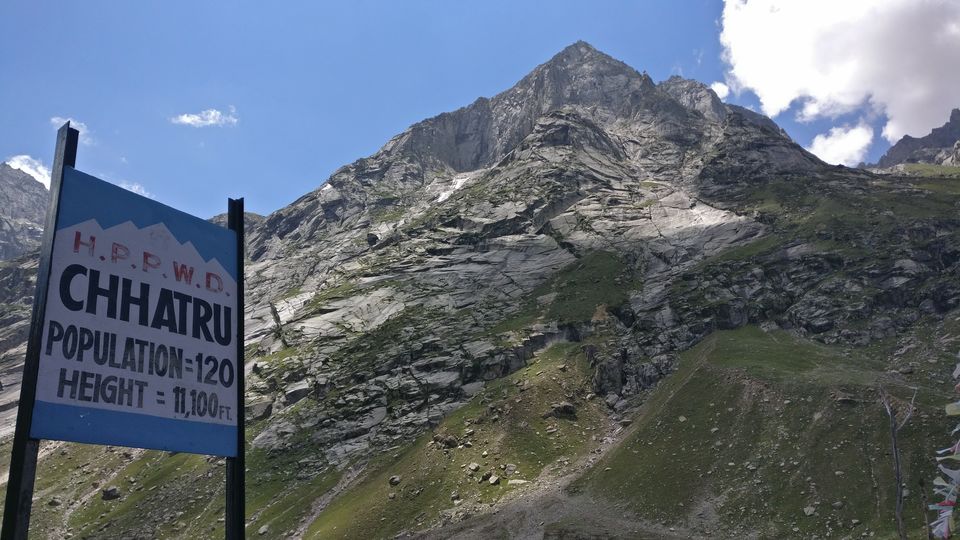 The last stretch of the road from Batal to Chandratal is a tricky one and might give you scares, but you will have to trust your driver and you will reach the place safely. Once you will start seeing camps you have reached the Chandratal campsite, I reached the campsite by evening. I was staying with Jamaica's camps, Mr. Jamaica is a wonderful host; he told stories about the lake, showed us pictures, a jolly person. I would recommend a stay at Jamaica's while in Chandratal. The next morning I trekked till Chandratal Lake, it's a 3 kms trek, but that seem difficult as well considering the fact that I was trekking at 14000+feets. You can take your vehicles instead of trekking, vehicles are allowed till 500 meters from the Lake, a motorable thin road is available for you to take your vehicles there.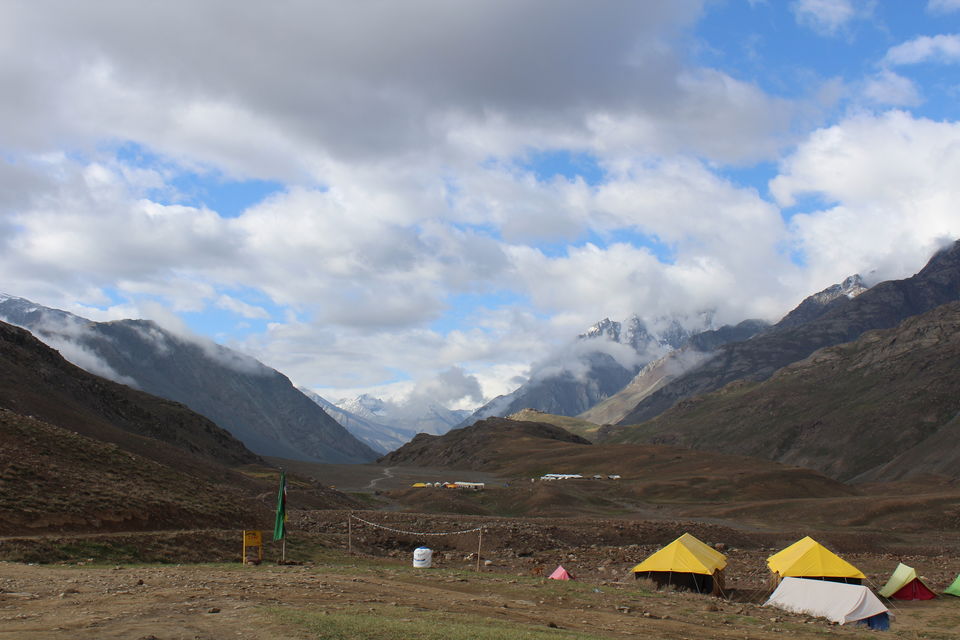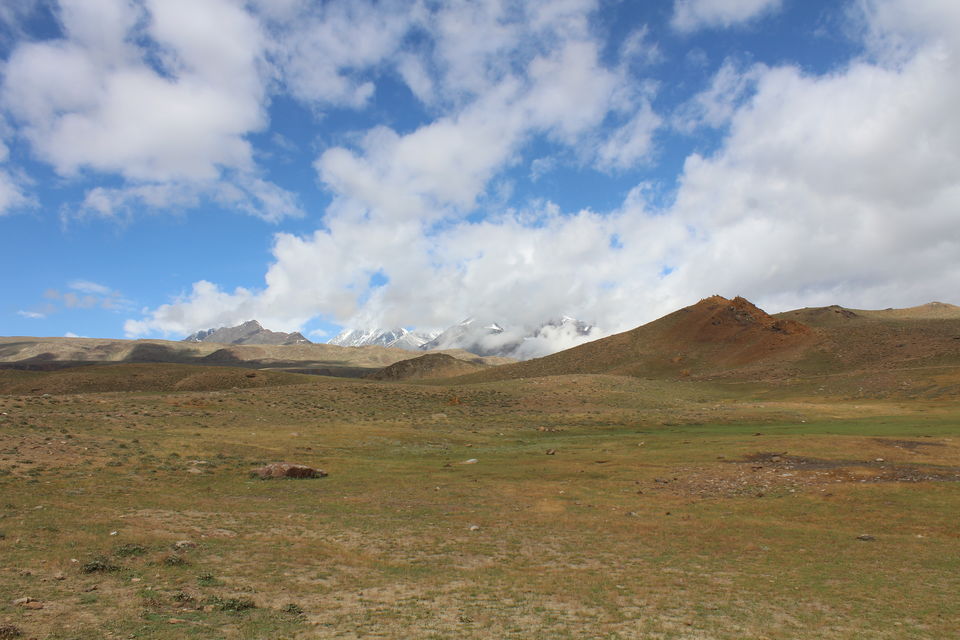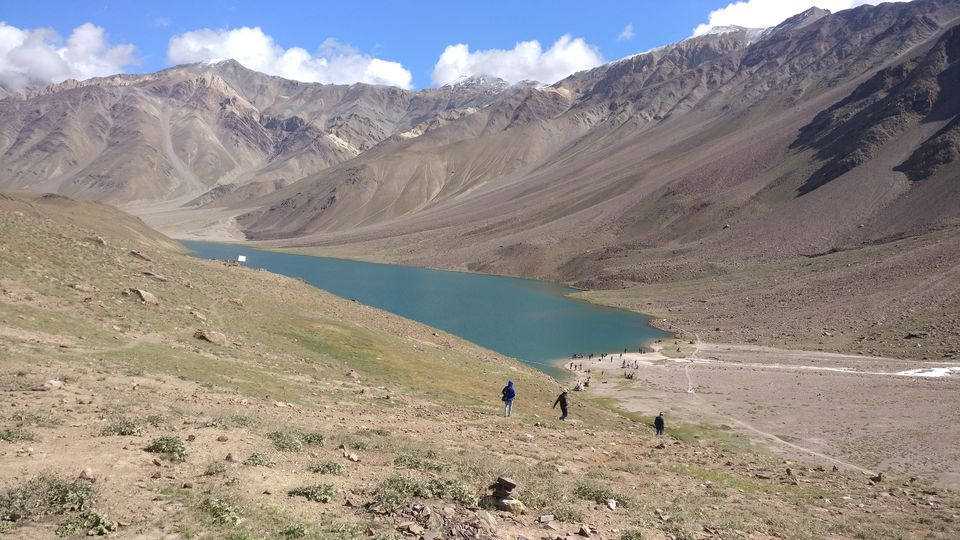 Once you get the first view of that rich blue source of water right between the brown sand and white mountains you get goosebumps. The beauty of the place mesmerises you and all you want is to just sit at that place, watch the blue sky, white mountains and the beautiful lake.
I begin the return journey the same way. Once you visit Chandratal Lake you will fall in love with this place.
Day 0: Board the bus to Manali from ISBT Kashmiri Gate at 8:00 pm(Cost rs.685).
Day 1: Reach Manali by 12:00 pm. Find a hotel and spend the rest of the day in Manali
Day 2: Head for Chandratal Lake, early morning. By bus, shared jeep or a private taxi. Reach the lake by 3:00 pm, visit the lake once and camp overnight.
Day 3: Visit the lake in morning once again, spend some time and start you return journey. Reach Manali by night stay overnight in Manali.
Day 4: Start your return journey towards Delhi, reach by night.
Frequent Searches Leading To This Page:-
tour and travels in himachal pradesh, himachal honeymoon tour, plan my trip to himachal pradesh, best tour packages for himachal pradesh, himachal package yatra, himachal package itinerary, himachal package from bangalore