How is the feeling when you travel to a new place?
Fantastic. Isn't it?
How about when you explore something new?
Elates you. Doesn't it?
How about when you discover something, no one else knows about?
Makes you speechless.
That's exactly the feeling I had, when in June 2014, I stumbled upon an undiscovered and an unnamed lake in the Himalayas.
And yes, it's not unnamed anymore. Friends and fellow travellers now lovingly call it SS_Tso (where 'Tso' means a 'Lake' in Tibetan).
Here it is.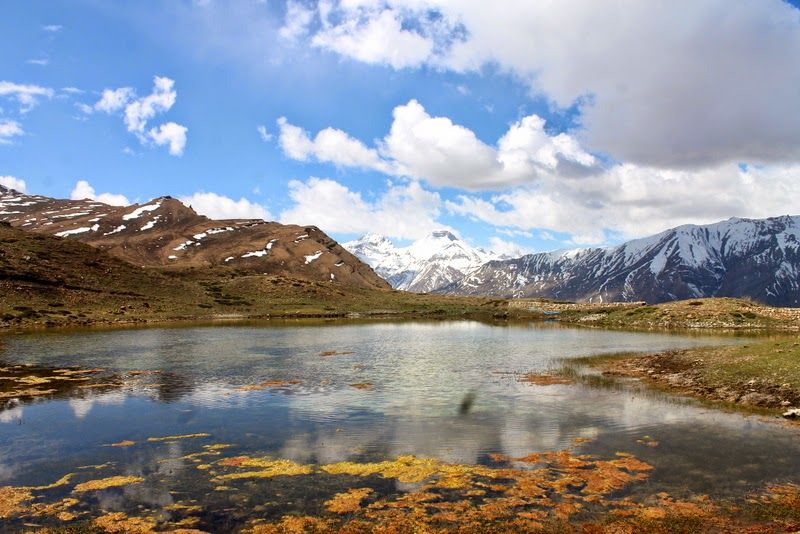 It was 5 in the morning. I, along with a friend, left my hotel in Kaza, and headed towards Kibber. Just before Kibber, we took a right turn that takes one towards Gette and Tashigong. It was fun to do some offroading along the patch. Witnessing herds of Blue Sheep along the way was bliss.
At one point, stopped the car, and thought about hiking a bit. My friend is not a fan of hiking, so he decided to wait and relax.
Not even 15 minutes of a hike, and I stumbled upon a water body. A pond / small lake. I wondered what could it be. But the landscapes ahead were beautiful, so I continued walking. Another 10-15 minutes of a walk and I saw something I can never forget all my life.
Ahead of me was a beautiful lake, with a majestic backdrop. Hidden away from the touristy rush of Spiti, away from all sorts of human presence, this water body made me awestruck.
I took a Parikrama of the lake and even found a Blue Sheep horn, that I carried back with me when I walked back to the car. I showed it to my friend, and told him about the lake. On being asked which lake was it, I was struck with something.
We immediately went to Tashigong to ask the locals about the 2 water bodies we discovered. We were able to find just one person in the village, who wasn't really sure about the, he had an idea that 1 water body exists closeby, but that's the only thing he knew.
Curious, we went to another village to know more about the 2 lakes. We found one person who knew about the first water body, but had no clue about the second one. On telling him that I saw another water body, he called his brother, who knew that one such water body exists, a little far away from the first one.
That's when we were informed, that the first water body is the source of water for them, and they call it something (can't recall the name) in their local language.
But the second water body, which lies ahead, is a place no one goes to. Not even the locals are aware of it. It has no name. It's the water source of the animals present in the region, which includes Blue Sheep, Ibex and the ghost of the mountains, the elusive, Snow Leopard.
When I came back and told my friends and fellow travellers about it, they jokingly (and some lovingly) started it calling SS Tso (after my initials).
A couple of years back, I was helping a friend with his Spiti trip and showing him places on Google Maps, and I realised that SS_Tso is now a part of Google Maps. Probably, one of the most memorable time of my life.
And a few days back, Jay (a youtuber) and I got in touch over Instagram. He told me he wanted to make a little video on this discovery of mine. I happily agreed and below it is. Do give it a watch. I hope you'll like it.
If you don't like reading much, the video would tell you everything about it anyways.
My Instagram would take you through some of my other journeys and discoveries.
You can find 'SS_Tso' on google maps.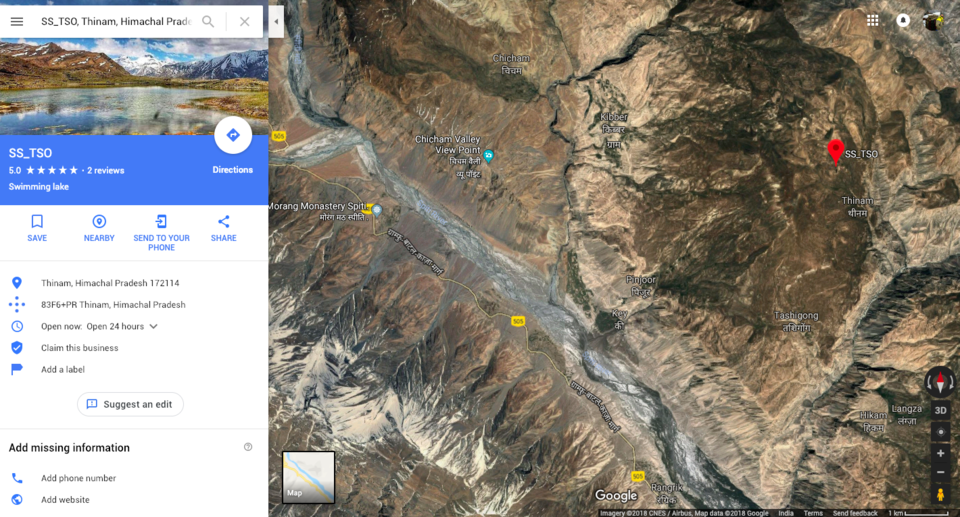 Here's a closer look at it on Google maps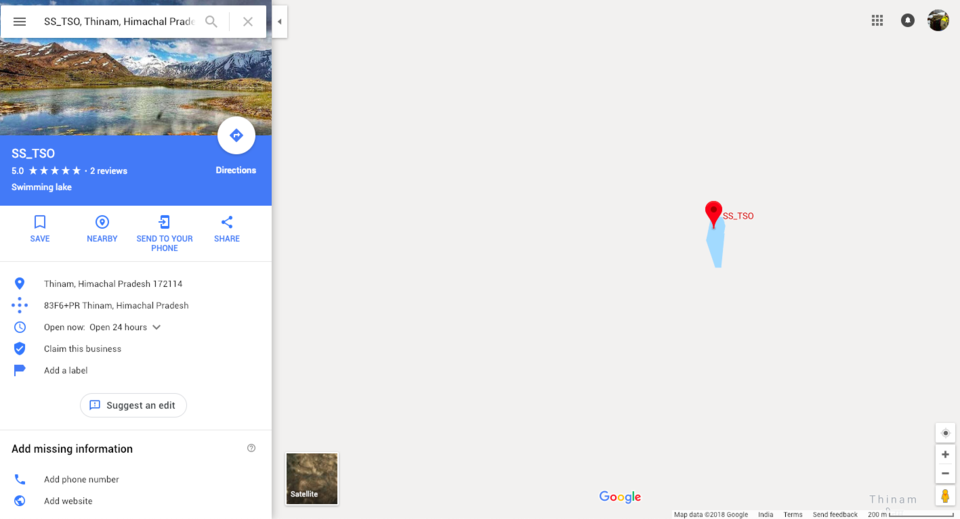 Connect with me on my Social Media handles (am most active on Instagram) to see my journeys, giveaways and initiatives towards making other people's travel dreams come true.