Taj Mahal in Agra, India is known as the symbol of love & romance, which was created by Mughal Emperor Shah Jahan for his wife Mumtaz Mahal between 1631 and 1648. Today is the most traditional Hindu festival "Karwa Chuath" and you can give a beautiful surprise of your lovely wife to visit Taj Mahal and make her day special. The UNESCO World Heritage Site, Taj Mahal is the jewel of Muslim architecture, which offers the wonderful view during the evening time, especially the "Moon Day".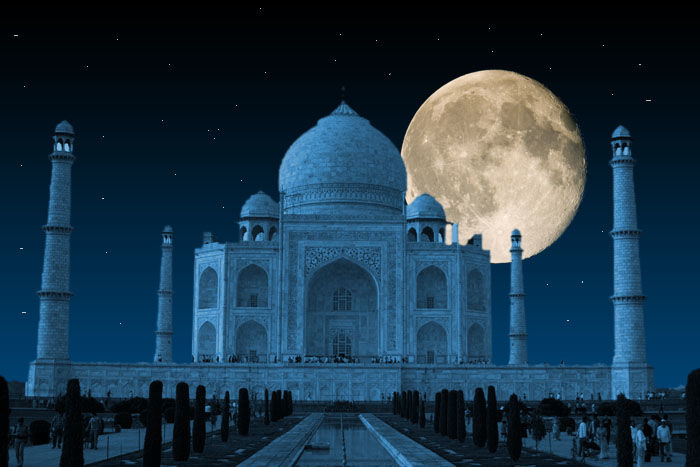 The white beauty marvel has been located on the banks of Yamuna River in a vast Mughal garden. It was derived name from the Shah Jahan wife, Mumtaz Mahal, that means "Crown Palace". The inlay work with precious gemstones, its beauty and location, all are making Taj Mahal day tours the most sought-after visited places in the world.
To the work of Taj Mahal masons, painters, stone-cutters, carvers, dome builders, calligraphers, and several artisans from the whole of the empire of Central Asia and Iran were requisitioned. Its whole construction was completed surveillance of Ustad-Ahmad Lahori. The Mahal architecture shows the influence of Indo-Islamic architecture, considered to the greatest achievement in the whole the world.
The uniqueness of Taj Mahal not popular for its beauty, but a tomb placing at one end of the quadripartite garden, which added a breathtaking view of the monument that can be seeing during best Taj Mahal day tours. The edifice is also raising with four octagonal base of the minarets located at the corner of Mahal.
The top Taj Mahal day tours offer you and your family a lifetime experience. You can buy a small statue of Taj Mahal and give your wife as a present during Karwa Chuath.