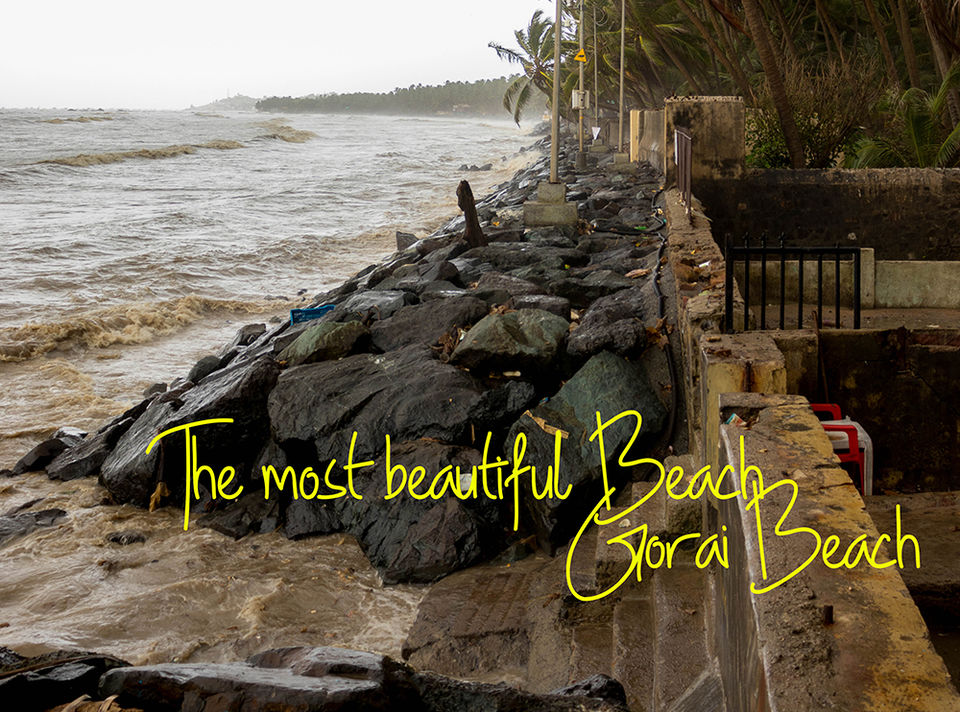 As you know that Mumbai means beaches and beaches means a lot of crowd where you feel like you are somewhere in the middle of a trade fare , where you would find , sellers and buyers , bikes and cars and a lot more things . But for me Beaches are the places where you could connect with the nature through the ocean and talk to the ocean through the waves , so the beach must be quiet and relaxing .
now finding a quiet beach in Mumbai was like finding a needle in the grass but but but , yes but i was wrong . a friend of mine told me of a place in Borivali west which is Gorai Beach ,a beach obviously but its a quiet one . so i thought of giving Gorai Beach a try . So , i made a Vlog showing you guys the place and how to reach Gorai Beach .
whenever you are planning to go to a new place , there are 3 important questions that comes to your mind , and that is :-
1 ) How to reach ?
2 ) where to stay ?
3 ) what to do after reaching there ?
so here i am , to answer all your 3 questions .
1 ) On this trip i took a taxi from chembur to borivali , but do not try this coz its gonna cost you a hell lot of money and time . If you're wondering how to reach Gorai Beach, the best way is to travel with Mumbai local from anywhere to borivali station and take exit towards borivali west , from there hire a Auto rickshaw and tell him to drop you at Borivali creek or borivali ferry , he will charge around 50 rupees , that's it . After getting at borivali creek you have to get on a boat / ferry and reach at Gorai creek which will cost you only 10 rupees . while you are on the boat enjoy the beauty around you , click pictures and record videos . after getting down at gorai creek you have to hire another auto rickshaw and tell him to drop you at Gorai Beach .This gonna cost you another 70 rupees , enjoy the view while you are in the auto .
Enjoy the view of water kingdom and vipasna ashram around you .
2 ) You would find many inns and resorts near Gorai Beach which could give you the rooms at affordable rates , if you are coming with someone special . or you could hire a hall for a party with friends at the hotels near Gorai Beach.
The staff at these Gorai Beach resorts and Gorai Beach hotels will provide you all the things that you need so that you can relax and be close to the nature .
The best thing about the resorts is that they are built at the coastal line of Gorai Beach . That means just outside your rooms you will have a private beach and the beautiful ocean to look at . Spending time at the Gorai Beach for couples is quite popular.
3 ) Now this is a trick question , what to do ? haha it depends on you guys , you wanna party , Gorai Beach is the place . you wanna relax and meditate , Gorai Beach is the place , you wanna have some moments , Gorai Beach is the place or you wanna just be close to the nature , Gorai Beach is the place guys .
This is the only beach in Mumbai where you would find bikes and cars racing on the beach and its beauty will remind you of Goa . Gorai Beach, Mumbai can also be said as a mini goa
I would suggest all of you reading this to visit Gorai Beach, Mumbai atleast once and feel the vibes it carries .
watch the video for more information .
Frequent Searches Leading To This Page:-
Beach tour in mumbai, mumbai holidays tour package, weekend getaways from mumbai, weekend trip cost from mumbai, weekend tour cost from mumbai