After a long seven months stay in Kolkata - travelling to different parts of West Bengal, attending fairs, celebrating anniversaries, niece's wedding, house warming, nephew's food ceremony, finally it was time to return to Bangalore, my second home.
After almost 12 years I stayed in Kolkata for such a long time during winter. With cousins visiting, meeting old school friends, planning one day trips, being part of all the Pujas, time really flew fast.
During my stay in Kolkata, visiting Bankura is just a thought or decision away. That was the only sinking feeling I had. Another visit to Jairambaati and Kamarpukur had to wait till I am back from Bangalore.
My whole family visited Jairambaati - Kamarpukur in January so I could not muster the courage to ask them to visit again in February, before my trip to Bangalore. I was all set to do the trip alone and cover both Jairambaati and Kamarpukur in one day. Fortunately, my sister was up for the challenge too. Neither knew how we will manage the three hundred odd kilometers in a day. We were firm, we will do it.
This is how the one day trip went.
Early Morning Departure
I was up by 3 am the day we planned to go - 12th February. I left home by 4.15 am and it was still dark winter morning, with no bus or auto plying that early. I started walking towards my sister's house hoping to get something midway. I saw a rickshaw and seriously could not figure out if he just started his day or retiring for the day before. I did not bother to ask.
Just as I reached the Bus Stop close to my sister's residence around 4.30 am, I saw her crossing the road a few meters away from the bus stop, and waving her hand frantically for a speeding bus to stop and also at me to run and board it. The driver could figure out the two women here were desperate.
Multiple modes of communication
We really had no clue if we can make it, because the first ferry service was at 5 AM from Dhobi Ghat and the train from Serampore Station was at 5.35 AM - There were so many ifs and buts in between, ticket queues for Ferry Service, Train and also wondered if we will get rickshaw to cover the distance between Serampore Ghat to Serampore station.
Remember, we were doing this for the first time - so the ifs and buts were getting magnified in the mind.
We got dropped in Barrackpore railway station. We took a reserved auto though we could wait for a few minutes for other train passengers to join us. We had no idea when a train would arrive. The auto driver wanted just INR 60 - so we did not waste time there.
The 5 minutes ferry service early in the morning, so close to nature calmed us. Last time, in January I walked from Serampore Ghat to Serampore Station. My elder sister is not comfortable walking even half a kilometer so we hired a rickshaw for INR 20. One way Ferry ticket cost per person is INR 4.50. Unless you come here, you will not know there are still transactions that involves half a rupee.
We bought two return tickets to Arambagh Station for INR 60 each, sipped two cups of steaming tea in the station, waiting for the train. Finally when we comfortably sat in the almost empty train, we unpacked our breakfast and chatted the entire way which roughly took around two and a half hours.
From Arambagh station, last time we had used a matador to go to Jairambaati for INR 400. This time we used the auto shuttle service for INR 6 per person to reach Arambagh bus stop.
Kamarpukur
We got down in Kamarpukur first, visited the temple, chanted our initiated mantras, bought our lunch coupons and waited for a bus to Jairambaati. We bought puffed rice with the usual fries available there to munch while waiting for the bus. The idea was to be back before 11.30 AM for lunch and then see all of this in Kamarpukur in Black and White.
You will know what I am saying as you continue to read.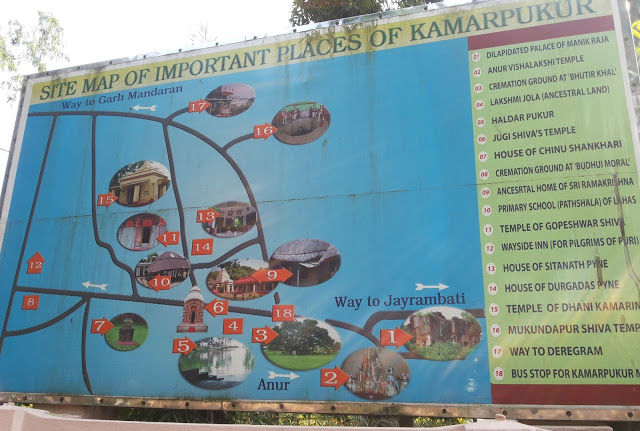 It was special day. People were celebrating Saraswati Puja in Jairambaati on 12th Feb. Therefore, the space right in front of Ma Sarada was absolutely empty - the place where usually Swamiji and disciples sit for singing Bhajan and reciting Vedanta or other spiritual verses.
People were busy with Saraswati Puja at the far end of the hall, where we normally get to sit during our other visits. We both quickly sat there, completed our Japa, felt extremely blessed due to this proximity - as we could watch her so close while we prayed.
To have a closer view, we always go outside the hall and watch her from the side window - I kind of have the same thought cross my mind every time I see her from there - so much within our reach and yet so far away.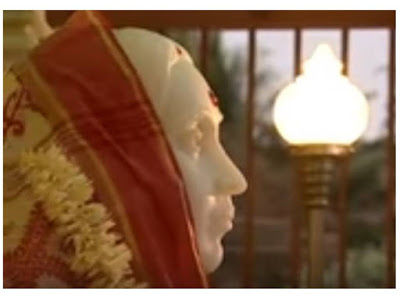 Photography is not allowed in the premises and yet I had to tell the world, how it feels to watch her face from that side window. Fortunately I found this image in the Belur Math documentary here. (Will I be banished from Tripoto to add this link here?)
That day, the experience was different. We sat right in front of her while the crowd was behind us chanting Saraswati Puja mantras.
The Universe conspires
When you wish with all your heart, the universe conspires to make it true. When I woke up at 3 AM in the morning, it was just that wish we had to see her. Six hours later, dealing with six modes of communication - leaving home at 4.15 AM, walk, bus, auto, ferry, rickshaw, train - We both were home. Only we knew how it felt.
Ma Sarada's home
We went there a dozen times before and yet it is never enough. We sit quietly on that very same veranda of her little home where she lived with her mother Shyamsundari Devi and Raduma, where Jagadhatri Puja was held, where her disciples frequented.
As we sat there, doing our Japa, we restored our energies to live these moments when we are far away from this home.
Knowing Mother once lived there, may be over a century ago - we were sitting on that very ground, watching her kitchen where she cooked - can actually bring goosebumps. Even today it is same mud stove that is used to prepare puffed rice. How did we know? That requires mention of our January visit.
January Visit
When we visited Jairambaati in January, we woke up at 3.30 AM to be part of Mangal Arati - waking up Mother from her sleep. The stillness of the wee hours of the morning, the quiet breathing in the hall where the lights are switched off immediately after Arati for aspirants to meditate, pray and do Japa.
After Japa, we then went to her kitchen, as we saw a small light there and were curious to know what or who is there at 4 AM in the morning. As we approached, we almost held our breath when we found someone inside the kitchen in front of that mud stove - a senior lady in a white Sari preparing puffed rice - The only thought that crossed our mind was the most obvious thought in that state of mind - Mother!
Some one like her, prepared puffed rice there for two full hours. starting that early in the morning. We observed her through the kitchen window - She took a handful of rice, dropped them in the large container placed on the mud stove, the rhythmic cracks and a swift jerk to pull the puffed rice to a side and let it heap there. She continued with her work, fully engrossed, unaware of people who peeped - people like us, who come all the way here to build just that - a little bit of focus on our spiritual health.
Returning to Kamarpukur
We took a bus back to Kamarpukur. Usually when we come with our families, we prefer to use the paddled motor vans INR 50 per person for a to and fro visit including waiting time.
Kamarpukur in Black and White
We always go to Bankura and stay in Jairambaati. We never explored Kamarpukur much. So it was in the agenda to spend more time in Kamarpukur than Jairambaati this time.
What I had not told my sister was I wanted to do - click everything here in Black and White. So as she walked ahead of me with our guide, I weaved this shot by shot learning more about the lanes and by lanes of Kamarpukur.
The idea to capture Kamarpukur in Black and White got triggered when I saw a photograph of Dakhineshwar in Belur Museum - the way it was when Sri Ramakrishna lived there.
I immensely enjoyed creating this. Felt closer to them and the times they lived.
We were back home by 8 PM and we immediately had relatives throw questions that very night, how we managed without the car, without a room to stay, so on and so forth. Universe conspires.
Though this is not advisable for seniors - for anyone else with a little bit of heart, this one day trip can be truly satisfying, and will not be very exhausting, if time is planned well.
We both knew by the end of it, we will do it again, many times more.
Updated on 5th March 2017
I am just back from Bankura now. With the new station Goghat, the one day trip is even easier. Kamarpukur is 30 minutes away from Goghat and will cost only Rs 20 in a Toto.
The fair in Kamarpukur on the occasion of Sri Ramakrishna's 182nd birth anniversary was quite big with products ranging from Rs 3 (in this era) to Rs 200.
Originally published here
Frequent Searches Leading To This Page:-
kamarpukur west bengal weather, hotels in kamarpukur west bengal india, west bengal tourism kamarpukur, west bengal tourism jairambati kamarpukur