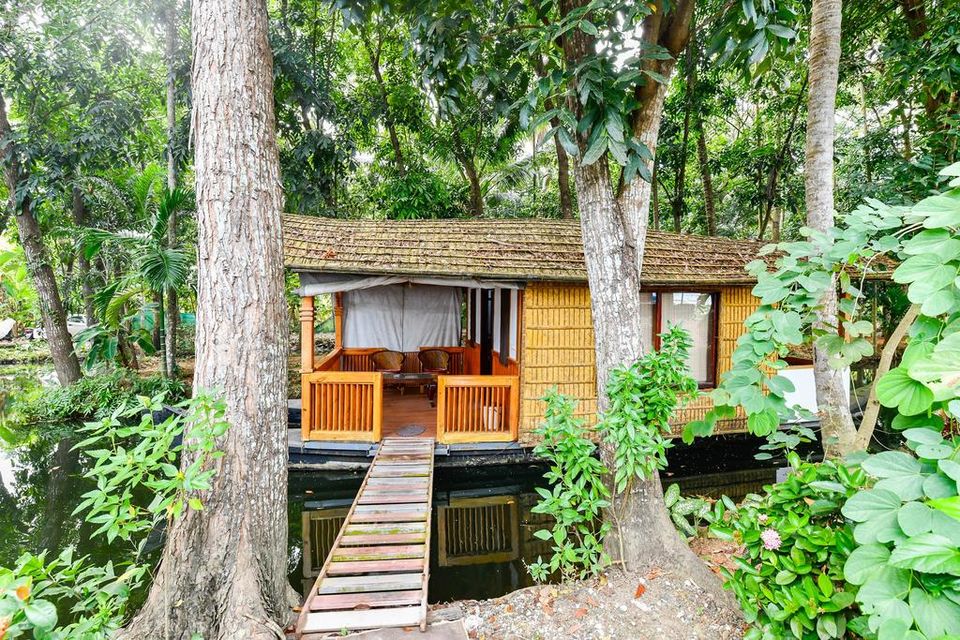 Alappuzha is one of the 14 districts in the state of Kerala. However, it is Alleppey which was renamed as Alappuzha in 1957 and Alleppey town was renamed as Alappuzha in 1990. Despite the renaming, most people are more aware of Alleppey and have a certain image when they think of it: backwaters, greenery, quaint little town. Alleppey was the anglicized name and hence, when you're reading this article, be aware, that you're reading about the same Alleppey.
Interestingly, one can reach the tourist destination of Kumarakom which is located near the city of Kottayam. Kerala in general has so much to offer; so much beauty, so much self-rejuvenation, so much health that coming here in itself, is a wonderful travel decision. Backwaters and houseboats are a part of Alleppey's attraction. Kerala Backwaters are a set of lagoons and lakes of stagnant waters that lie parallel to the Arabian Sea which along with interconnected canals, rivers and inlets form a labyrinth of waterways of over 900 kms.
A houseboat is a boat that has been designed primarily to serve the function of a house. This concept although not unique to Kerala, has become associated with it. They are usually moored, kept stationary or motorized for a fixed route and have become a famous tourist attraction. One of the most beautiful boathouses of Kerala lies right here in Alleppey's Aryad South and offers a vacation to the tired souls and thrill seekers alike.
Canoe Ville is a family-run floating boathouse off the shores of Lake Vembanad. Imagine your vacation with you, relaxing on a hammock on the shore of the lake with your preferred beverage in hand surrounded by coconut trees and wild birds and listening to the sounds of nature. We are so accustomed to the humdrums of citylife that our ears and senses crave some alone time with nature and where better than here, in this boathouse that allows you to reconnect with nature but does not cut you off from amenities that you're used to.
Your canoe cottage is a floating boathouse overlooking Lake Vembanad. The cottage itself floats on a small inland canal less than 20m from the main lake shore containing 2 balconies (1 large and1 small!), a main spacious bedroom and a separate bathroom. The hammock lies in the front of the cottage from where you can watch the world at your pace. There is also a large open area with a roof reserved for special events for which one would need to contact the host beforehand.
The guests can access their reserved rooms, the common spaces and a shared kitchen. A shared kitchen is both a thoughtful and a useful addition to the property as most of the times, as guests, we cannot find a space to cook something which we'd like to.
Essential Details:
Bedrooms have 2 single beds. The bedding is generally the first thing which is of importance to guests. A double bed is of the most convenience; as we can see in the image above, the beds do not need to be separated. The rooms have air conditioning (Kerala isn't really a cool place, climate wise), rooms have TV and laptop-friendly workspace is available (charging point with table). Towels, bedsheets, shampoo and toilet paper is available in every room. The parking is free on the premise; kitchen is provided along with a refrigerator.
There is a garden-backyard, a barbeque grill and balconies/patios available for the guests. There is someone available 24x7 to contact if guests need anything. The property allows stays upto 28 days and more (very likely, after seeing the beauty of this place, haha!). However, Wifi, heaters, washing machines and hair dryers are not available so in case of travel to the location, do carry your own.
Canoe Ville is thoughtfully constructed to make the stay of every guest a comfortable and relaxing one leaving them with an experience of luxury, right in nature's lap.
Happy Travels~
Watch travel stories come to life with Tripoto on YouTube
Explore the best of travel inspiration on Tripoto Instagram!