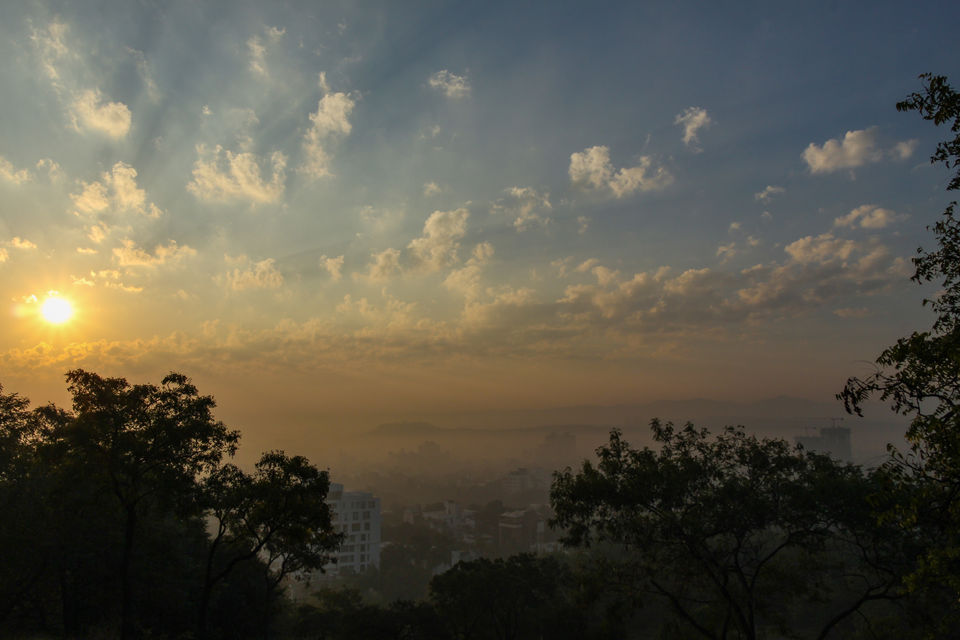 I forgot my GoPro at home and had to shoot with my phone Moto One Power, I think it turned out pretty good, with the GoPro the audio level is always an issue but with Moto it's high and clear.
I was glad I went to vetal tekdi but after roaming around for some time I couldn't find a decent spot to shoot the sunrise time-lapse. The time was running out so I thought I should get back and try again tomorrow.
As I was walking back I thought the clouds are looking really good and the sunlight is not that harsh, I should set a timelapse and I set up my camera and tripod.
Meanwhile, I take a selfie, some vlog shots and I also explain the details about the camera settings. Watch the video to know how I set my camera for the time-lapse. I am pretty happy with it but I want a proper sunrise so I plan to visit Hanuman tekdi the next day.
I am late again the next day and the Sun is already rising, in the first time-lapse I missed the Orange hues just at the start of the Sunrise. I got some of those hues today at Hanuman tekdi, Pune. The hike is very small from S.B. road so I get there easily, as I reached the top I couldn't find a spot to set my camera up, the trees were all grown up and the view was partially covered. I look around but it's all the same! Finally, I manage to set up my camera on a rock and it stays up pretty well.
I was sitting peacefully after running around a couple of days to find a decent spot, I am pretty satisfied with the views but I am sure there are better options to shoot or watch a Sunrise in Pune and I will keep exploring them.
If you have a bike or good commute options then this running around gets easier, in my case I have my Bajaj V15 with me.
I shot the time-lapse with Canon 600D and Neewer intervalometer. Personally, I think I liked the first time-lapse more, what do you think?? Comment below.
The video starts and I hope you guys enjoy it and watch it all.
I'll do another video with Sunsets so stay tuned for it.
Connect with me on -
Facebook - https://www.fb.com/ajinxedartist
Instagram - https://www.instagram.com/ajinxedartist
Twitter - https://www.twitter.com/ajinxedartist
Wordpress - https://www.ajinxedartist.wordpress.com
500px - https://www.500px.com/ajinxedartist
Tripoto - https://www.tripoto.com/profile/ajinxedartist
Give a Thumbs-Up, Share & Subscribe for more Travel videos & Awesome Experiences.
This video starts with the idea of exploring local places in Pune and knowing more about it while shooting something to show you guys.
The idea was pretty simple, wake up early catch the sunrise, shoot a timelapse and show you around Hanuman tekdi, back home for breakfast. ????????‍♂️
But then I am Ajinkya and I Jinx it as almost always! I get late or the Sun comes up early and it is the most beautiful thing, as I am driving through to Hanuman tekdi I realize I am gonna get late and miss the Sunrise completely.
I take a decision and turn towards Vetal tekdi instead, as I reach the first gate I stop my bike and quickly start running towards the Hanuman temple on Vetal tekdi. ????
Check out the Vetal tekdi video, my very first Pune Travel Journal video -
It really helps me plus It's Free!!!
Frequent searches leading to this page:-
best sunrise point in pune, best places to see sunrise near me