Marvellous Malaysia is a melting pot of various cultures. Cuisine is one of the distinct features of any community and Malaysians take theirs very seriously. They hold fast to their traditional ways, making the place a veritable culinary heaven for lovers of local foods.
This is a story of my 5 day trip that was spent eating my way through various cities, each with their well defined cuisines and specialties.
Melaka -
Melaka has a rich colonial history and also the influence of the Chinese, Arabs, Indians etc, on its cuisine.
Melaka culture and cuisine is strongly built up by the Pernanakan community. Pernanakan literally meaning descendants, refers to the the people who were born of marriages between the traders who visited Melaka and the local women.
The Chinese peranakans are also referred to as Baba Nyona where Baba stands for the male and Nyona for the lady. Their cuisine is famed for its use of coconut, tamarind, glutinous rice, pandan leaf, gula melaka (palm sugar) etc. Below are a few glimpses of the popular foods.
Baba Charlie Nyona kuih is the famous cake shop or Kuih as the local pastry is called.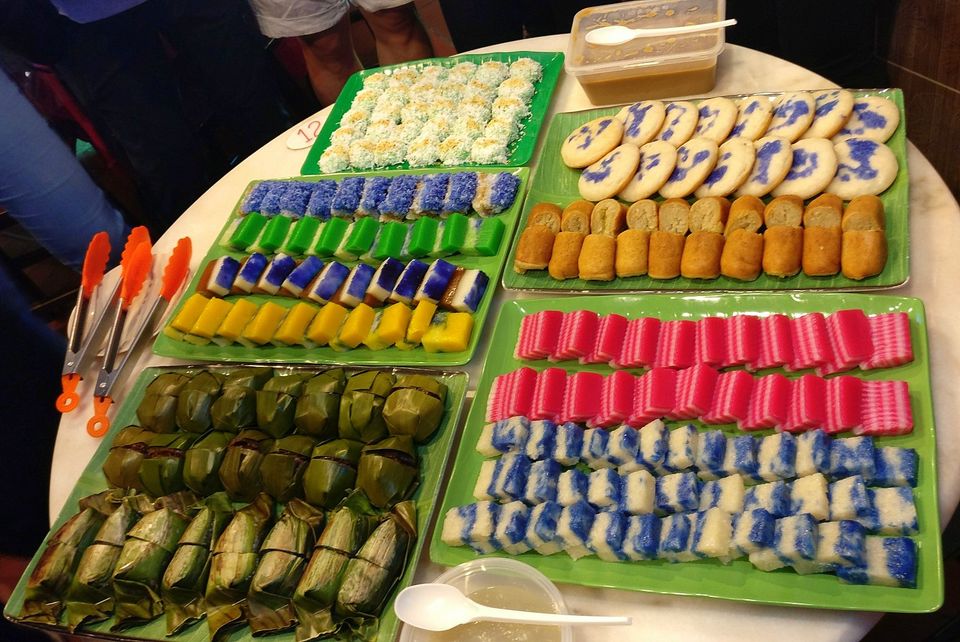 I tried the the ondeh ondeh, rempah udang, kochi hitam, apam balik durian, pulut tekan, apam bekua, 2 kinds of mixed loyang and then chased it down with chilled, refreshing Tai bak.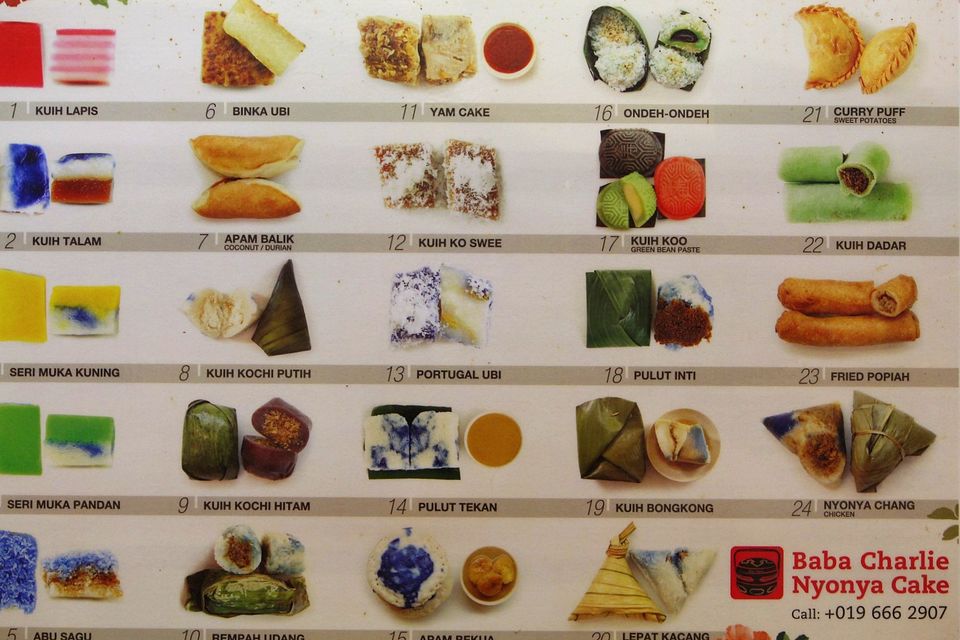 Lunch was again a very traditional and was at Nyona 63. The meal consisted of with Vegetarian spring rolls, Ngo Hiong (5 Spice Meat Rolls), Steamed okra with dried chilli paste, Nyonya Chap Chai (mixed vegetables), Masak Lemak Nenas Prawn, Pongteh chicken and pork, Kangkung balacan, Kurau Chili Garam and for dessert I welcomed the chilled Cendol (pronounced chendol).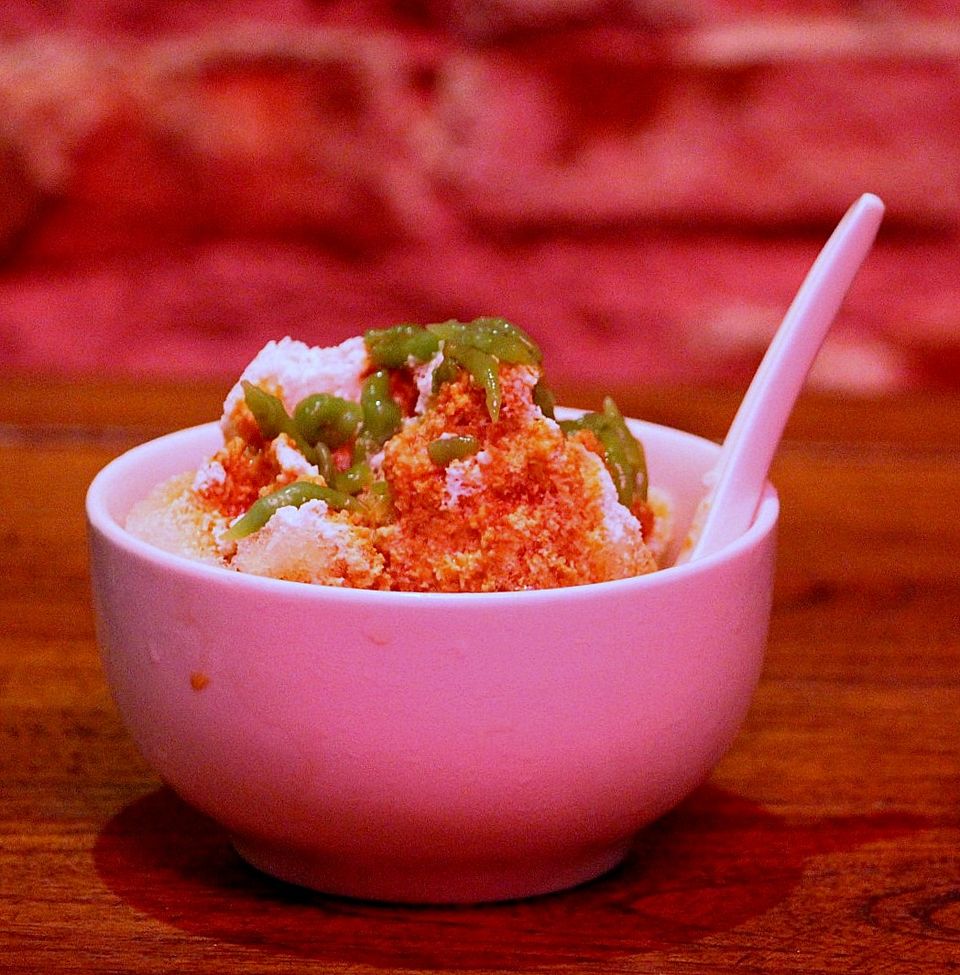 Muar -
Muar is a place with a unique food habit. Satay here is eaten for breakfast instead of at other meals. Satay Maharani is the most famous Satay restaurant here. Breakfasts as you can see, are taken very seriously and I had the pleasure of enjoying this varied spread. You see here a veritable feast of sorts with the ubiquitous assortment of kuihs, the Kuih ketayap, Kuih lompang, Kuih sago and Kuih cara berlauk.
The mee hoon (noodle soup), a spicy and tantalizing Nasi lemak and Tauhu lentok made up the rest of the morning spread.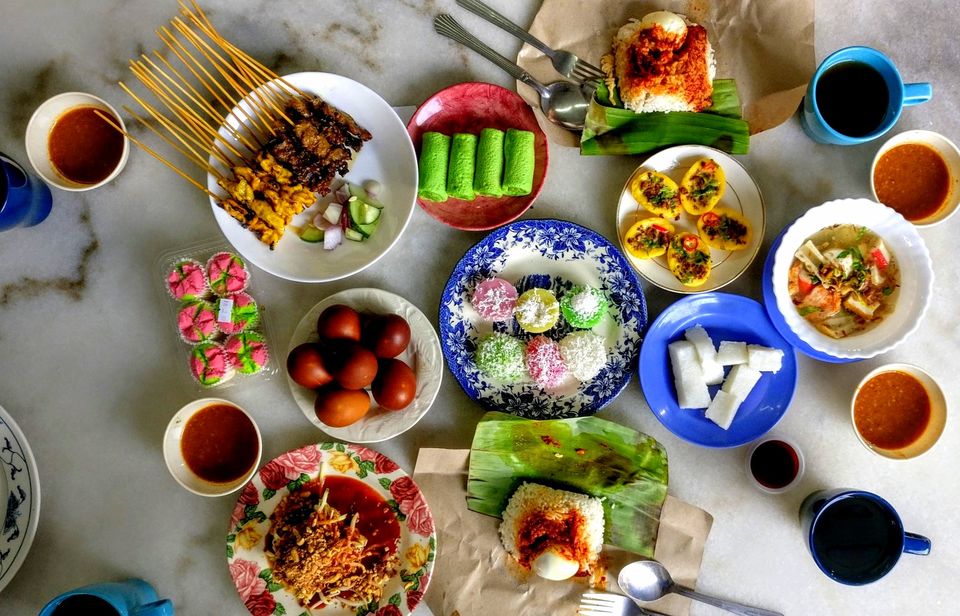 Another novelty that I experienced in Muar was the Otak Otak, also known as Otah Otah. A flavorful blend of raw seafood, onions, curry paste and the ubiquitous but indispensable coconut milk, these little parcels were a treat for seafood lovers like me. The paste is packed in palm leaves and grilled.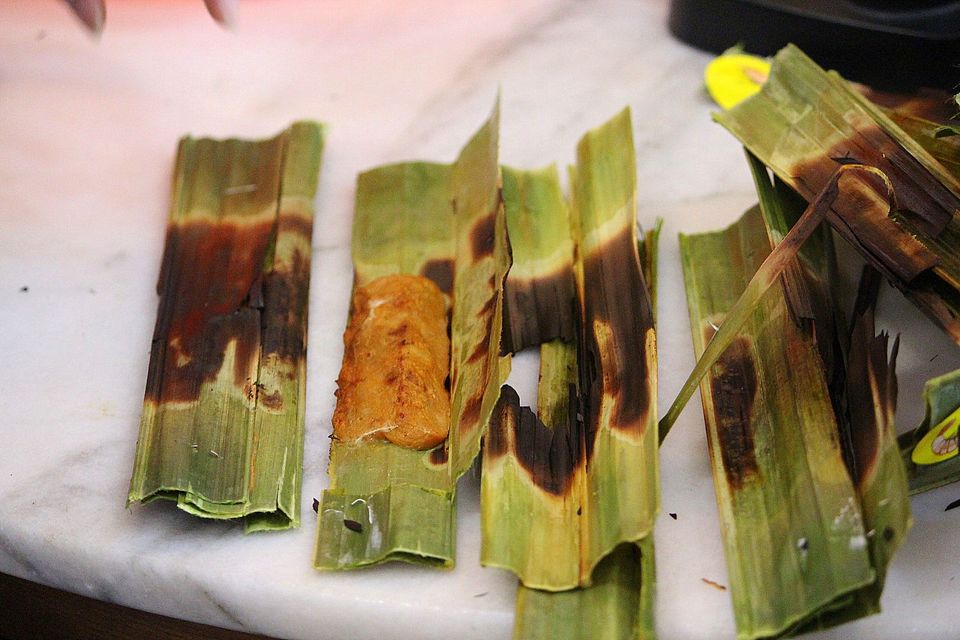 Muar in Johor is also famous for fresh oysters from the Muar river, that literally go from - Muar to Mouth
The Oyster Bay is a oyster research center cum restaurant that offers a fixed menu serving variants and also a platter with a combo of all - Crumbed and deep fried oysters, oysters topped with cheese and oyster with a tangy salsa. The soft burst of the sweet and fresh oysters against the palate is a sensation that I will remember forever.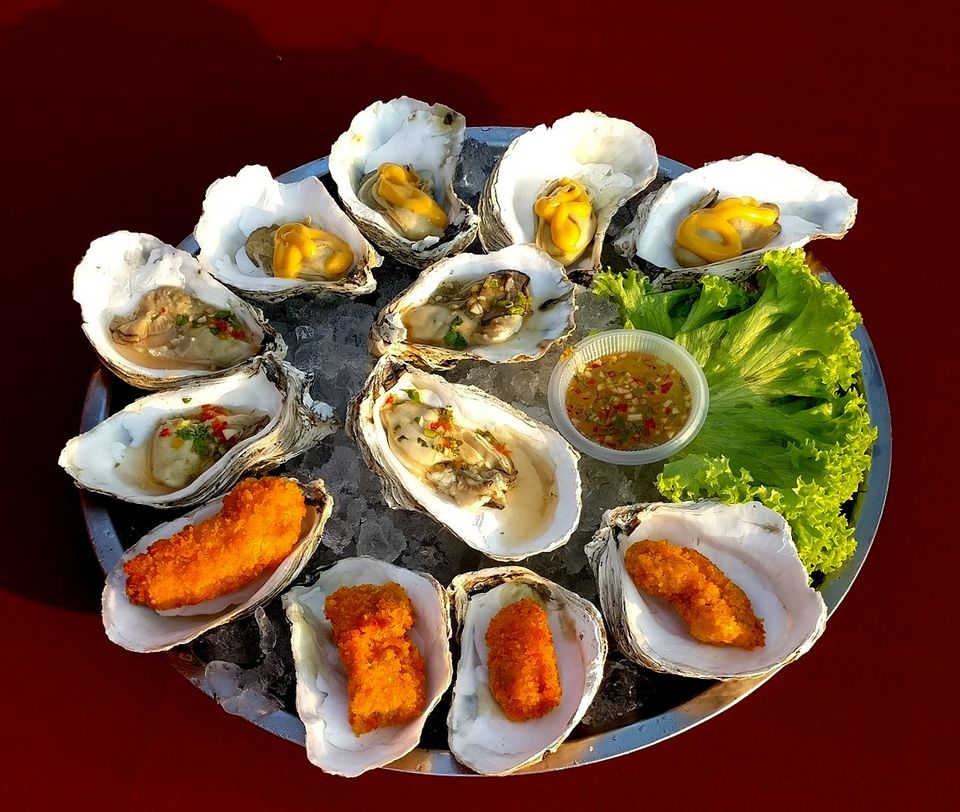 Dinner was Nasi Ambeng, which is basically rice and various accompaniments like stir fried tender tapioca greens, roast chicken, fish curry and a other curries that are laid out on a banana leaf lined large plate. This is a shared community meal.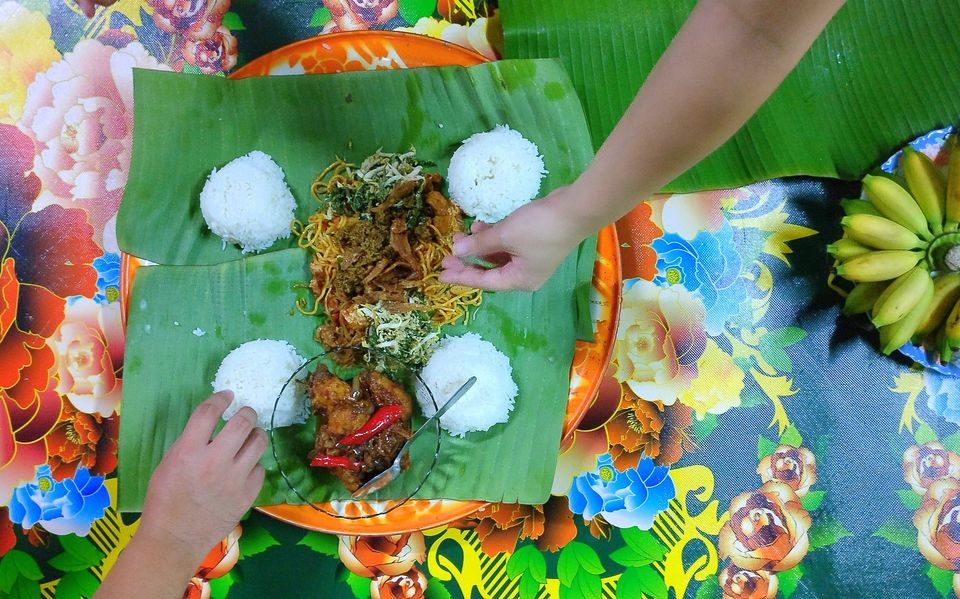 Johor Bahru -
Johor Bahru has the unique Gear Box and Mee rebus. Gear box or Sup Tulang or Soup Tulang is basically a clear broth that obtains its subtle yet distinct flavors as a result of stewing beef or mutton bones for several hours along with spices and condiments like ginger, chillies and tomatoes. The broth is served with the aforementioned enormous shank bones immersed in it, with a straw to suck out the marrow.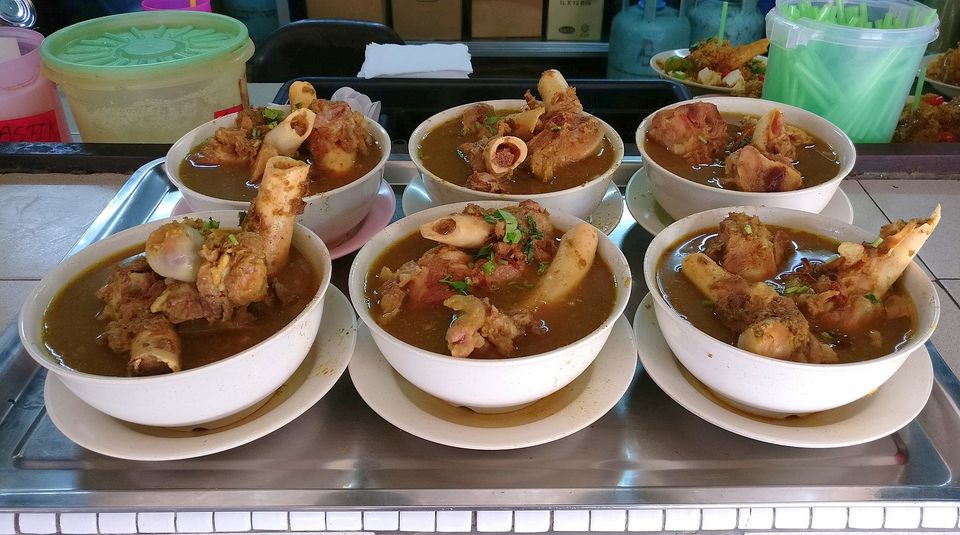 Mee rebus is another variant using these marrow bones, where the bones are served with their accompanying straw but instead of swimming in their clear broth, they are placed on a bed of yellow noodles that are slathered in a thick gravy made from sweet potato and dried shrimps and stock and the whole thing is finally embellished with a generous topping of bean sprouts, hard boiled eggs, chopped chillies and crispy fried bits of noodles for an added texture.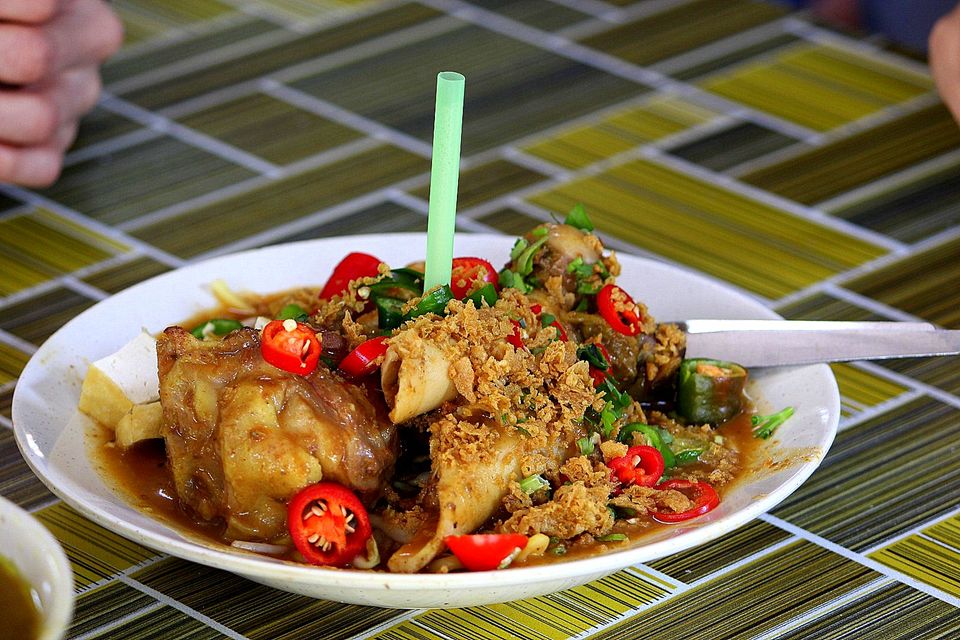 Indian food for dinner ? The Spice Villa restaurant was where I headed for Fish head curry with fresh succulent Red snapper, Tandoori chicken, Gobi Manchurian (no escape for Indians from that one anywhere :-D), Chilli squid fry, Prawns chilli fry, Madrasi mutton masala, biryani rice and Naans. Though not totally North Indian, this has been the closest that I have ever eaten 'Indian food' at any international location.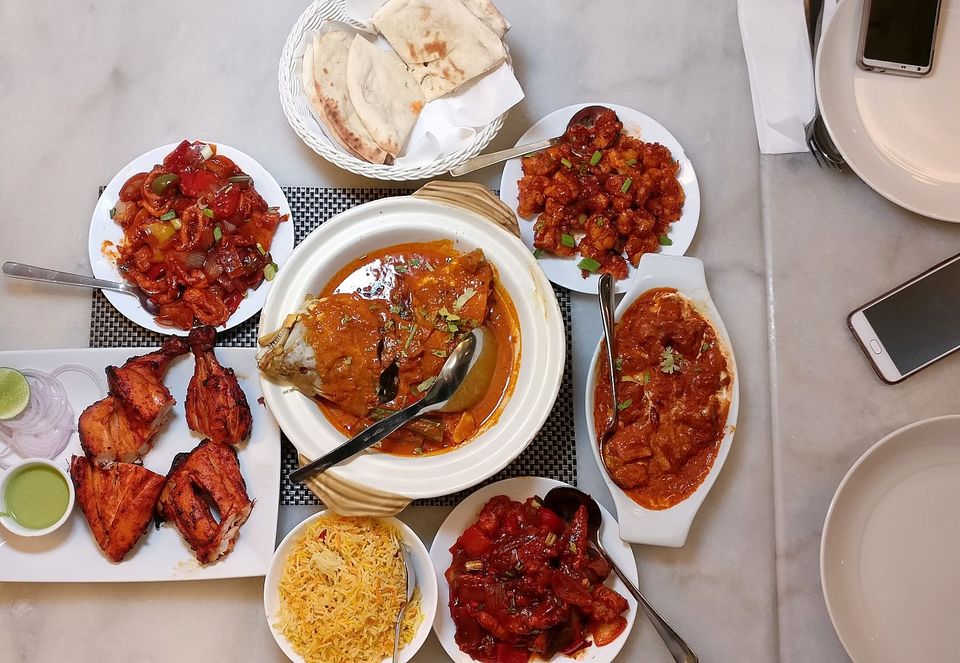 Desaru -
Desaru organic fruit farm serves a fantastic buffet where every dish has an element of fruit.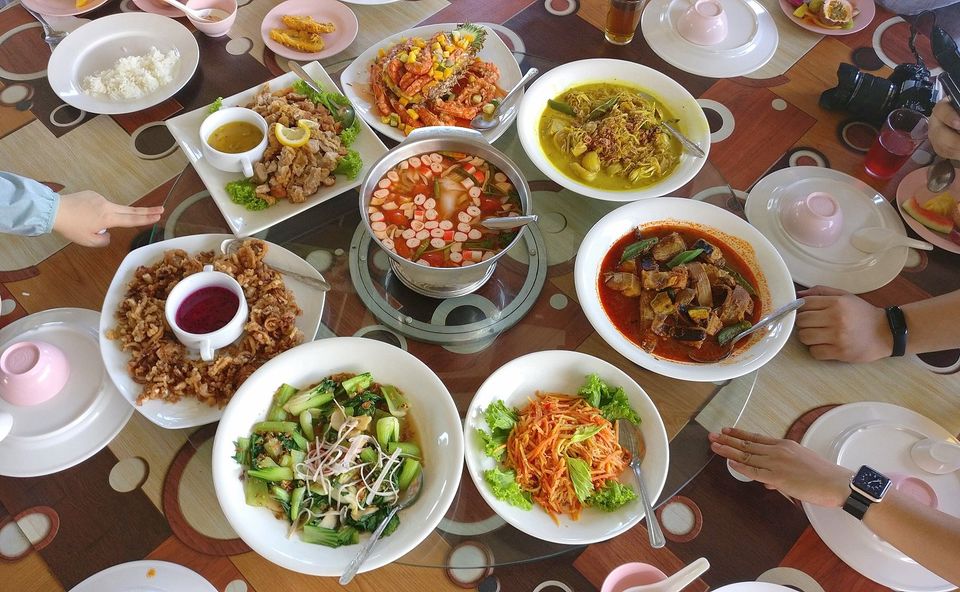 One can also have an unlimited tasting of the seasonal fruits.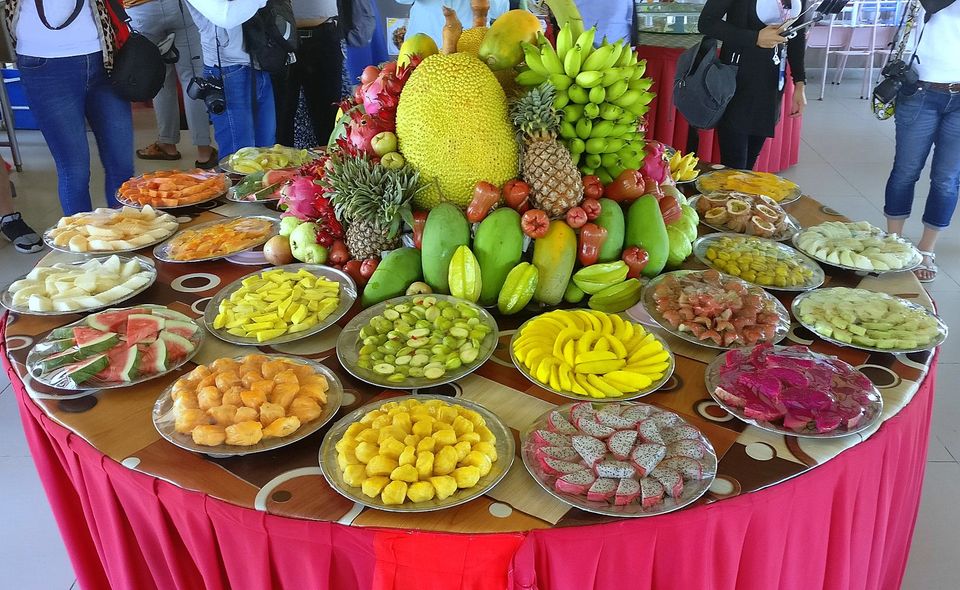 Desaru being a beach paradise, it is obviously a seafood heaven. The Nelayan restaurant at the Tunamaya Beach Resort, serves a stunning menu with live seafood showcased for diners to choose from.
I had the Red snapper Hong Kong style, Seared scallops with broccoli, Salted egg squid, the Icy treasure chicken, the Black pepper crab and the dessert of Sesame rimmed pandan flavored tofu cakes.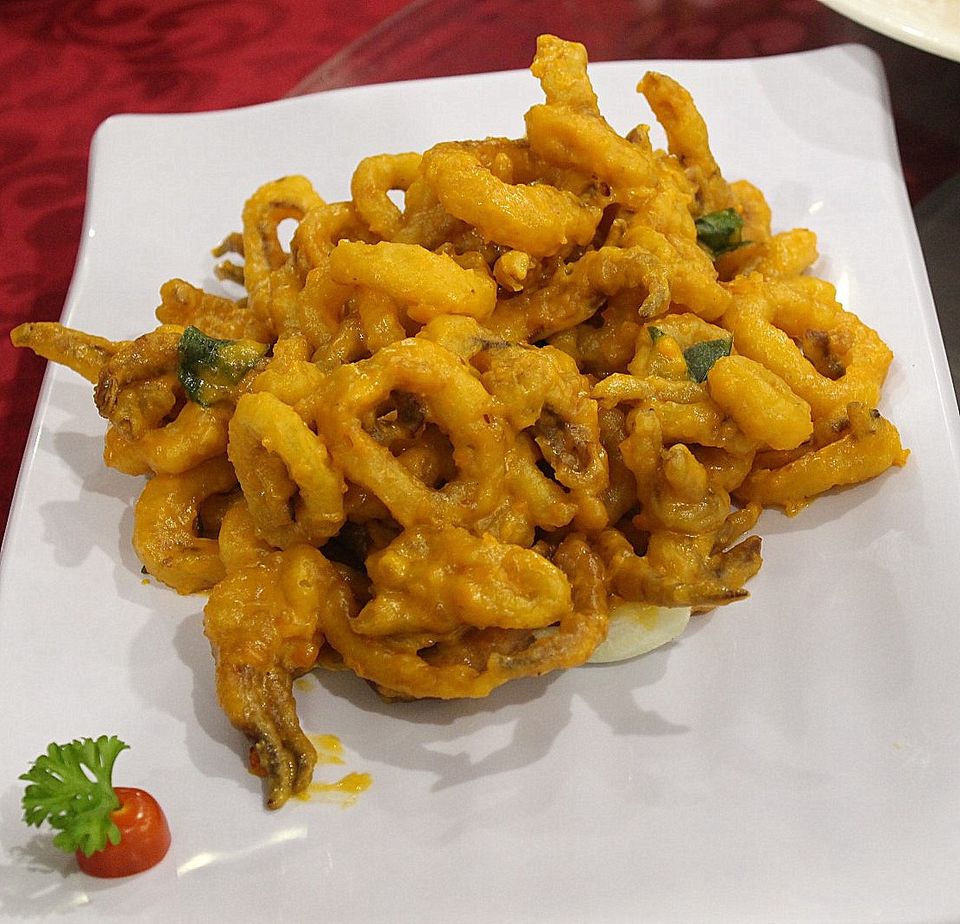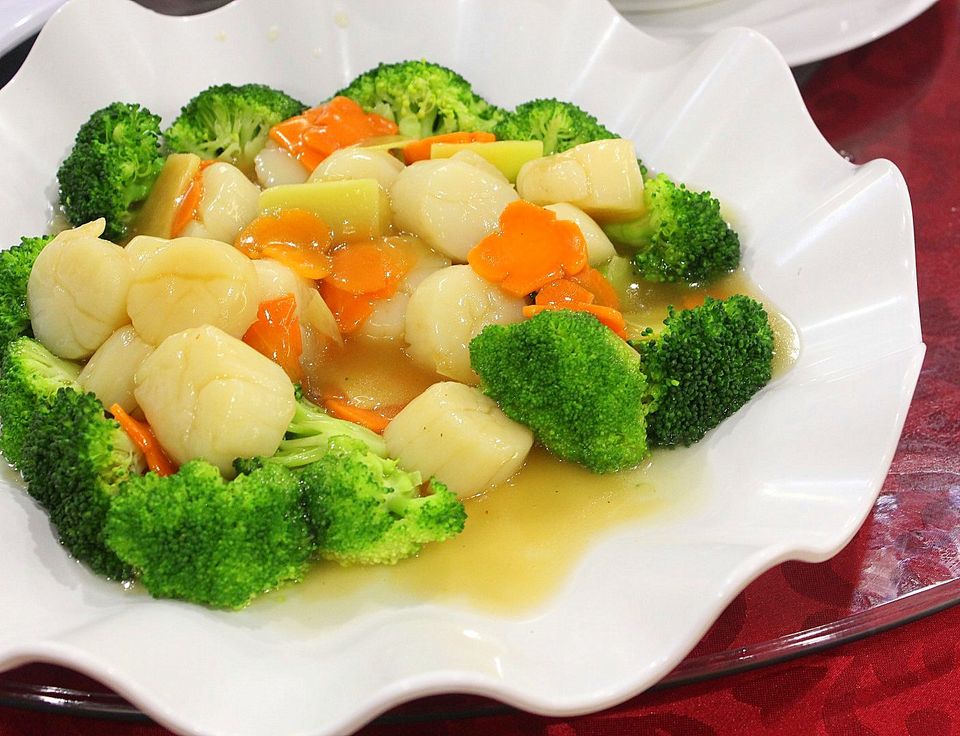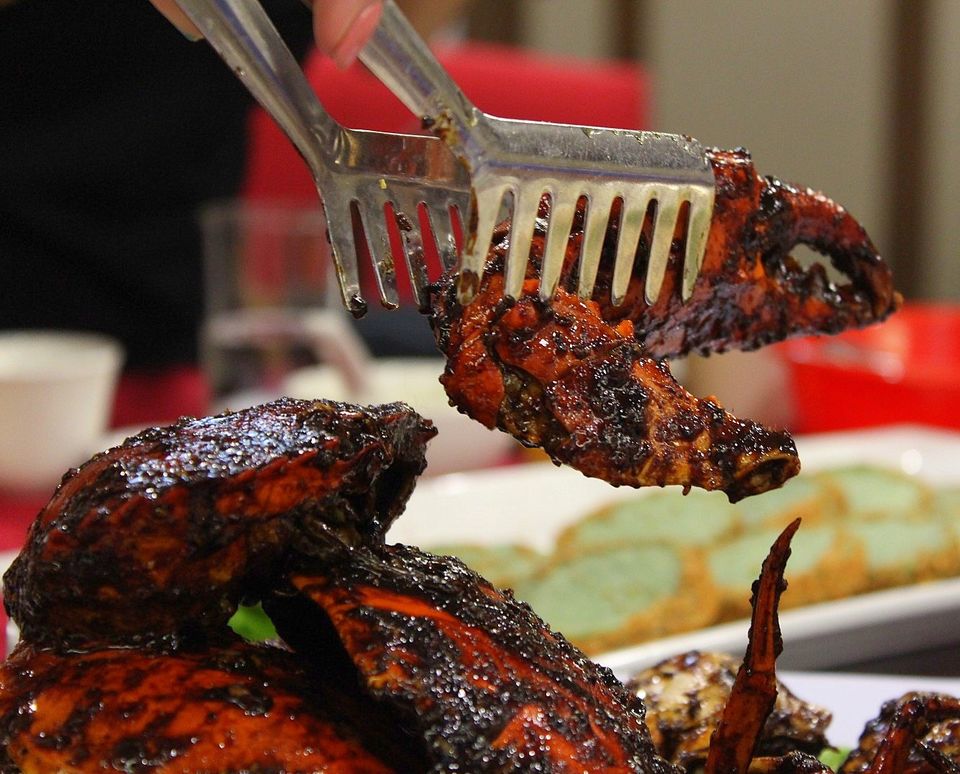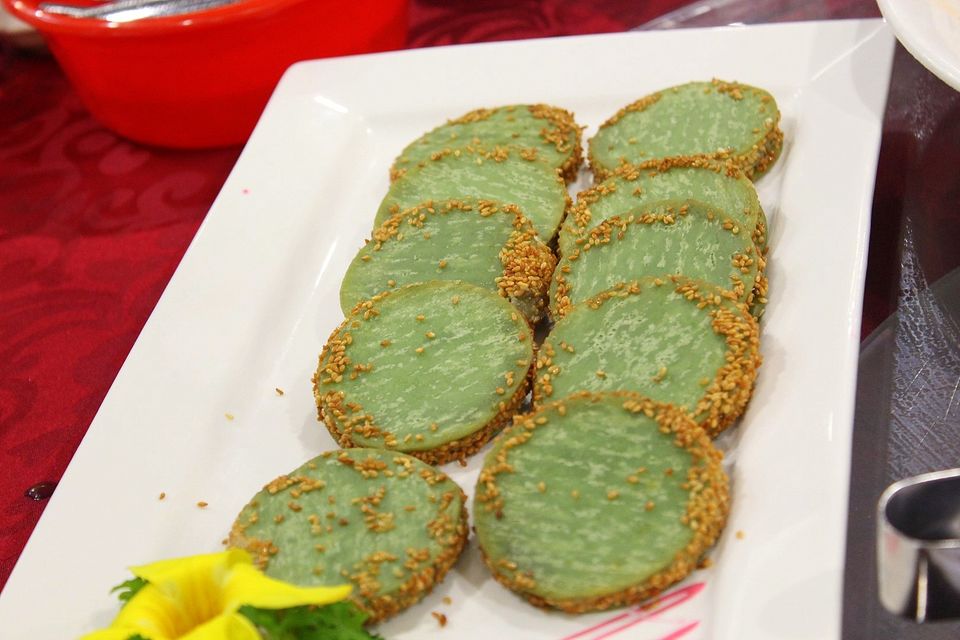 Kuala Lumpur -
I dined at the Restoran Rebung Chef Ismail, which is one of the best places that serve almost every kind of Malay dish under one roof and a reasonably priced buffet.
Apart from the main curries and dishes, there are also stalls recreating the street foods of Malaysia like satay, roti jala, rojak etc.