Base Village: Sonori
Fort State: Good
Difficulty level: Easy
Endurance level: Easy
Things to carry: Sports Shoes, 2 liters of water, some snacks
How to Reach: Follow Google maps
Malhargad is believed to be the last fort built by Marathas. It was constructed by Army commander Panse who was in the service of Peshwa. The area on the fort is small. It must have been used as a watchtower to keep an eye on Dive ghat and surrounding region.
There are three routes to enter in the fort.
1. From the base village Sonori, one can cross a small hill and reach via Maha Darwaja (Main gate).
2. Another route is via Zendewadi village which is also via a hill.
3. The third one is from Kalewadi village which takes to Chor Darwaja (Secret gate). This is the route shown in Google Maps. We went up by this path.
Since many of my friends were busy, I asked my wife if she is interested and she nodded positively. We decided to start early in the morning to avoid the heat. We left at 5-30 AM on my bike and took the route within Pune city as suggested by the Maps. It was still dark and very cold in the morning. It is a pleasant experience riding in Dive ghat when sunrise happens and sun-rays falling on the surrounding hills.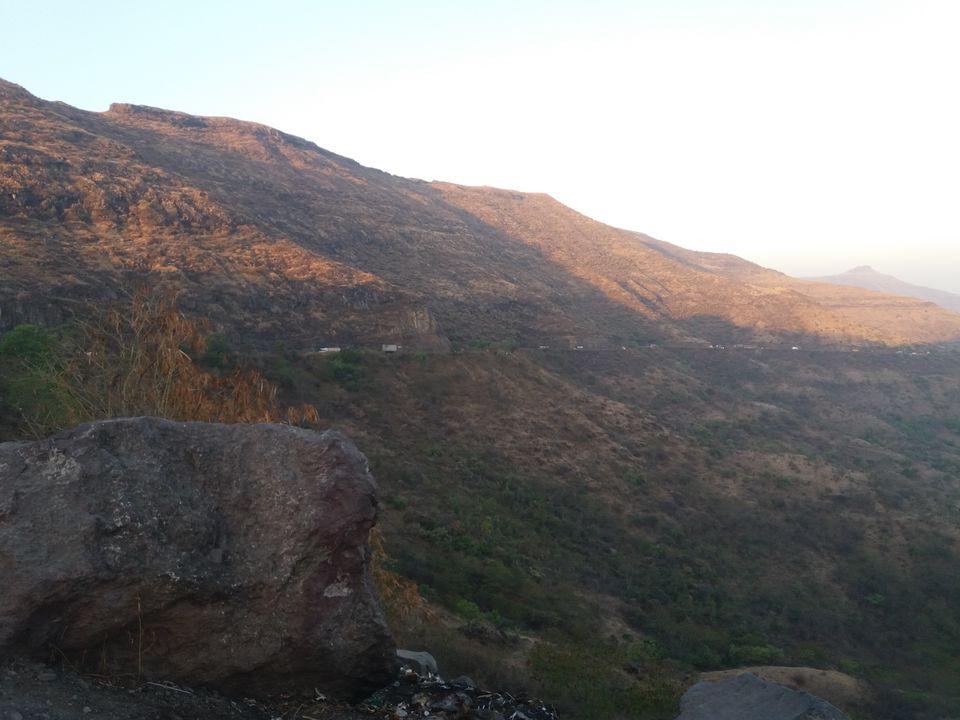 We took first stop in the Dive ghat. In rainy season, it must be looking even more beautiful with water streams flowing down the hills and greenery all around. We spotted Mastani lake and clicked few snaps.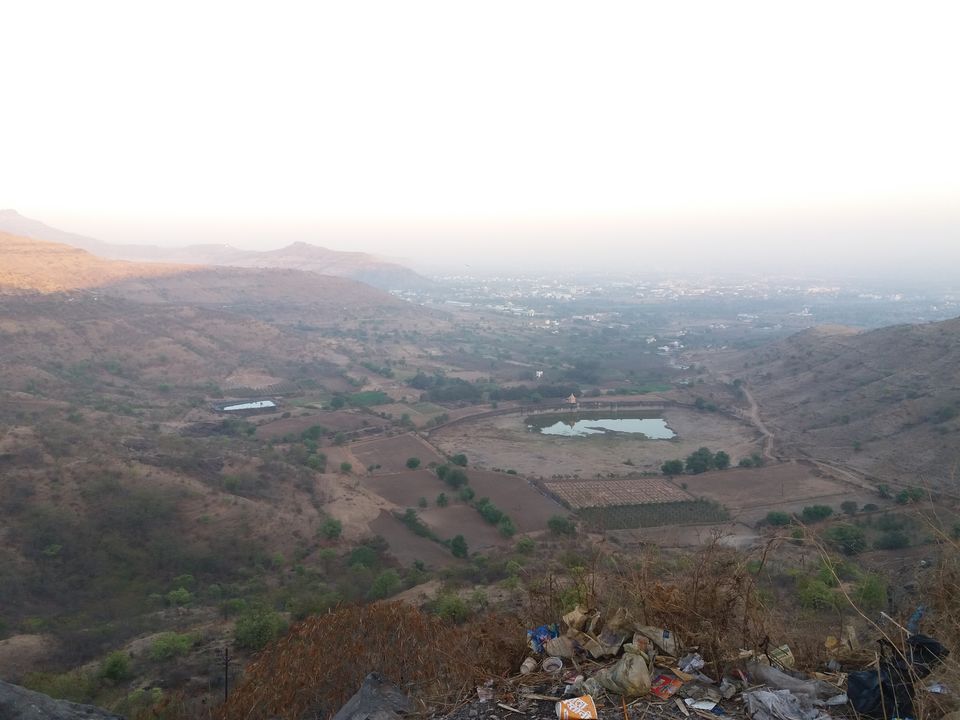 The road till Kalewadi village is good but it deteriorates further and bike's speed reduces below 10 kmph. On the way, we could see many sheds with the farms of flowers. We reached the base of the fort in two hours.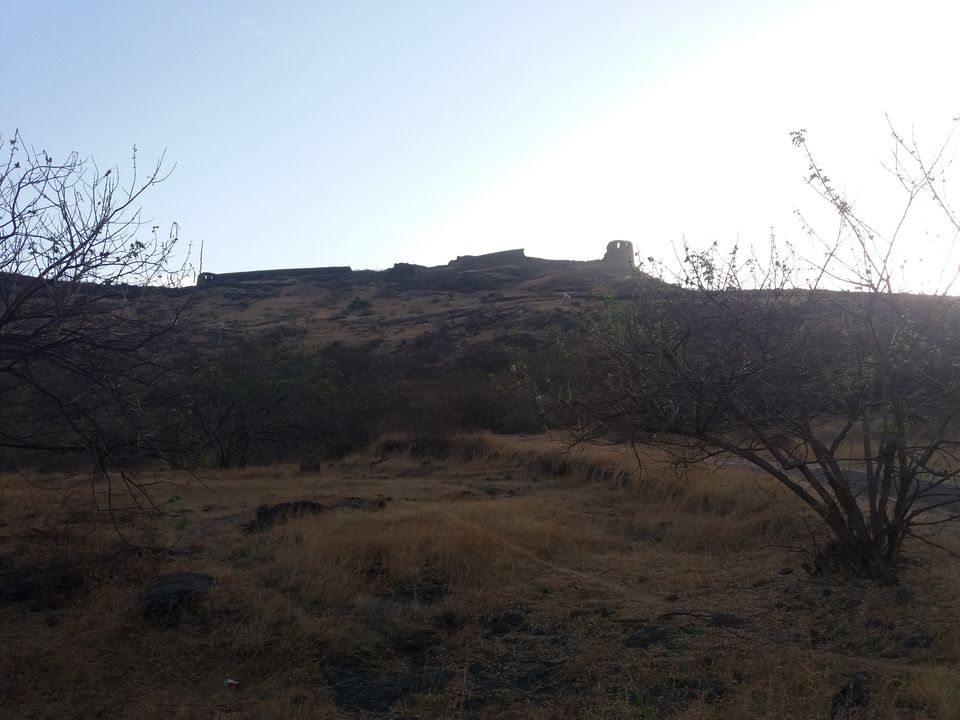 There were some people getting down and a group of four people starting ascend. From the base, we could see a bastion and fortification. There are no steps or proper path from this side, so one has to be very careful while climbing up.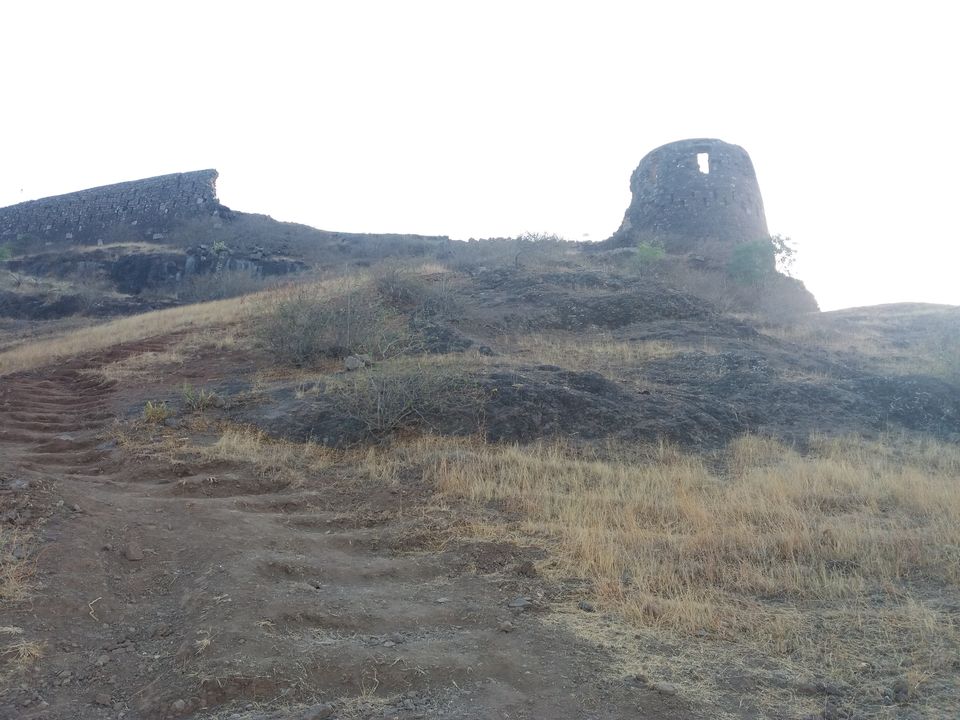 We reached the top in 30 minutes. As we reached up, we saw Chor Darwaja with very little space to enter. We had to literally bend down and then get inside. Few steps here took us on the plateau of the fort.
From here, we could see Saswad and few villages. Also on the right side, Purandar and Vajragad forts can be seen. We turned left and saw a well. It must be filled up with water during rainy season.
Moving ahead, we saw the Saffron flag. This is the highest point on the fort.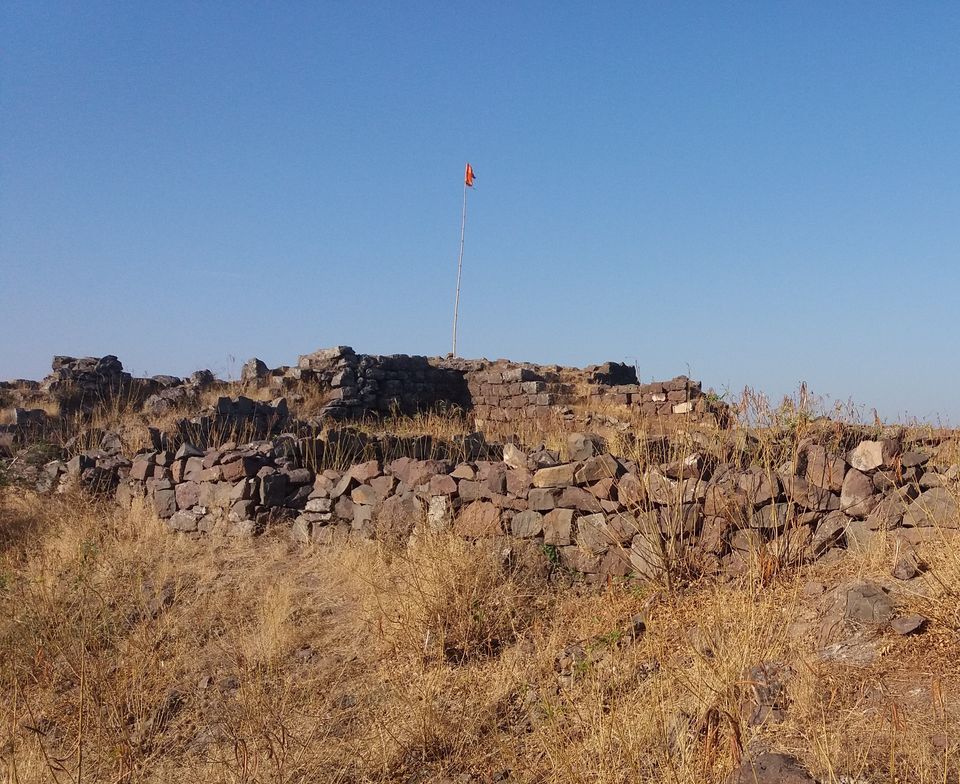 Walking further, there are remnants of some rooms.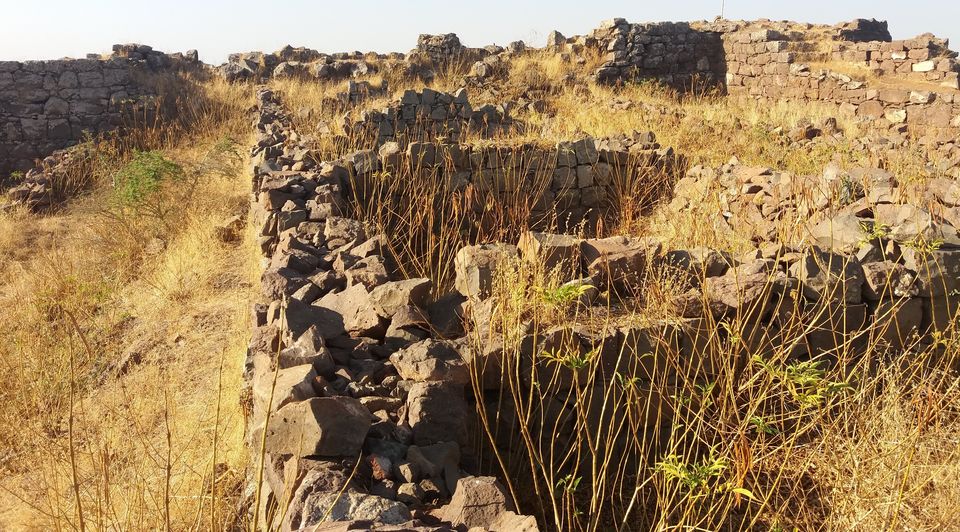 There is another well on the fort.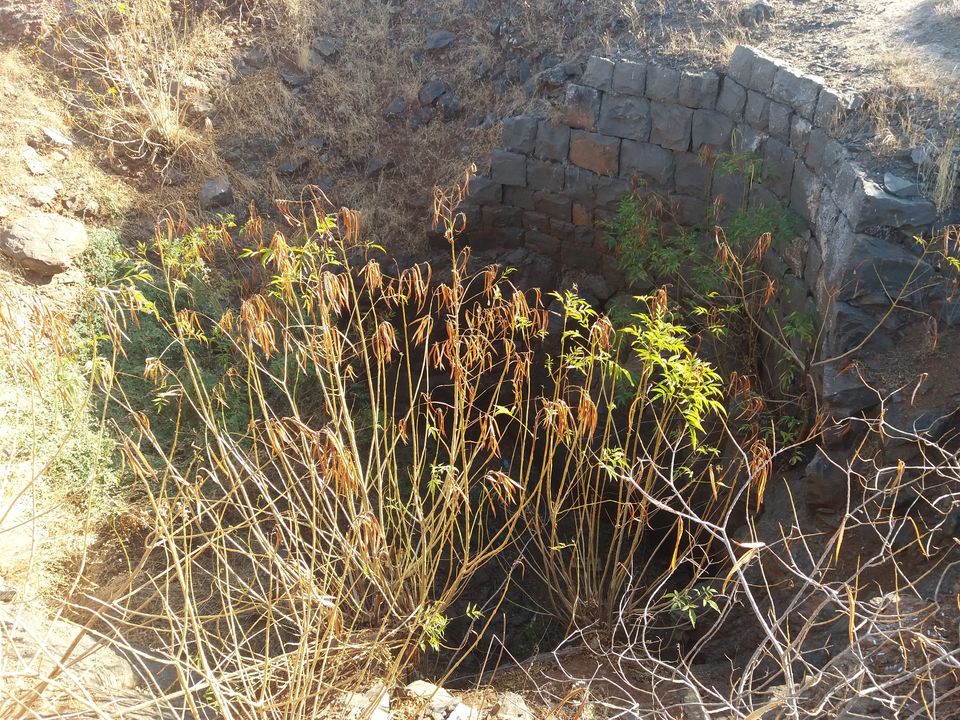 After a while, we came to two temples. One is of Lord Khandoba or Malhari on whom this fort is named.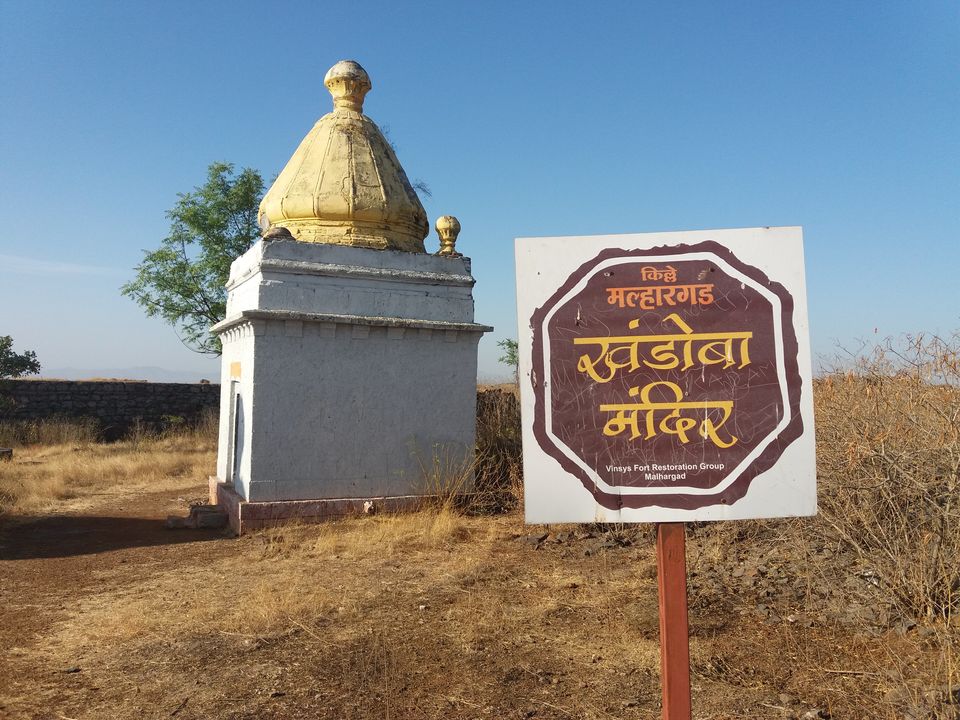 Other temple is of Lord Shiva.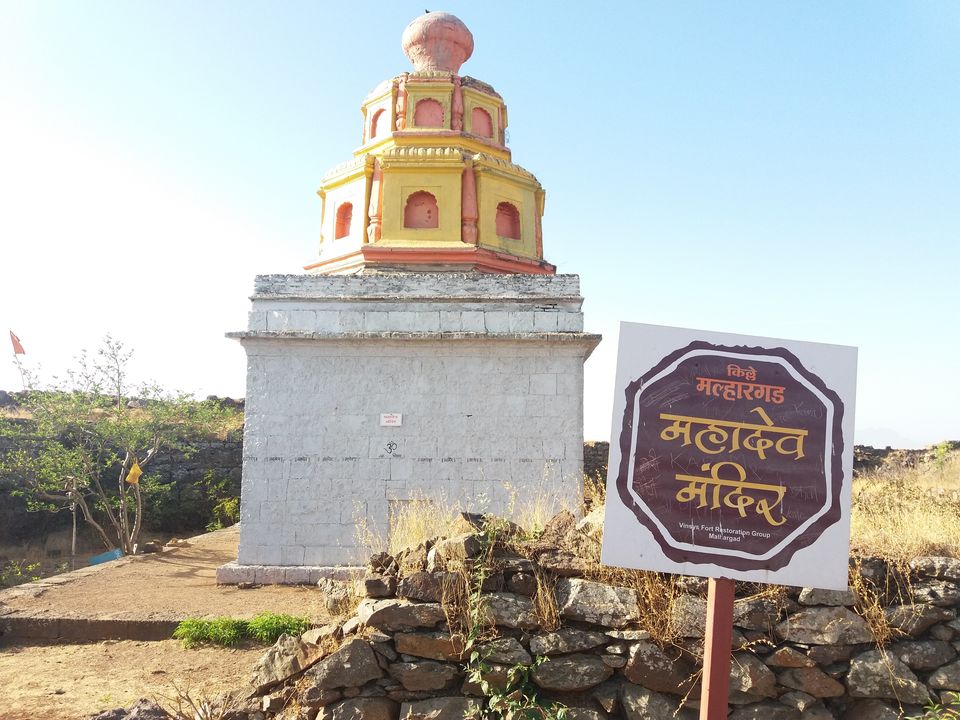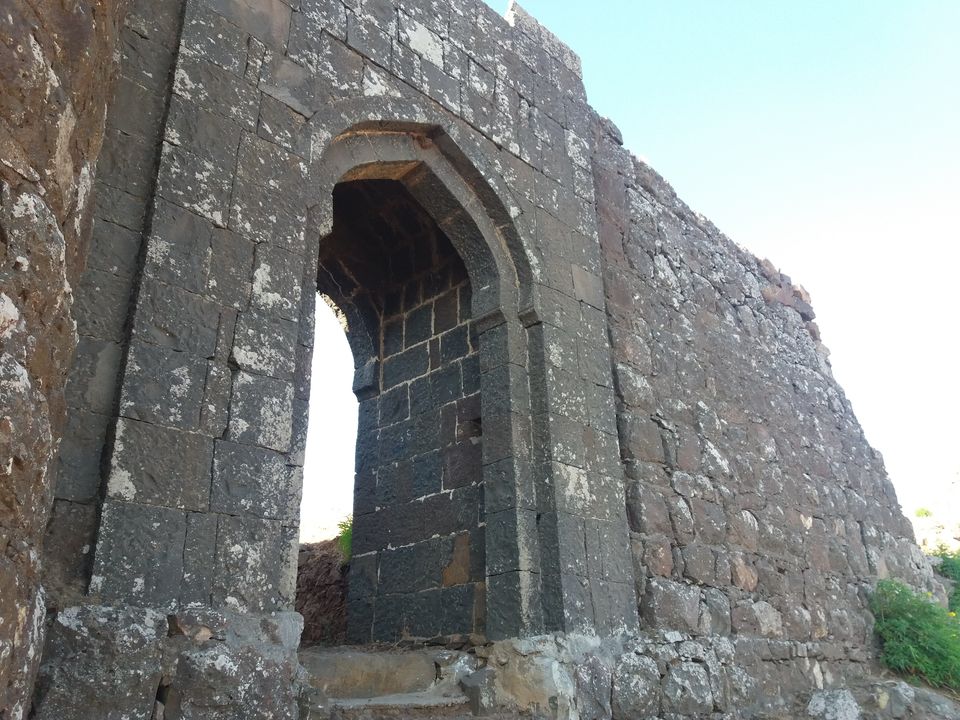 The views are stunning from here.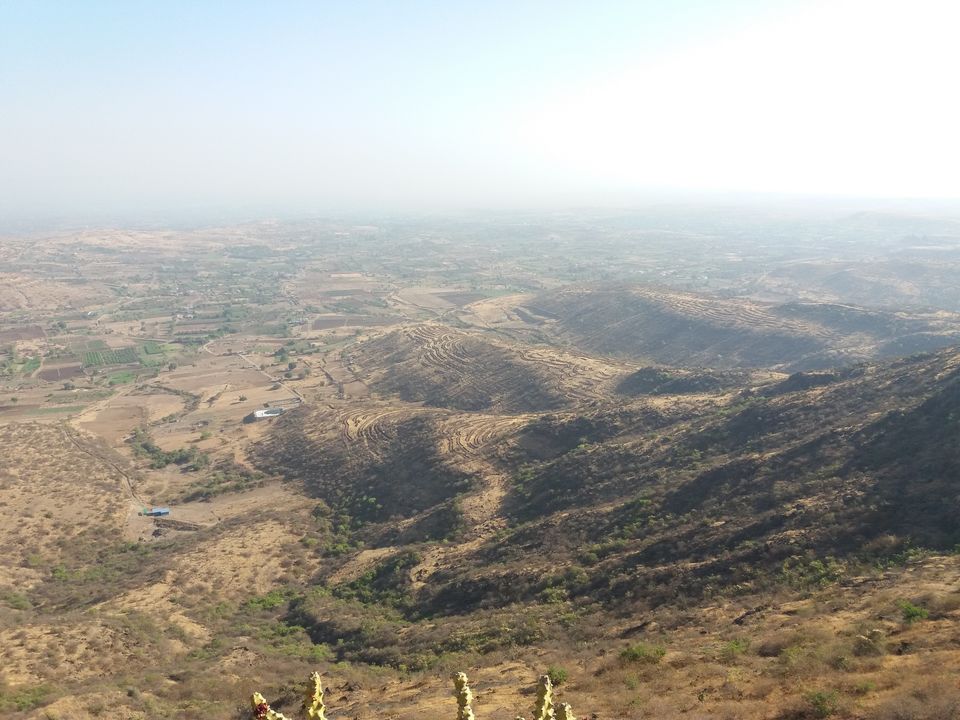 Further, there is another gate called as Sonori Darwaja. This leads to the path from Sonori village. We could not see the village may be because of a hill.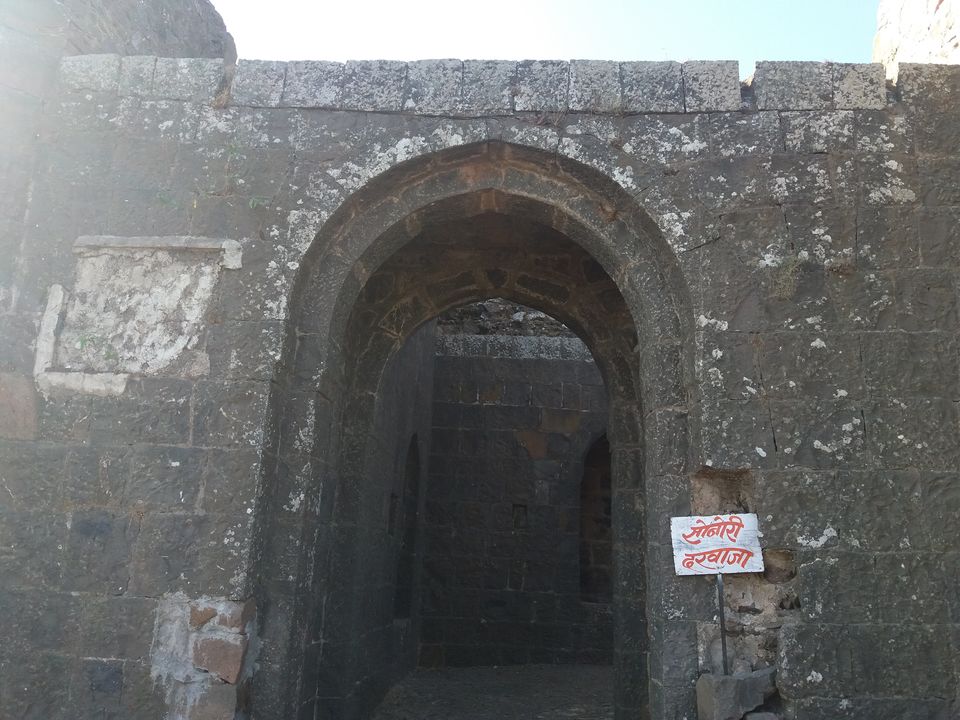 Going back straight from Maha Darwaja, we came to another gate of the fort. This goes to Zendewadi village.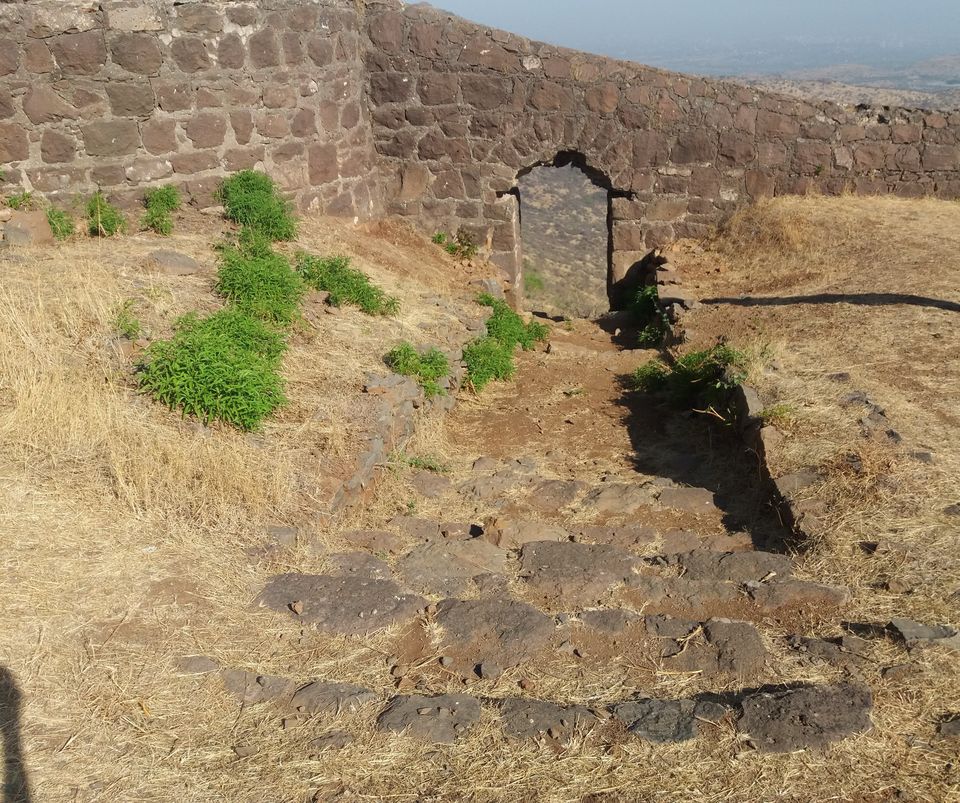 It took us more than an hour to explore and see the entire fort. We then started getting down. There is a proper laid out path which we took to avoid slippery way. We got down in 20 minutes.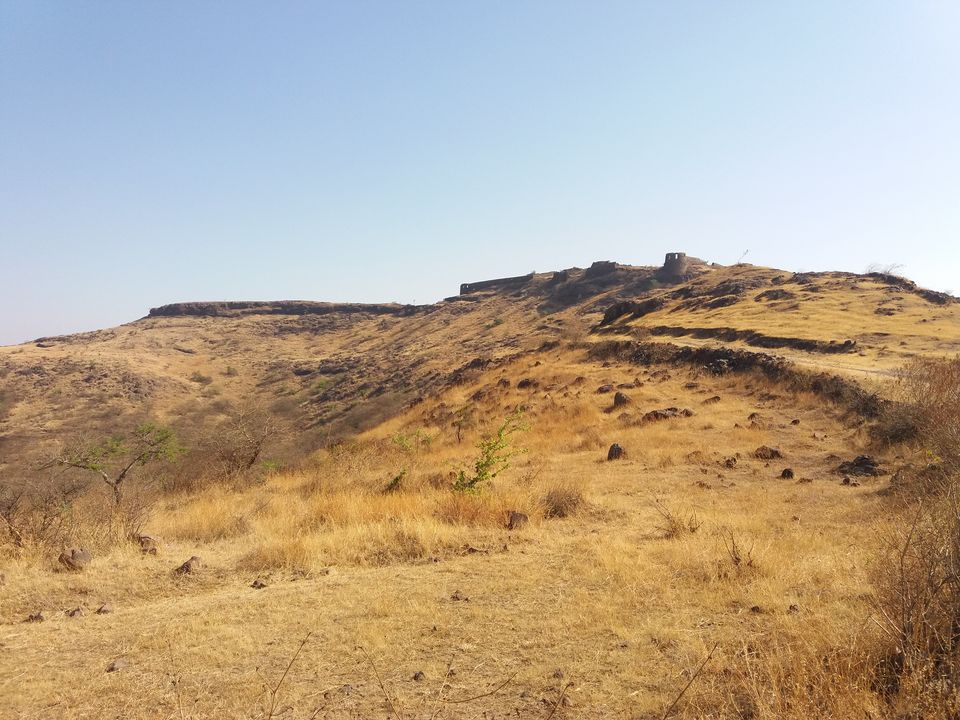 We thought of visiting the Panse Wada which is in Sonori village. The road to this village is also in very bad state. We asked locals about the direction to the palace and got to know that there are actually two palaces. The first one was closed and is supposedly opens on Sundays.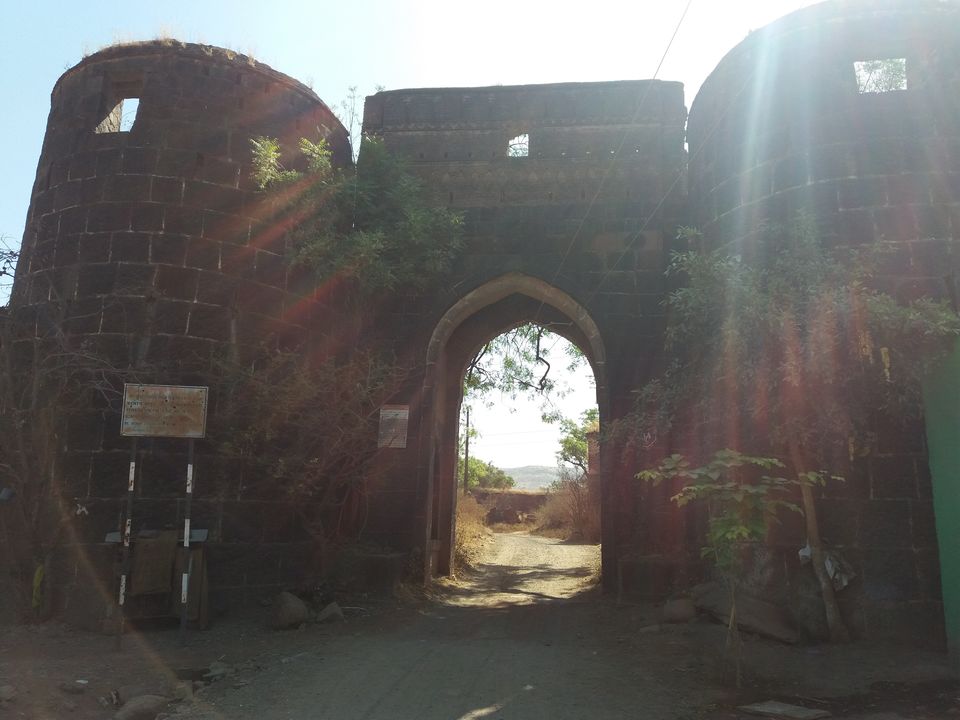 We went ahead to see the second palace. This is where Panse, the commander in the Army used to stay. There are six bastions on this palace. It is said that there used to be a place for elephants and horses inside. There are some wells and temples. The idol in Laxminarayan temple and its sandalwood pillars had been brought from Karnataka and placed here.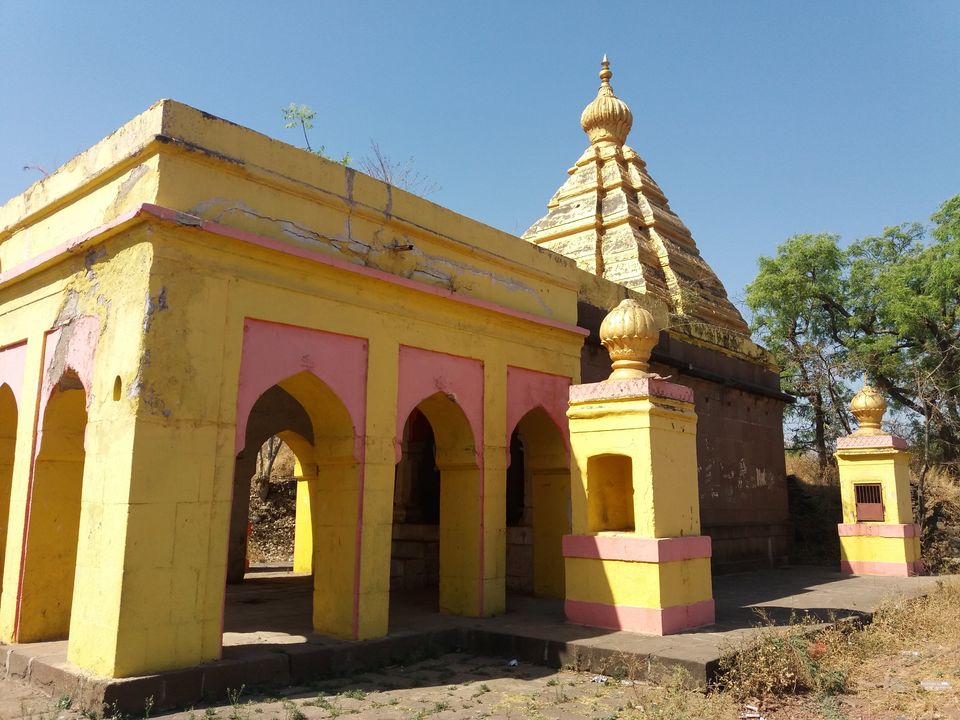 The eastern gate is is ruins and it has now become a road passing through the palace. Government needs to provide attention before such a heritage place gets destroyed.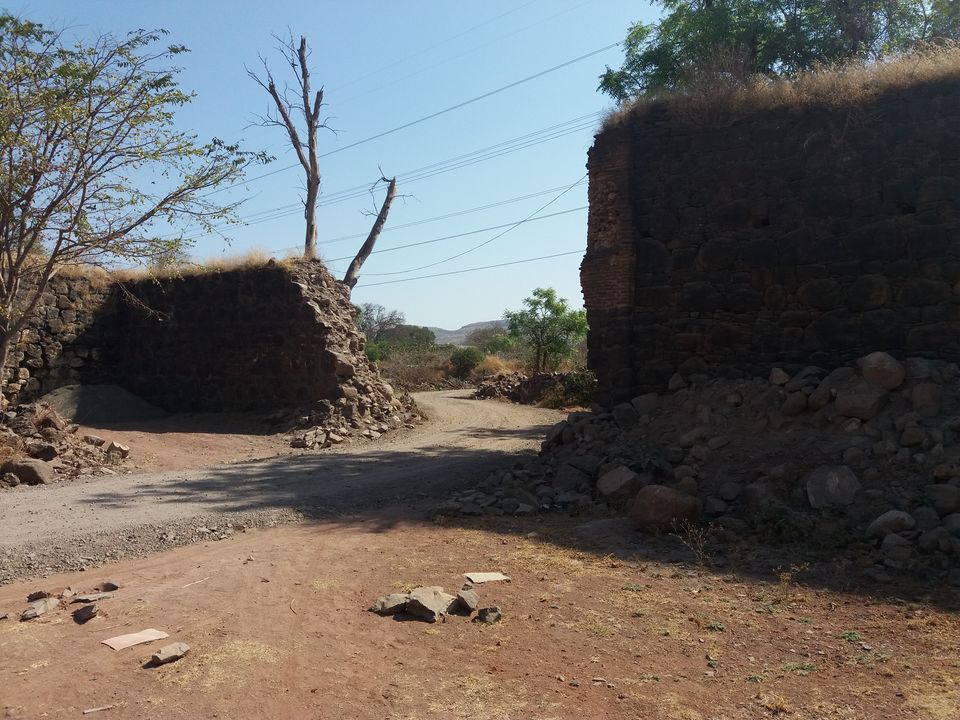 Covering Dive ghat, Mastani lake, Malhargad fort and Panse palace, we returned back to home.
Leave only your footprints, Take back only pleasant memories.
Frequent searches leading to this page:-
maharashtra packages from bangalore, maharashtra tour packages itinerary, maharashtra tour packages from delhi, maharashtra holiday packages, maharashtra tourism honeymoon packages