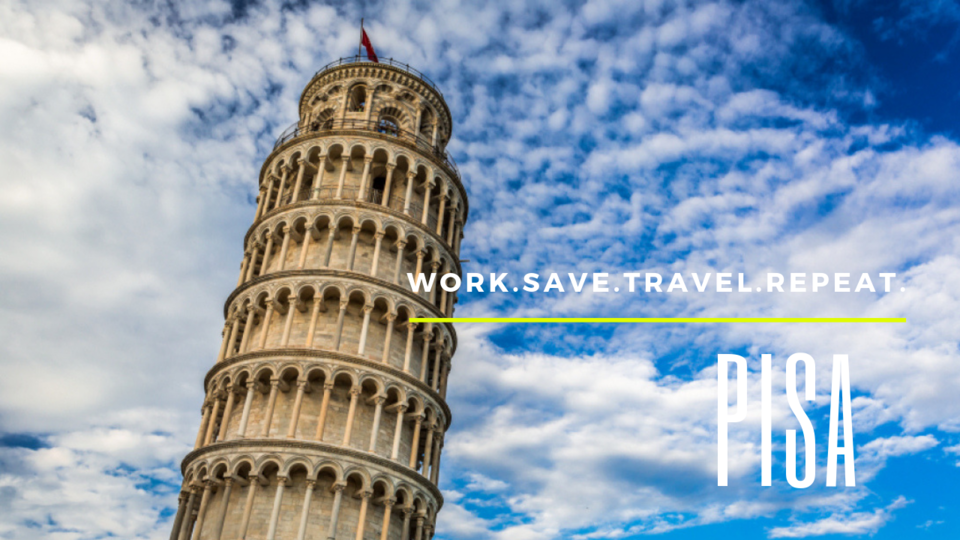 Pisa is definitely a must add-in to your Italy vacation. If you are not looking to spend time on beaches, then one day is good enough to enjoy this tuscany beauty!
The easiest and budgetary transport option is by train. Ran by ItaliaRail, gives a good feeling of foreign train scenes shown in Bollywood movie. Trains run almost 15 minutes
If you enjoy visiting new places, like to know a bit about history & love to blend your tour with some outdoor activities like me, here is the best itinerary for you!
Pisa is perceived worldwide for its unique Leaning Tower but what tourists usually overlooked is Pisa's Medieval walls are open for public since May 2018, which render a different perspective of the city and not only of its famous tower. Entrance fee 3 euros. Even if you don't have time to walk around, I would strongly recommend climbing one of its entrance to get an aerial view of the wall for free :)
We opted for a bike to move around but there are a bus, shuttle and taxi options available. You can visit some other less touristy places along the way, which will be a superb built up for the masterpiece!
Having witnessed it personally, I can truly vouch for the fact that it is even more marvellous in person, and it is unquestionably worth a visit. Torre di Pisa's foundations were built on soft subsoil which had difficulty supporting the tower's weight(14,500 tons). When the second storey was started the lean became noticeable and only got worse as construction continued.
Climbing up 8 storey gives a bit weird feeling, you could tell when you were on the side tilting down when climbing the stairs.
This freestanding bell tower has seven bells at the top which have not rung since the last century. Each of these large bells represents a musical note from the major scale. You can probably guess why? Restorers and engineers worried that their movements would make the tower lean even more.
Entrance fee 18 € if bought on site. It also includes an entry for Pisa Cathedral. Remember to click some seriously funny photos, here are some for your inspiration!
If you have some time in hand before you head out, add these to your list:
You can download an app - 'More than Leaning Tower by Bike' to get detailed navigation and narrative tour.
- San Sepolcro's Church
- Giardino Scotto
- Lungarno
- Gondola's square
- Medicean Aqueduct
- Pisa's Wall
- The Church of San Zeno
- Santa Caterine Square
- Nero's Baths
- Miracles' square
- Leaning Tower
- Cathedral
- Baptistery
- Botanical garden
- Pizza dei Cavalieri
- San Nicola's Church
- Ponte di Mezzo
- Church of Santa Maria della Spina
- Church of San Paolo in Ripa d'Arno
- Keith Haring's Mural
You can try the famous chickpea soup with the so-called sciocco (unsalted) bread and the famous local olive oil!
Hope you enjoy my compilation, stay tuned for more :)