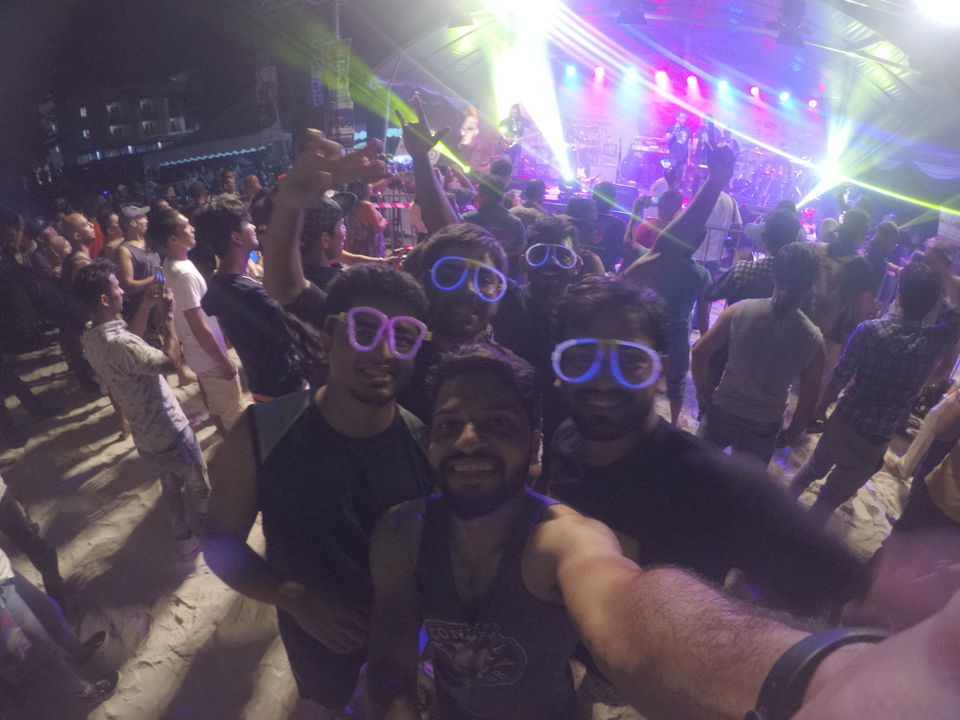 Our start of the second day was not ideal as expected. We got up pretty late, which lead us to postpone our visit to Batu Caves for another Day. It was obvious that we would miss our flight if we keep on lingering at our Hotel. After an early checkout, we hopped onto HOHO (Hop on Hop off) Bus and reached KL Central Station. Our plan was to get the bus from there to KLIA2 but we figured it out that the Bus won't drop us there on time. It was one of those days where nothing would go as you planned. But as the luck turned out, we met a Malay driver of Indian Origin with whom we bargained and convinced him to drop us at KLIA2. We were delighted to make it to the Airport on time only to find that our flight got delayed by 1 hour. But eventually, we made it to Langkawi, if not on time.
While on the way, there was a lady with her child who sat beside me. Seeing Gopro on my hand, she inquired about its model and spec and that's it, our conversation kicked off. We discussed many things about travel and out of my curiosity, I asked about her Nationality. Her answer just lit up my face. Yes, she was from the Otaku Land, Japan. Suddenly, I asked her about the places to visit there, the best time to visit, although I knew much about it myself. It was all because I couldn't keep the excitement to myself. I even asked her to name the anime character on my Phone's wallpaper and she was bang on. Thanks to the lovely conversation, I got rid of my somber mood. Our previous driver had advised us to get a Car as we were 5 people in order to commute through Langkawi. The moment we stepped inside the arrival hall, we saw a plethora of tourists being attracted by Rental Car Dealers. It was a peak season and everybody there wanted to utilize this opportunity. We managed to find ourselves a good car dealer where we settled with them at a reasonable price. It took some time to reach us, but we were finally able to inspect the car and were pretty much impressed with its quality. It was as if it just got out of the showroom. Though the Steering was on the Right side, it had Automatic Transmission unlike what we have in India. Luckily, one of my friends knew how to ride it. We further lost our time in finding our Hotel, thanks to confusing roadways which lead us to 15km away from our destination at one point. Better late than never, we reached the hotel shortly before the evening.
We only had the time to refresh ourselves after which we quickly jumped into the Car and headed out to the most happening places in Langkawi, Cenang Beach otherwise called locally, Pantai Cenang. On the way, we fueled our Car, made a pit stop at a local Restaurant. The menu was purely in Malay and presuming any unknown ingredient could be served to our platter, we opted for Egg Fried Rice. The smell of it was particularly not a pleasant one which could be the reason most of us did not finish it except me. Because when you are ravenously hungry, you will eat whatever is served to you no matter how it smells. By the time we reached Pantai Cenang, It was already dark and our plans of watching the sunset also went down with it. The whole street was bustling with tourists from all around the Globe. We took a walk along the streets and bought some beach clothes for ourselves. Later, we grabbed a bite from the nearby KFC and made our way to the beach. One thing that should always be there in your Ultimate Bucket List is to celebrate a New Year's Eve on a Beach no matter in which country you are. There was still time before the clock would strike 12, so we casually walked and tried to check out the entire beach. We saw people partying inside the paid Shacks, even there was a Rock concert going on, held by local tourism authorities and the fun part was that it was free for all.
Before coming to Langkawi, we read somewhere that one of the must do things here in Cenang was to fly Sky Lantern during NYE and fortunately, we were at the right spot at the right time but needed to find the guy selling it. With the Neon Glasses on, we poured ourselves into the Rock Fantasy. What better place do you want to find yourself during NYE? We found our Sky lantern guy and bought 3 pieces from him. Being Amateurs in it, our first attempt to fly it off was a complete failure. But a Good Samaritan came to help us and advised us what we should do and voila, the next two flew just as we wanted it to be. Dancing around and totally filled with euphoria, we welcomed the New Year 2018.
Here is a glimpse of our New Year Eve trip. Hope you would like it. :)