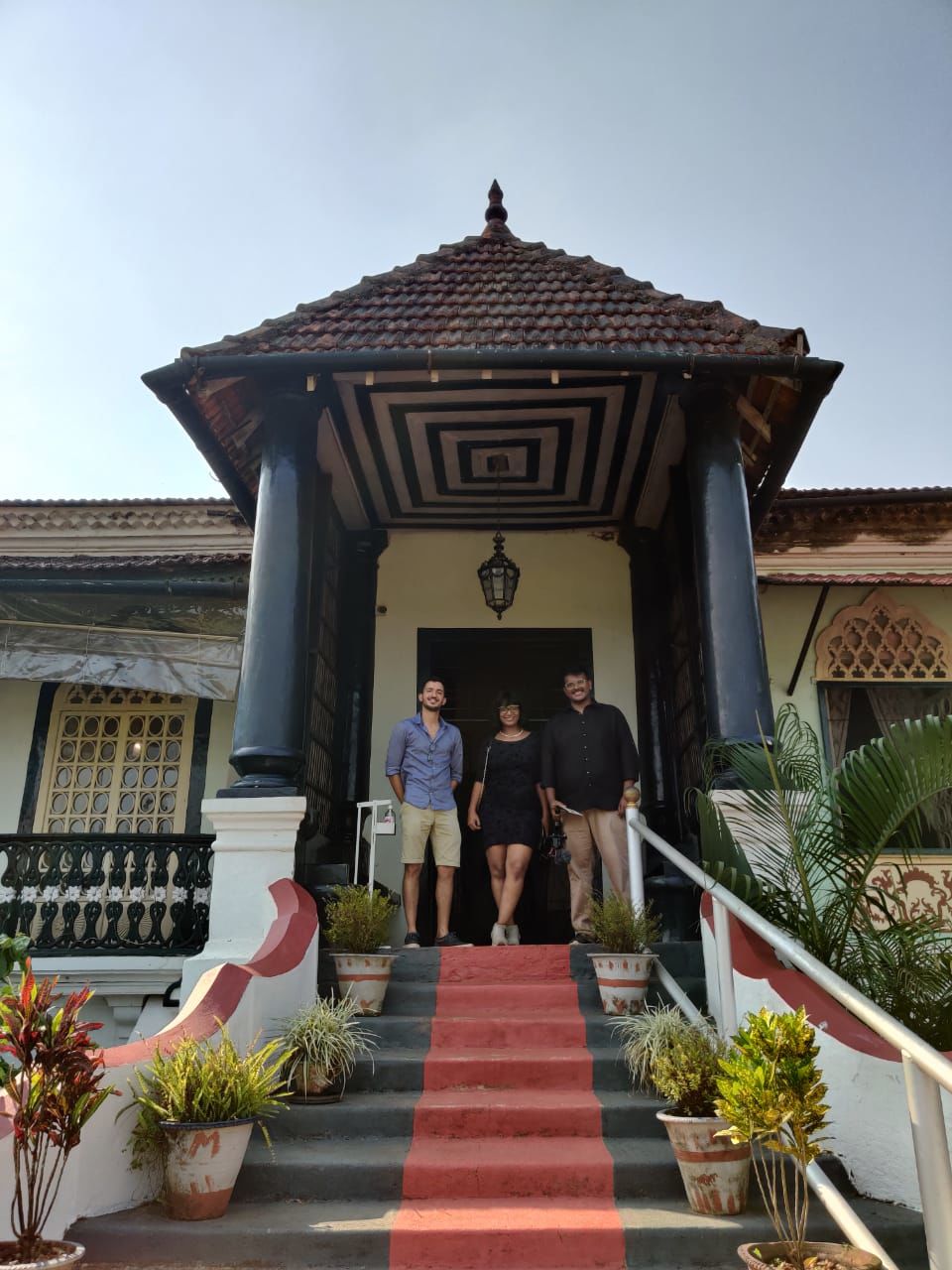 Those heading to the golden shores of South Goa will find themselves awestruck by the placid beaches, swampy mangroves, serene back-waters, majestic waterfalls, historic churches, intricately carved temples and prehistoric archaeological wonders of the place. South Goa is a treasure trove of experiences and no matter how many days you spend there, the time will never been enough. Here is a 10 day itinerary curated with love so that you can enjoy a little bit of everything South Goa has to offer!
Feel the golden rays of the sun touch your skin as you step foot into Goa. Whether you have made your way to this paradise via plane, train, ship or car, I am sure you will be quite exhausted and will want to spend the rest of the day relaxing. Well, the myriad resorts and beautiful Airbnbs that dot South Goa's coastline are built for the sole purpose of letting you have a serene relaxing evening.
We recommend that you book your accommodation at Benaulim, Betalbatim or Colva for the first 3 nights of this trip.
An Airbnb works best, however if you still insist that you want to go with your trusted luxury resort, you may want to consider Taj Exotica Resort & Spa located on Benaulim beach.
After settling in your home for the next 3 days, spend the rest of the day sipping some pinacolada, port wine or local beer and unwinding by the sea. Also consider visiting one of the beach side shacks for some yummy seafood and local conversations (and hopefully some live music as well).
A list of our favourite beach side restaurants are:
Pedro's Bar & Restaurant, Johncy Bar & Restaurant, Rafael's Beach Bar & Bistro and The Southern Deck on Benaulim main beach, Hawaii Garden Restaurant on Trinity beach (subset of Benaulim beach) and Mickey's Multicuisine Restaurant which is a walk away from Colva beach. Cavatina Cuchina Grill and Bar, run by award winning chef, Avinash Martins, is a ten minute drive from Benaulim beach and serves elevated Goan cuisine which is absolutely delicious.
I believe that every trip must be started with as many endorphin releasing activities as you can think of. So take an early morning stroll to visit the Our Lady of Merces Church (also known as Igreja de Nossa Senhora das Merces) on Colva beach road for some spiritual upliftment. Witness a traditional Goan Catholic mass in Konkanni take place at 07:00am or 07:45am. And an English version of the same on Sunday at 09:00am. (Remember to be respectful in your dressing and where decent clothing while visiting the church to be accepted by others attending the service.) The most interesting part about this church is the little statue of baby Jesus known as the 'Menino Jesus' that resides here. This statue is known to have miraculous powers in healing the sick. Legend has it that in the mid 17th century a priest named Fr. Bento Ferreira swam to the shore of Mozambique after being in a shipwreck only to find vultures circling a rocky spot nearby. On examining the area he found the statue of a baby Jesus that had washed ashore after being tossed over board by Somalian pirates. Fr. Bento Ferreira was then posted as the parish priest of Our Lady of Merces Church in Colva where he installed the statue on the high altar. Over the next few years the statue was known to have healed so many sicknesses that an annual feast (festival) in its worship known as the Fama de Menino Jesus was established.
Spend the rest of the day doing some good by volunteering at a local NGO in the area.
Valentina's Little Heaven is a 27year old orphanage in Colva started by Sr. Valentina who took leave from her duties of Franciscan Missionaries of Mary to provide a home for the underprivileged of the area. Do call the orphanage (Ph.No: 08322788433) and let Sr. Valentina know that you are coming to ensure that your visit does not clash with any other pre organized activities. Help the children complete their homework or learn English reading and writing. Read a book to them, teach them some songs or dance and play with them. Let the kids know that they are loved and I am sure your heart will melt. If you want to give a donation consider giving it in kind or go to the school Infant Jesus High School next to the church and consider helping some of the poor kids pay for their education fees. If you prefer spending your time helping our furry friends instead, head to Goa Animal Welfare Trust (Ph No: 08322653677 / 9763681525) located in Curchorem to play with the estranged animals or volunteer in one of the organisation's ongoing initiatives.
Head to Sunset Beach at Betalbatim by 6pm to catch the most incredible sunset you will see. Take in the beauty as the horizon lights up and swirls of pink and orange merge into blue and purple. The best thing about a sunset is that no two days look alike.
Head to Martin's Corner, a restaurant visited by renowned Indian and International celebrities, to enjoy live entertainment by some of Goa's best upcoming musical talents and enjoy a scrumptious meal. My personal favourite dishes here are the fish fingers and batter fried squids. Consider choosing a lobster or king crab from the restaurants aquarium at the entrance and feasting on it.
Start your day with a little kayaking adventure on the backwaters of river Sal. The Sal river twists across small fishing villages and beautiful Indo-Portuguese houses. Rowing through the marshy grasslands, dotted with gorgeous lotuses, dense bamboo jungles and thickets of mangroves, filled with exotic birds, will definitely give you an offbeat and enriching perspective of South Goa. A kayaking trip usually lasts for 2-3 hours and requires basic physical fitness levels. These trips can be purchased on TripAdvisor, Viator, Thrillophilia or directly from the company website. After spending your morning indulging in this beautiful activity, head back to your accommodation to freshen up and get ready for the rest of the days adventure.
Next head to Loutolim, and join Soultravelling in an amazing Royal Dining experience which costs Rs 2000 per person and is completely worth the money. On reaching Loutolim a Soul Travelling ambassador will meet you and take you on an educative and entertaining walk around the village where you will see the Salvador do Mundo (Saviour of the World) church, renowned artist Mario Miranda's mansion and hear plenty of local legends from the area. You will then send a customized postcard back home from the local post office which is very exciting. Following this you will head to the 500year old Figueredo mansion owned by one of Goa's most influential families. After meeting with the family you will explore the mansion which even predates the Taj Mahal to admire all its treasures. The highlight of the tour is the 3 course sit down meal that you will have with the family prepared by the family butler. This experience will truly let you understand how Goa was during the Portuguese empire and will let you make some fond memories with the family. Oh and let me tell you that the food you taste will be some of the tastiest food you will have ever eaten.
Spend the next two hours visiting Ancestral Goa, which is an artistic recreation of a Goan village designed with utmost detail by artist Mahendra Alvares, to see and experience what life in rural Goa would look like hundreds of years ago. Ancestral Goa has a sculpture of famous poet Mirabai which has a record in the Limca book of world records for being the longest carved laterite sculpture. Ancestral Goa is also popularly known as Big foot because of an impression of a large foot that is present at the site which has a very interesting legend behind it. Admire the artwork of upcoming Goan artists at the Big Foot Art gallery and the photos of the 1062 crosses from around the world at the Bigfoot cross museum. Visit the Bigfoot handicraft fair to pick up some traditional handicrafts as souvenirs to take home.
After this head to the village of Rivona to see the lesser known natural laterite caves which were believed to be used by Buddhist monks in the 7th century. The entrance of the cave is next to a pretty step well. On entering the caves you will immediately feel like you are transported back into history. And don't forget the 'Pitha' which is carved out of laterite and believed to be the seat of the teacher.
A little further on visit the village of Usgalimal to see the prehistoric Usgalimal rock carvings which are around 100 distinct figures carved in laterite stone spread across an area of 500 sqm. These rock carvings are known to be 20,000 to 30,000 years old and are believed to be the earliest traces of human settlement in India.
The Rivona caves and Usgalimal rock carvings are slightly difficult to find on your own and are best explored with archaeologist Savani Shetye from Exclamations.goa who is brilliantly knowledgeable and highly passionate about showing everyone the pre-Portuguese history of Goa. However if you do want to visit these marvels on your own, ask villagers around for directions and they will be more than willing to show you the way.
If you still have some time before sunset, head to the bubbling lake (Budbudyachi Tali) at Netravali. Located next to the temple of Lord Gopinath, this lake mysteriously has bubbles that surface when one talks or claps.
Have a Hindu Goan fish thali at Sharda Classic, which has a huge assortment of seafood, and head back to the hotel.
Check out of your accommodation and spend the day at Sahakari Spice farm where you will receive a beautiful traditional Hindu welcome with an aarti, kumkum, garlands and a local welcome drink and snacks. Spend the rest of the day exploring the spice plantation and agro processing units while learning about the various spices and how to prepare Kaaju (Cashewnut) feni. If you are interested your guide will also demonstrate how to swing from a beetelnut tree. You can give this skill a shot too. You can then opt to bathe the elephant and go on an elephant ride where the elephant will spray water on you too which can be really soothing in Goa's hot and humid weather. After this there will be flavourful lunch buffet set out for you which will be accompanied by the farms locally brewed feni. You can also request for local folk dances to be arranged during this time as pleasing entertainment while having your meal. The farm has a small market where you can go on a mini shopping spree purchasing spices, medicinal ointments, oils and traditional Goan handicrafts.
Following this, head to Nature's nest which is an stunning eco resort, located on the border of Bhagwan Mahaveer wildlife sanctuary, where you will spend your next two nights. Your stay here will be in a beautiful traditional mud hut equipped with elegant modern amenities. On reaching there get refreshed and join the resorts campfire to make new friends and learn more about wildlife.
Wake up early in the morning as there is nothing more beautiful than the early morning sun, hiding behind radiant clouds, shining through fat trees. Spend the first 2-3 hours of your day accompanying the resort naturalist as he shows you an unforgettable experience bird watching.
Have the complementary breakfast available and join the trek that takes you to visit the marvelous Mahadev temple at Tambdi Surla which was built in the 12th century in worship of Lord Shiva. This temple is the only temple from the Kadamba dynasty that survived the Goan inquisition due to its remote location deep inside the forest at the foot of the Western Ghats. Continue for another hour on a moderate intensity trek inside the forest towards the Tambdi Surla waterfall which is a treat for the eyes. Do remember to carry a change of clothes if you want to enter the water. Come back to the resort for lunch and go on the complementary plantation tour. Spend the rest of your afternoon lazing around the resort, swimming in the natural spring pool and getting a free fish pedicure at the natural bubbling spring.
If you are in the mood for it go for a night Safari in the buffer area of Bhagwan Mahaveer Sanctuary and try to spot as many wild animals as you can
Check out from Nature's nest and head to Margao.
Spend the morning walking around Goa's commercial capital – Margao. Margao is for South Goa what Panjim is for North Goa; with South Goa's best schools and colleges located here as well as the shopping markets, churches, temples, municipality buildings and everything else you can think of. Walk around the area to get a feel of what life in South Goa is like.
If the name 'Pandava Chapel' piques your interest head over to St. Sebastian Church of Aquem to find out why its more common name is the Pandava Chapel. Don't miss the laterite caves and tunnel located next to the church. Visit Holy Spirit Church where most of Margao's townsfolk go for their Sunday mass. This church was the first church ever to be built in Margao. There is an interesting architectural phenomenon that takes place at this church only two times a year, on March 21st and September 23rd, where at sunset three rays of light enter the church and illuminate the churches three altars: the Sacred heart of Jesus, the holy dove and the Sacred heart of Mary.
Walk down the road opposite Holy Spirit Church that goes towards Margao Market. On the way check out the steps that head up the hill called Monte to a cross on top, continue walking down the road to pass by South Goa's old district hospital 'Hospicio'. After crossing the cemetery to the left lies 'Anna Fonte' garden, beyond which lies the BPS Sports Club where Margao's elite play tennis and table tennis. Admire the Indo-Portuguese houses on either side of the road while you walk towards Aga Khan Children's Park. Explore the nearby Margao Market which sells absolutely everything your mind can think of. If you get your pleasure by reading books, visit Golden Heart Emporium book store commonly known as 'Confidant' which is a treasure trove of books of all kinds. You may even stumble across rare finds by Goan authors which are extremely difficult to obtain anywhere else. There are a bunch of music stores in the area as learning an instrument is pretty much a necessity in a Goan Catholic household. My last suggestion here is a small chic bakery called 'Mog' which sells the tastiest cakes and sweets that you will find in South Goa.
To get an even better experience of Margao join Soultravelling's heritage walk known as 'Making of Margao'.From here head to Joe's River Cove for lunch. This is cosy little restaurant located on the banks of river Sal located in Cavelossim. Cross the Assolna bridge and head towards the village of Cuncolim where the first ever revolution against a foreign power took place. Join Exclamations.goa to learn about the freedom struggle that took place against the Portuguese colonizers in Cuncolim and visit the oldest temples of the village. Visit the workshop of one of the four families that still practices the ancient dying art of Chitari. Check out the workshop on our IGTV where I teach you how to paint the famous two parakeet painting that has been a crowd favourite among the Chitari community for generations.
After this, drive to Barade hill for a quick stop at Holy Cross Chapel for the most magnificent views. Walk down the steps to explore the adjacent village or just sit and take in the beautiful view. Next, head towards Cabo de Rama fort which is claimed to be Goa's oldest fort. Legend has it that Rama and his wife Sita (from the Indian epic Ramayana) lived in this fort for a while during their exile giving the fort its name. The fort was ruled by the Hindu rulers, the Muslim rulers and the Christian rulers giving it a very unique appearance. But the best part about this fort is the 100m stretch of beach that can be reached via the 200 or so steps from the fort. The walk down to this beach has two natural springs and the views are simply stunning. The sunset from here is incredibly mesmerising!
Finally head to Palolem and check into an Airbnb or one of Palolem's beach huts.
Wake up early and uplift your body and mind as you attend a fulfilling yoga session at sunrise. Palolem is know to have the best Yoga institutes in Goa. A refreshing sunrise yoga session on the beach is the definition of Nirvana! Our favourite yoga institutes are Yoga Tree Culture, Kranti Yoga Academy and Anand Yoga Village.
Spend the rest of the morning and early afternoon taking up a cooking class at Rahul's Cookery Classes in Palolem. Trust me, these three hours will be really entertaining as you make new friends while learning how to cook a mouth watering Goan meal. End the session by indulging in your hand cooked delicious creation.
After lunch head to Galgibag beach which is a short 15min drive from Palolem beach. From November to March this beach witnesses the nesting of hundreds of Olive Ridley turtles. The female turtles swim up to the shore, lay their eggs in a secure place in the sand and head back to the sea. The eggs than take about 2months to hatch after which the tiny Olive Ridley turtle babies waddle back to the sea. The forest officials as well as some NGO's are passionately trying to protect these sites. Speak to them, give them a hand in what they are doing and let them know that you appreciate the work they are doing.
Spend the night at a headphone party and dance till your feet hurt. A headphone party is a silent party where you are given a wireless headphone that connects you to the music. These parties ensure that the neighbours are not disturbed. They also let you choose the music you want to listen to, what volume you want to listen to it at and when you want a break from the music.Silent Noise and Alpha Bar are the places to go to on a Saturday while the Laughing Buddha and Leopard Valley are where the parties are held on Friday
Sleep in as you recover from the all night long silent party.
Spend the afternoon on a 'Tribal Food Tour at Canacona' conducted by Soultravelling to learn about tribal culture and food. This trail will give you an insight into what goes behind the secret recipes passed on from generation to generation and on how the tribals create meals using only the natural resources available.
Spend the rest of the evening lazing by the beach, sipping beer and indulding in some water sports. Whether it is scuba diving, bungee jumping, kayaking, parasailing, jet skiing, fly boarding, wind surfing, wave surfing, banana boat ride or speed boat ride- Palolem beach has it all!
No trip to Palolem is complete without spending a day on a canyoning adventure through the jungles of Palolem with Manu from Goa Jungle Adventures. Manu has created 11 perfect jungle adventures with varying combinations of jeep shuffling, trekking, canyoning and abseiling that will give you enough of adrenaline rush and GoPro footage that you can be really proud of. If you are not sure about whether you will be able to do this, choose one of the easier trails to ease into the activity. Come back and get a relaxing full body massage by the beach to relieve all your aches and tensions.
Pack up your bags and head back home or head towards the north to explore South Goa's only sibling- North Goa!
Hope this itinerary has inspired you to pack your bags and head to South Goa for a wholesome and fun filled holiday.
We are looking forward to seeing lots of photos from you on Instagram. Don't forget to use the hashtag #thecrimsoncanvas to allow us to find them and follow your travels.
Happy travelling!